Acumatica cloud ERP is the ultimate business management solution offering an abundance of benefits, including a unique pricing model, a single version of the truth, and fully integrated and secure applications, to name a few. But it also offers flexibility and accessibility via our award-winning cloud ERP mobile app. Mobile ERP is a business strategy that fosters growth, profitability, and employee satisfaction. 
Have you ever left work only to return to a time-sensitive issue that could have been resolved easily had you known about it right away?  You're not alone, which is why the cloud ERP you choose should provide a mobile app that lets you stay connected at all times from wherever you are. Mobile access to your business is a must and the mobile app you choose should be the best. With this in mind, we are excited to share that our cloud ERP mobile app is named to PCMag's 19 Best Business Mobile Apps of 2017!
"Your company is only as good as the software on which it runs," says the editor in his round up review of the tested mobile apps. We agree.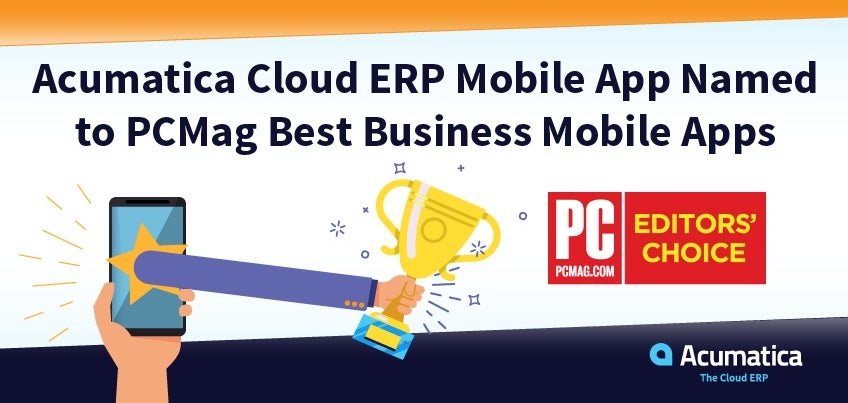 Your mobile app – or lack thereof – can affect your success
How can not having a mobile app determine the success of your business? The fact is, the workday is no longer 9-to-5. Customers have advanced along with technology and now expect an immediate response if not immediate results. And the only way to accomplish this is to have a mobile applications that allows you to connect and respond whether you're in your office, on the road, or any place in-between. Check out the recent Acumatica Roadtrip as an example of this.
PCMag acknowledges that every company needs to embrace this customer and technology evolution, "You can't ignore this pressing need. Your business doesn't just run on a desktop, in an office, on weekdays…. Your business is a 24/7 operation and it needs to be treated as such. Mobile applications allow you to operate with this mentality."
The PCMag editors tested various vendors that provide mobile access and put together a list of the best business mobile apps of 2017. Acumatica's mobile ERP rated high in the Accounting and Expenses category.
"Acumatica is the best general ledger accounting software on the market," the PCMag editor notes. "Because it's a browser-based tool, you can access your accounting data from any device with an internet connection, or you can download the iOS and Android apps. From the apps, you can enter time cards, run expense reports, and enter purchase orders, among many other features."
This is something Darren Wilson, Project Manager for PracticeMax, found to be true when they switched to Acumatica cloud ERP. "With Acumatica, every employee can get access to ERP data, from wherever they are when they're traveling. Our customers can get access to ERP data. We've never had the capability to offer this before we had Acumatica."
You can read more about the benefits PracticeMax experienced by choosing Acumatica over Oracle and SAP.
Acumatica Mobile Solutions in action (3 min)
Mobility is a priority for Acumatica. Is it for you?
Mobile access to Acumatica information from any device should be a priority for you and your business. Perhaps you have multiple warehouse locations, field service technicians, or travel constantly; mobile ERP allows you to stay connected at all times from any location.
Because Acumatica was born in the cloud, every application is designed for mobility allowing all authorized users to access their Acumatica information on any device with a standard browser. Whether they are on their PC, tablet or phone, users experience the benefit of complete and consistent information across all devices.
For many quick tasks, there is a no charge native mobile app intended for those on the go. From updated time reporting to reviewing reports to task management, using Acumatica's free mobile ERP app on iOS and Android gives you real-time access and functionality you need to remain responsive and competitive.
PCMag's review of Acumatica gives a detailed account of everything our cloud ERP offers and their top 19 best mobile business apps for 2017 puts the spotlight on the importance of accessibility in today's marketplace. We hope you take a moment to read it for yourself.
You can also read about our 2016 PCMag Editors' Choice Award and view our previous PCMag Award posts: the overall recap of the three PCMag Editor's Choice Awards and Best App Award, the Editors' Choice Award for Best ERP Software, the Editors' Choice Award for ERP Inventory Management Software, and the Editors' Choice Award for Enterprise Accounting Software. Click on these direct links for even more information: Best ERP Software, Best Enterprise-Class General Ledger Accounting, and Best Inventory Management Software.
Our team is truly gratified that our effort to provide our customers with the best cloud ERP solution, including our mobile app, has been successful. Contact us to learn more about how our mobile ERP can influence the success of your business.
And speaking of success, we encourage you to attend our upcoming 2017 R2 event showcasing the newest release of Acumatica on September 13, 2017 in Boston, MA (register now!) and Acumatica Summit 2018 coming January 28 through February 2 in Nashville, TN. You'll learn more about how you can use everything Acumatica cloud ERP offers. Learning and fun go hand-in-hand at these events and we hope to see you there!