After recently digging in and trying out our Cloud xRP Platform, Nucleus Research found that it delivers value due to its ease of use and flexibility. The report by the provider of case-based technology research details exactly how and why Acumatica is set apart from its competitors, and what that means for you and your business. You can read the full report for yourself here.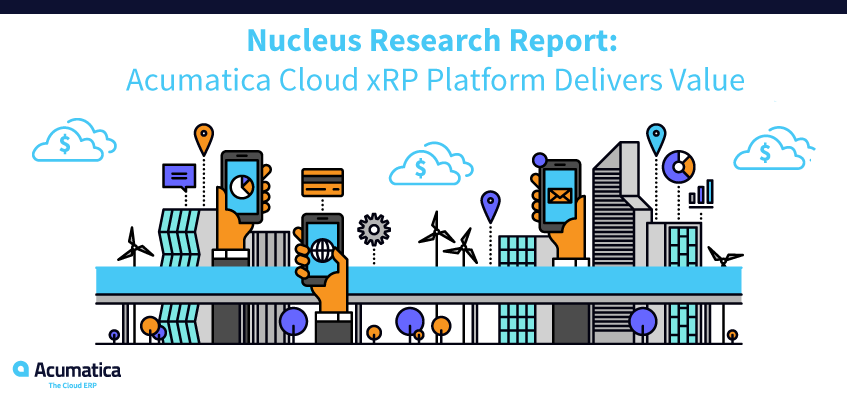 Platform capabilities
Based on the experience of customers and partners, Acumatica Cloud xRP Platform is frequently a differentiating factor in the decision to select Acumatica.
The Nucleus Research report points out the myriad capabilities of our xRP platform, including:
Role-based security
Multi-tenancy
Mobile framework
Versioned application protocol interfaces (APIs)
Cross-browser support
Developer tools allowing for building in a number of languages
Acumatica Cloud xRP Platform enables organizations to customize and enhance the Acumatica ERP solution for businesses worldwide. And part of reaching global businesses is expanding through strategic OEM partnerships, such as the one just announced between Acumatica and Romanian ERP provider Senior Software. Increasing demand from ERP vendors across the globe for modern cloud and mobile ERP solutions has spurred rapid adoption of the Acumatica platform.
JAMIS Software is one of those businesses that recognized adopting Acumatica's all-encompassing platform was instrumental in moving their business forward. JAMIS was using a 20-year-old labor-management costing and billing system, which limited their type and size of customer. They knew they needed to find a platform that would allow them to take their existing application and modernize it. Through the Acumatica Cloud xRP Platform, they doubled the size of their average transaction, targeted larger companies, and advanced years ahead of their competition.
Read more about their exciting evolution here.
New partners including experienced clinical and ambulatory software services provider MedWorxs, and hotel industry financial and accounting software provider Hotel Investor Apps (HIA), have joined dozens of other software companies in building on Acumatica's adaptable xRP platform to make innovative new software solutions available to their users.
Adaptability essential to providing value
The adaptability of the platform to changing industry and technology standards helps Acumatica stay ahead of its competition and differentiate how it delivers value.
The report by Nucleus Research focuses on the ability of Acumatica's platform to adapt to every business' specific needs, something the team at Integrated Business Systems (IBS) appreciates. Prior to their affiliation with Acumatica, the IBS team acknowledged that their growth was limited and their competitiveness was stifled due to their legacy software platform. They chose Acumatica to build their unique property management solution. Through Acumatica's introduction, IBS partnered with Kensium Solutions in August of 2014, and their flagship product released by mid-2016. You can read about this in more detail here on the ADN blog. The swift and successful move of IBS' outdated legacy product to the cloud built with Acumatica Cloud xRP is an example of adaptability, and how the platform delivers businesses from stagnation.
In addition, Nucleus Research reiterates the fact that Acumatica technology sells also as a white-labeled ERP. Your sole focus becomes driving your external success while relying on Acumatica's easy-to-use and flexible framework to make it happen.
Adding Value
Whether a company is looking for a solution out-of-the-box or one that is highly tailored to its business needs, Acumatica Cloud xRP Platform can deliver both.
Flexibility. Ease-of-use. Adaptability. Nucleus Research clearly understands the value that Acumatica Cloud xRP Platform provides to its customers and partners. Please take time to read this report as you contemplate the evolving needs of your business.
We encourage you to take a moment and watch our informative videos to learn more about the uniqueness of the Acumatica xRP platform. Additionally, we hope to hear from you directly; you can chat with one of our team members and get a one-on-one demonstration of the Acumatica xRP Platform. The longer you wait, the longer you delay Acumatica collaborating with you to successfully grow your business and increase your competitive edge.