Every year we honor individuals for their passionate commitment to our product and platform through our Acumatica MVP Program. They selflessly offer their advice, knowledge, and time to building community success and deserve recognition for their efforts.
It's time again to nominate someone you believe qualifies as the Most Valuable Professional (MVP) in our community. Our Acumatica MVP Program recognizes the champions of our product and platform, those individuals who use their knowledge and expertise as a way to ensure the success of their fellow Customers and Partners.
This year, we're excited to announce that we've added a badge just for our Developers. It's a special distinction honoring those Developer MVPs who have a specific strength in our platform, and applications. The Developer badge will clearly communicate that they are a professional who cares about their community and whose expertise is invaluable to their peers. We also want to encourage greater contribution from the Developer community.
With this in mind, the nomination process is officially open. As in previous years, you're able to nominate yourself or someone else you've noticed contributing to the community.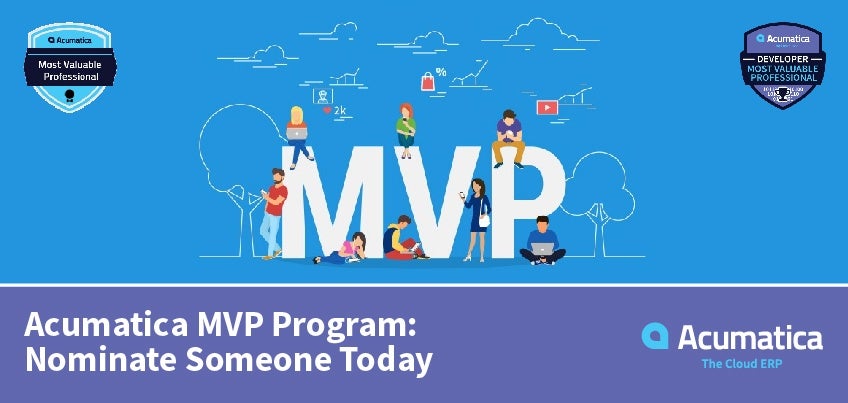 Acumatica MVP Program
At Acumatica, we believe in the power of community involvement, and as our community continues its growth, it's important to share the knowledge and insights with one another. Our Acumatica MVP Program is a great way to recognize those who are key contributors. In fact, we've doubled the size of MVP awardees from the previous years, and we're excited to see and review the nominees for 2018.
Submissions by you – our Customers, Partners and Developers, – will be accepted until Dec 31st. MVP awardees will be selected from the nominees and notified early January. The formal announcement will come prior to our annual Summit.
As either an MVP or a Developer MVP, your dedication to our product and platform as well as your contributions to the success of the community earns you some amazing benefits including:
Discounted or Free Registrations to Acumatica Summit 2018
A recognition ceremony and token of appreciation given by Acumatica CEO, Jon Roskill, and myself during the Summit's Welcome Reception
An Acumatica MVP Badge or Acumatica MVP Developer Badge, which can be displayed on profile pages, social media, resumes, and third-party forums
The opportunity to write guest blogs for the Acumatica Development Network (ADN) and attend quarterly synchronization meetings
Our Acumatica MVP Developer Program winners will also participate in our forums (Stack Overflow, LinkedIn, and GitHub) by answering questions and providing and submitting sample codes. Everyone loves a little competition, right? We will have a leader board set up and published quarterly where we recognize Developer MVP contributions – competition is a good reminder that we can't be complacent in a constantly evolving market!
If you're interested in seeing who the winners were for the first two years of our Acumatica MVP Program, check out these blog posts for the full list: Acumatica 2016 MVP Program Winners Announced and Acumatica 2017 MVP Program Winners Announced.
Nominate your MVP today
We designed Acumatica MVP Program to formally acknowledge the amazing contributions already happening in our growing community. Our hope is that the efforts – and the recognition – of the winners (now including our Developer community) encourage others to do the same. Additionally, our MVPs' participation in our forums and annual Summits, along with their consistent interaction with our team, allows them to have a say in our future product and platform improvements.
Now is a great time to submit your MVP nomination. If you'd like the chance to meet the 2018 winners, you'll want to register for Acumatica Summit 2018. Coming January 28-February 2, 2018 in Nashville, Tennessee, our yearly Summit is the time where we can all gather at the same place, accelerate our success in the cloud, and enjoy ourselves in the process! I expect to see most if not all the MVPs at our Hackathon event at Acumatica Summit 2018.
If you have any questions about our Acumatica MVP Program, Acumatica Summit 2018, or about our cloud ERP products and platform, contact us and we'll be happy to answer them for you at any time.