Smart manufacturing begins with a smart business management solution. The Acumatica Cloud ERP and Synergy Resources partnership delivers manufacturing software built for success.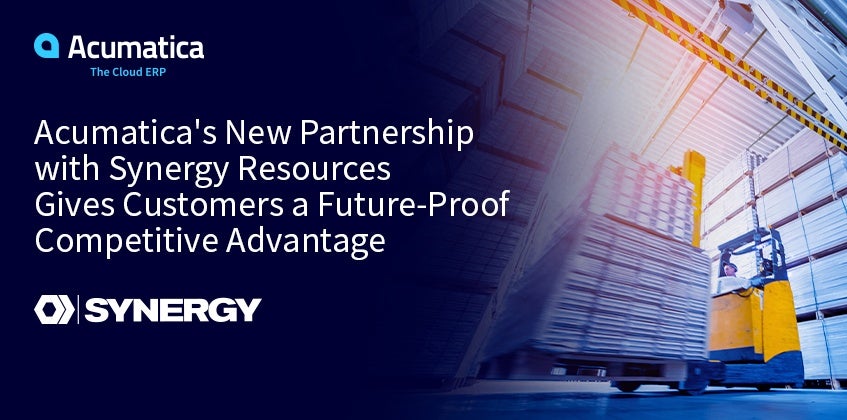 As the Director of Partner Enablement, I have the pleasure of announcing that Acumatica Cloud ERP has joined forces with Synergy Resources, LLC, a leading ERP manufacturing software reseller in North America. Synergy Resources' sole focus of providing total client satisfaction meshes perfectly with Acumatica's drive to achieve customer success—a strong foundation for the new partnership.
Synergy Resources and Acumatica Cloud ERP: A synergistic collaboration
Synergy Resources, based in Central Islip, New York with offices in Toronto, Ontario, Canada, specializes in offering manufacturing and distribution businesses the best, most innovative manufacturing-specific ERP software solutions. Their over 100 employees see selling and implementing software to their 850+ customers as an ongoing, continuous project. Their promise? To walk their customers through each step of the implementation journey.
As manufacturers expand into new markets and business lines in a digital economy while also seeking business continuity and resiliency in the face of an unexpected pandemic, the need for comprehensive manufacturing management software has grown. By joining Acumatica's award-winning Partner Program, Synergy is providing them with a future-proof cloud ERP solution that continuously garners user feedback for usability and functionality improvements.
Says Paul Tedford, Synergy Resources CEO, in Synergy's Acumatica partnership announcement, "By expanding our ERP portfolio, Synergy will have the technological capabilities and functionality to access new markets Providing multiple ERP products is important factor for our customers as we are focus on ensuring their goals are met and that means matching their unique requirements to the right product and best practices."
Digital transformation, the future, and Acumatica Cloud ERP
Two powerhouse companies, we're not slow walking our partnership duties. We've jumped right into co-hosting a free online Lunch & Learn Event on Wednesday, September 15, 2021 from 12:30 pm – 1:30 pm ET that will focus on the importance of agility through digital transformation.
Attendees will learn:
What digital transformation is
What the two companies' industry experts see as the industry's primary challenges
Why digital transformation is essential and attainable
They will also see real examples of how digital transformation can accelerate business growth via Acumatica's cloud-based ERP solution, which was declared the Best ERP Software by the SIIA CODiE Awards and named a Leader and Gold Medalist in SoftwareReviews' 2021 ERP Data Quadrant.
To say we're excited about partnering with Synergy Resources is an understatement. Geoff Ashley, Acumatica's Vice President of Partner Programs and Strategy, expresses our thoughts in the partnership press release.
"Synergy Resources is one of the most successful ERP manufacturing software resellers in North America, and Acumatica is honored to have them as part of our award-winning partner program," he says. "Leveraging and building on their twenty-eight-year track record of success, Synergy has consistently delivered value for the customers they serve. By offering a solution that includes Acumatica, Synergy can give their customers a future-proof competitive advantage that will allow them to succeed and thrive no matter what kind of challenges they encounter in the future."
If the last year and a half has taught us nothing else, the future will surprise us. The partnership between Synergy Resource and Acumatica Cloud ERP provides manufacturing and distribution companies with the best path for a business to thrive—regardless of the circumstances.
To learn more about Acumatica's cloud ERP software or about becoming a Valued Acumatica Reselling Partner, contact our team today.