Quality Material Handling, Inc. is a growing family-run business. Their legacy ERP solution couldn't handle their accelerating needs, so they found one that could: Acumatica Cloud ERP.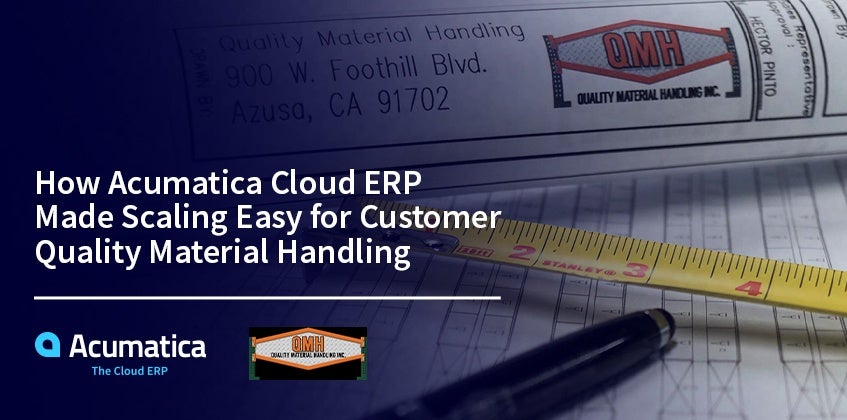 The story behind family-run Quality Material Handling, Inc. (QMH) is inspiring. It began with Founder and CEO Hector Pinto sitting at a folding table underneath his staircase at home, creating what was to become a thriving full-service warehouse solutions provider. Unfortunately, the company was relying on uninspiring business management systems. Hector and his wife, Brenda (co-founder and CFO of QMH), recognized it was time to find an integrated, affordable, and scalable cloud ERP solution.
Challenging Times to Cloud ERP Success
At 20 years of age, Hector entered the material handling industry. He had moved to the United States from San Pedro Sula, Honduras when he was 14 years old with just the clothes on his back, and he was determined to succeed.
He has.
QMH is a thirty-year, award-winning business that "values excellent product quality and customer service." Hector, Brenda, and their 50-person-team, which includes daughter Julia Pinto Cisneros as COO, specialize in material handling products and storage solutions, including pallet racking, permits, and installation/relocation to design/layout, warehouse equipment, dock equipment, and more.
Though QMH is a multi-million-business, the road to success hasn't all been easy. According to the company's website, the 2009 recession and internal theft took a toll on the business. So, too, were the solutions they were using to run the business: legacy Sage 100 on-premises for accounting, as well as paper and Excel spreadsheets to track inventory, invoices, and more. Transactions through email, scheduling through Outlook, and tracking everything else through multiple spreadsheets rounded out their inefficient operations.
Says Julia in the company's Acumatica customer success story, "It was a lot of manual, double-entry, which was error-prone and wasted a lot of time."
They also wasted a lot of time in accounting. Brenda says they couldn't get an accurate financial picture due to lack of information, which set the department months behind. In addition, Hector said "no" to using Sage because it wasn't user-friendly; working with add-ons, such as Bill of Materials or manufacturing and project management modules, was too complicated; QMH maxed out its Sage user licenses; Sage ran on an in-house and aging server, which meant no one outside the office could use it; and managing inventory was a "nightmare."
The search for a cloud-based all-in-one solution was on. Julie ruled out upgrading Sage and decided against Oracle NetSuite, of which she had not heard good things. Klear Systems, Acumatica VAR and QMH's technology partner, introduced them to Acumatica Cloud ERP.
"I was sold on it in the first three minutes," Hector says.
Julia, too, was a fan right from the start, pointing out affordability as a major plus. "Acumatica's unique licensing model was huge for us. With Acumatica, we play a flat rate and have unlimited users so I can encourage everyone to use the software, including HR, marketing, sales, and the warehouse. Before, none of these departments had Sage installed on their computers."
What's Not to Love About Acumatica Cloud ERP?
QMH implemented Acumatica's Distribution Edition, Financial Management, Customer Management, and Project Accounting software. Life since implementing Acumatica has been much better for the growing company.
Brenda says, "Before, I felt like Sage was a brick we were chiseling away at. Now, I feel like Acumatica is clay, and we're molding it as we'd like."
They have:
Gained a single, centralized cloud ERP solution
Increased performance visibility for management
Leveraged the cloud and set plans in motion to expand its salesforce nationally
Benefitted from real-time data, shaving time spent gathering data for reporting from hours to minutes
Lowered month-end closing from months to less than 11 days
Improved inventory accuracy with streamlined operations
Eliminated paper spreadsheets and automated business process operations
Improved customer service
Like Hector, the entire QMH team love the easy-to-use, mobile solution. Hector says it has been a game-changing decision. "It's made a huge difference in how we do things, how we can access everything we need from anywhere, and allowed our salespeople to work remotely."
He adds, "It's very simple to use. I can drill into the information that I want to see, and it gives me what I need. I love the fact that it has a mobile app, and I can pull things up on my phone from home to create a quote really quick. I also love how customers are already in the system, and it can send a quote or invoice automatically. I never thought I would be so excited to use it myself, but once I got using the new solution, I found I love it."
QMH Grows Nationally with Acumatica Cloud ERP
QMH began as a one-man operation in 1991. In the first year, the business grossed $127,000, and it was all because of Hector's determination and Brenda's support. With three decades under their belt, they're just getting started.
Their three-year plan is to take the business national, offering new warehouse solutions and turnkey systems. Having access to their data in real-time through Acumatica's cloud ERP software will help them make it come true, Julia says. "Acumatica will help businesses grow. Acumatica allows you to scale but still have control with approvals, with automation, with workflows, but more importantly, it's cloud-based and goes wherever you are."
If you're ready to grow (or even start) your business, Acumatica's distribution management software, financial management software, CRM software, and more, can help you succeed wherever you are. To learn more about becoming an Acumatica customer, contact our team today.