Can't make the initial Launch Day Event of the Acumatica 2019 R2 Launch Event Series? Don't worry, we've got you covered.
Registration for the Acumatica 2019 R2 Launch Event Series is open. It's set to kick off on Wednesday, September 11, 2019 in Waltham, Massachusetts with the initial Launch Day Event, which will be the first time you'll see what our latest release has in store. We're excited to reveal the cloud ERP enhancements designed to increase productivity and accelerate your business' growth. However, we know not everyone can make the Initial Launch Day Event, so we have a plan: we're bringing the event to you.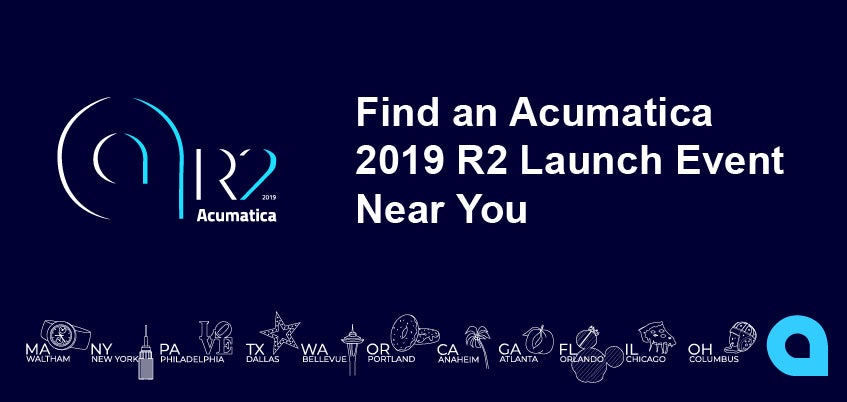 Where we're headed in the Acumatica 2019 R2 Launch Event Series
The upgrades and enhancements Acumatica 2019 R2 brings to our cloud ERP software is worth carving out four hours in your schedule to hear what we've done to improve your productivity and increase your success. Here's the list of the ten cities (two more than last year), the dates we'll be at each one, and a quick synopsis of possible things to do after our product-release event. Because they were well-attended last year, we recommend you register today to secure your spot.
Philadelphia, Pennsylvania on October 3rd: "The City of Brotherly Love" welcomes us as the first city on our Acumatica 2019 R2 Launch Event Series tour. We'll be uncovering some Acumatica release firsts in the city that gave us our first library, hospital, medical school, national capital, stock exchange, zoo, and business school. You may also, if you have time, want to fit in a bit of a history lesson before you go by visiting the Liberty Bell and Independence Hall.
Dallas, Texas on October 8th: Dallas is the second stop for our Acumatica 2019 R2 unveiling. It was one of the cities we visited during last year's reveal, and is an easy location for customers, partners, and analysts to get to via one of the largest and busiest airports in the world, Dallas/Fort Worth International Airport.
Bellevue, Washington on October 10th: Acumatica's Global HQ resides in Bellevue, so we thought it might be a good idea to keep it on our Roadshow Event list. For visitors, this would be a perfect opportunity to see the natural beauty (including the two lakes that surround it, Lake Washington and Lake Sammamish) surrounding a city that is known as the home of many innovative technology companies.
Portland, Oregon on October 15th: Moving south, we head to Portland, a city with the nicknames "Beertown" and "Beervana" for its many breweries and microbreweries. After learning about cloud ERP for a few hours, you may want to go sample a bit of Portland's specialty beverage.
Garden Grove, California on October 17th: Located 34 miles from Las Angeles, Garden Grove may be best known for Christ Cathedral (formerly Crystal Cathedral), a church built of glass. It's said to be one of the largest glass buildings in the world and sports a 236-foot stainless-steel mirrored spire housing 52 bells weighing 42,000 pounds. Check it out after checking out Acumatica 2019 R2.
Atlanta, Georgia on October 22nd: We head east towards Atlanta, Georgia where the Hartsfield-Jackson Atlanta International Airport makes it very easy to reach. The city offers visitors a variety of attractions, including the National Center for Civil and Human Rights, the beautiful Centennial Olympic Park (a 21-acre park established after the 1996 Summer Olympics and the home of the very large Georgia Aquarium), and the Atlanta History Center.
Orlando, Florida on October 24th: Orlando was our last stop for last year's product-release series. It's the place where fun abounds, and after enjoying your time with your fellow Acumatica users, you can head out to tour the park of your choice: Universal Studios, Walt Disney World, Gatorland, and SeaWorld Orlando.
Chicago, Illinois on October 29th: The third most populous city in the U.S., Chicago is also the second most visited city in the nation. It makes sense when you find out how many things there are to see and do while visiting, including the Magnificent Mile (Chicago's largest shopping district), the Museum of Science and Industry, and Lincoln Park Zoo (open 365 days a year and free), just to name a few. You may only have time to choose one or two places after the Acumatica 2019 R2 Roadshow Event, but you have a great selection to choose from.
New York, NY on October 30th: Our penultimate Roadshow Event starts on the East coast in what has been called the most linguistically diverse city in the world. Once you've completed your half day with us focused on the language of cloud ERP software, and if you're a visitor and not a resident, you may want to do a little sightseeing. You can visit Times Square, the Brooklyn Bridge, and One World Trade Center, among many other well-known landmarks.
Columbus, Ohio on November 7th: Columbus is the final city in the Acumatica 2019 R2 Launch Event Series. What better place to end our product-release event than at the place where Acumatica Services & Support headquarters is located?
As you see, there are plenty of cities to choose from, all located strategically around the country and easily accessible. However, lodging is not provided for these half-day events. We recommend making your reservation early as there is limited guestroom availability at the hotel venues.
Acumatica 2019 R2 Launch Event Series agenda and opportunities
Just as with the initial Launch Day Event, the Roadshow Events take approximately four hours to walk through the benefits and functionality of Acumatica 2019 R2.
Starting with registration, lunch, and networking in the Partner Showcase, the day proceeds with the details of the release followed by a Title Partner Spotlight, an Exhibitor Partner Spotlight, an Industry Analyst Perspective, and a Customer Panel. The final hour offers a closing look at the different upgrades and enhancements made to Acumatica's cloud-based ERP solution along with time for Peer & Partner Networking.
We've packed the house at previous launch events and encourage early registration. And when you're registering for this event, you may want to also register for Acumatica Summit 2020 (January 26-31, 2020 in Las Vegas, Nevada) to experience a week dedicated to learning how to utilize Acumatica's cloud-based ERP to the fullest.
Finally, we want to you let you know of a great opportunity during the Acumatica 2019 R2 Launch Event Series: becoming a sponsor. As a sponsor, you'll get your business in front of hundreds of prospective customers. If you're interested, you can contact sponsorships@acumatica.com for details.
Whether you become a sponsor or not, the Roadshow Event will be a short and sweet (not to mention free) event offering advance knowledge of the benefits brought by Acumatica 2019 R2. Questions about these events can be directed to eventcs@acumatica.com.
We hope you'll join us!