The minute one Summit ends, the planning for the next one begins. True to form, the Acumatica team is already busy working on Acumatica Summit 2019. The location has been announced, our venue secured, and registration is now live. Learn why we think you'll want to register early.
We're excited to announce that registration for Acumatica Summit 2019 is now live! We're also excited that it will be taking place in Houston, Texas – the fourth largest city in the U.S. A city this size has a lot to offer visitors: culinary delights, copious attractions, and international tax-free shopping, to name a few. It's a great location for our premier cloud ERP event, and we encourage you to register right away so you don't miss out.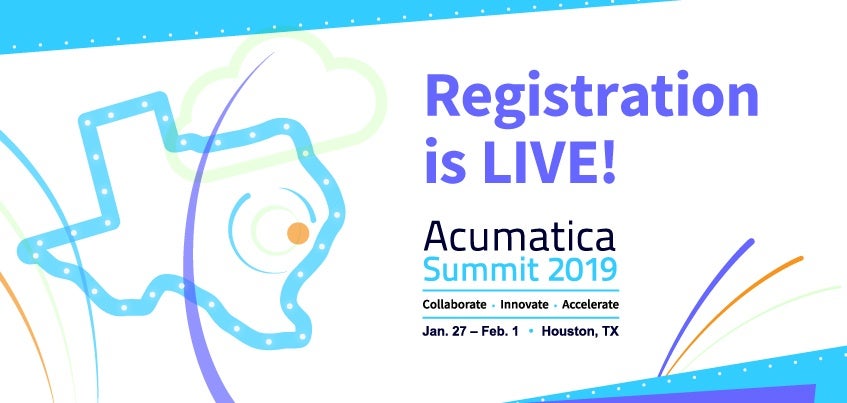 And besides not missing out, there are so many other reasons why registering earlier than later is better. First, however, here's some important information to help you prepare:
Acumatica Summit 2019 kicks off on Sunday, January 27 and goes through Friday, February 1.
The Houston Marriott Marquis is our venue, and its central location along with its over 150,000 square feet of event space means we'll be in the perfect place to extend our cloud ERP knowledge and have fun at the same time.
Attendees who choose to register early receive a additional benefits than those who choose to wait.
We've also put together a short video on Houston we think you'll enjoy. Check it out!
The benefits of registering early for Acumatica's cloud ERP annual event
Every year, we offer an early-bird registration special. If you already know that you and your team will be attending Acumatica Summit 2019, then you definitely want to jump on this great deal.
The early-bird rates are as follows:
Early Bird Summit Only: $699.00
Early Bird Summit & Training (Full Week): $1,499.00
Early Bird Training Only: $1,199.00
Compare them to our regular Summit rates:
Summit Only: $899.00
Summit & Training (Full Week): $2,199.00
Training Only: $1,699.00
You can see why we're encouraging you to take advantage of this pricing. We want you to enjoy our cloud ERP software event at a cost that makes sense for you and your business. And the good news is that every attendee could get this rate if they register right away.
Another benefit of registering early is that you'll be able to take advantage of our room block at the Houston Marriott Marquis. We negotiate a special room rate for Summit attendees, but they're limited. The earlier you make your arrangements, the better. This is also true for your airfare. Both your traveling and accommodation needs can be met at a discounted rate if you take care of it in advance.
Registering early also means you can sign up for our limited-seating training classes. These classes sell out quickly. If you have certification courses you want – or need – to take, this is your heads up to do so as soon as possible.
More benefits of attending Acumatica Summit 2019
Attending Acumatica Summit 2019 has many benefits. You get to set aside a few days in your busy schedule to focus exclusively on what cloud ERP software does – and can do – for your business. This is why Michael Augello, CEO of Acumatica partner i-Tech Support, has attended our premier cloud ERP event three years in a row.
"We look forward to having a break from the day-to-day where we're having to work on projects – it's a good time for us to sit back and think about what we do, think about new solutions, and think about new ways of doing things," he says. "I think when you get out of your environment, it's very energizing and motivating to the team."
And Acumatica customer Dan Wilkins, CEO of Bell and Co., plans to attend our Summits for years to come. He considers it a part of his long-term business plan, citing the cloud ERP training tracks, the opportunity to learn what Acumatica has planned for the future, the level of access to Acumatica's team members, and meeting with other customers.
He says, "It was interesting and insightful to see how other people are using Acumatica for the same goals you're trying to accomplish." (Read Bell and Co.'s case study if you'd like to learn more about this wholesale distributor of industrial and marine supplies.)
As Michael and Dan have stated, our Summits provide time to collaborate with thousands of other Acumatica customers, partners, and developers on using Acumatica's true cloud ERP solution fully. You have the opportunity to learn about new releases, such as Acumatica 2018 R1 and new Editions, such as our Construction Edition released this year. Numerous breakout sessions geared to your specific needs, amazing guest speakers, and interaction with Acumatica team members are just a few more incentives to attend.
If you're ready to register, Acumatica Summit 2019 registration is live right now. Not only do we hope to see you there, we hope you'll take advantage of our early-bird pricing. Our annual cloud ERP event pulls the Acumatica community together in one place and at one time to discuss our cloud ERP software and platform; it's truly a fun, educational experience. Don't hesitate to contact us if you have any questions about Acumatica Summit 2019 or our cloud ERP solution.