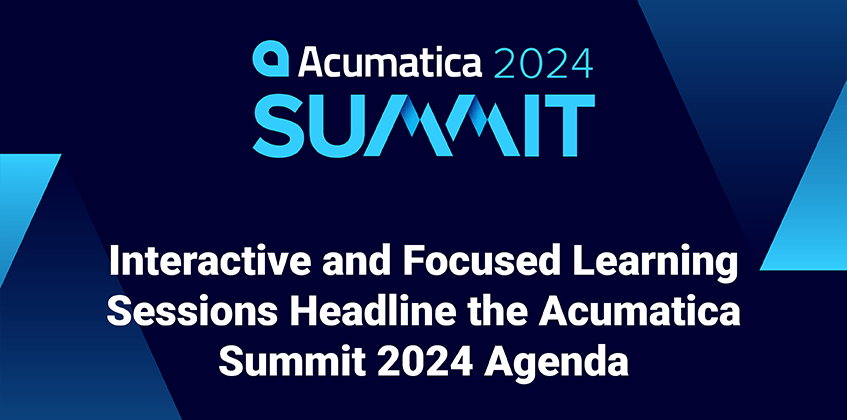 In planning for Acumatica Summit 2024, our premier annual Community event, (Sunday, January 28 to Wednesday, January 31, at Wynn Las Vegas), Acumatica is very passionate and intentional about creating an environment where synergies and connections serendipitously happen. A place where learning is easy, networking is natural, and ideas and creative energy can inspire and be the seeds of new approaches and new ways to work.
In addition to all the fun a Las Vegas-based event can offer, and the relationships created or strengthened in face-to-face meetings, at the core of the Summit experience is a common desire to learn and grow. Summit 2024 will have so much to offer in January.
It all starts with the expansion to a full three days. What does that mean? More segments and time slots for captivating Breakout Sessions—more opportunities to learn about the latest industry trends, get smart on new features and capabilities, and advance your technology education in focused areas that offer Continuing Professional Education (CPE) credit.
More sessions to choose from: This year, we'll have 96 Breakout Sessions for attendees to choose from, nearly 20 more sessions than Summit 2023.
More opportunities for learning: Because Summit was confined to two days last year, there were only eight time slots for people to attend sessions. We have now added three more slots, providing more opportunities to dive deep into areas that interest you and be introduced to concepts and best practices that will boost your professional development.
Because people acquire knowledge in different ways, we've designed our Summit Breakout Sessions to connect with all attendees and be tailored to their learning preferences. There are three session categories:
Informational: These sessions cover the latest industry trends, product details, feature specifics, and the backgrounds of important issues. They are designed to increase your knowledge of Acumatica and your understanding of technology.
Interactive: These sessions are structured for participant engagement and the exchange of ideas, opinions, and information. They typically feature a panel, group discussion, or roundtable format and provide a platform for industry experts, Acumatica leaders, and attendees to share their insights and experiences and respond to questions.
Focused Learning: These sessions take a deep dive into common and sometimes complex business process requirements. They cover specific scenarios, reviewing the why, sharing pros/cons, and demonstrating the how. These sessions are designed to alleviate business pain points, guiding partners, and customers to understand possible solutions and to work more effectively and efficiently with Acumatica. And for those interested in certification and education credits, these Focused Learning sessions qualify for one CPE credit.
Not only do we have the structure to fit your preferred learning method, but we also have a wide range of industry- and technology-defining issues and topics to cover. Want to learn more about key marketing trends? We've got a session for you. Want to get up to speed on sales tax? We have a session that will demystify the topic. Want to get the latest on low-code/no-code customizations? Summit 2024 is the place to be.
While we currently have 96 sessions in all, more may be added in the coming weeks. For the latest, I encourage you to check out the Summit 2024 Agenda on our registration site.
We want to be sure that anyone interested in attending Acumatica Summit 2024 has a clear understanding of the value they'll be getting and the opportunities they'll have to learn and grow in Las Vegas. That's why we unveiled the full Summit Agenda in September, so all prospective attendees could start filling up their Summit schedules and lock in their places for the sessions they most want to join.
If you're interested in diving into details about a specific industry, want to better understand an industry's trends, or are looking for the latest perspectives from subject matter experts, you can easily filter the Summit Agenda to fit the learning experience you need. So, for those interested in retail, construction, manufacturing, or distribution, we have plenty of sessions that will address your learning needs. These industry-specific breakouts will also complement visionary presentations and thought leadership sessions that are available for all.
In the coming weeks, we will be diving more deeply into specific sessions that will illustrate what Summit 2024 has to offer. Of course, we also have a full calendar of amazing experiences and social interactions that we hope will make this event, not just educational, but also memorable and inspiring. Stay tuned!