It should come as no surprise to Acumatica VARs that beating out the competition is necessary to succeed, but how do you do it? PropelGrowth's CEO has some ideas. Note: A version of this post first appeared on the PropelGrowth blog; read it here.
As an Acumatica reseller, you have hundreds of competitors all selling similar products. The competition is fierce. With so many VARs (value added resellers) selling essentially the same things, it can be hard to differentiate your offering. To help you stand out and leapfrog your competition, we're providing a series of articles with marketing tips from some of the top Acumatica VARs.
This is the first in that series.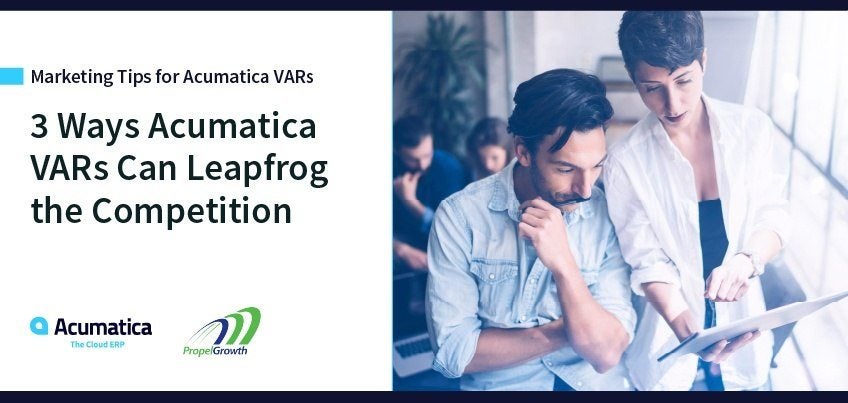 3 ways to differentiate yourself from the competition
While most cloud ERP platform vendors provide marketing support, Acumatica stands above other providers in the quality and quantity of materials it provides. Libby Beemer, Head of Corporate Communications and Brand at Aktion Associates said, "Acumatica is at the top of the food chain in terms of providing content to partners. They're constantly adding new material that's well written, varied and useful. They do a great job of positioning the Acumatica platform, and there's always something new to use. But what makes a VAR successful is taking those assets and customizing them to set the reseller apart."
To differentiate and attract clients, VARs need more than product-focused content. You must clearly communicate a unique value proposition for your specific cloud ERP software services. Recently, I did a review of the About pages on roughly 20 Acumatica VAR websites, and I did not find much differentiation. For example, on the "About" page, nearly every site offered similar value propositions: "We're professional. We answer the phone. We're experts. We have decades of experience, We care."
I highly doubt your prospects will find competing providers that say they DON'T care about customers or DON'T have extensive cloud ERP experience. In order to establish and grow a successful business, you must develop a unique value proposition, messaging and go-to-market strategy specific to your business. Otherwise, you'll not get a return on your marketing investment, the company will struggle to grow, and your business won't increase in value.
Here are three ways you, and all Acumatica VARs, can leapfrog the competition.
1. Strategy first
Most VARs are investing in marketing tactics like content, thought leadership, events, blogging, case studies, SEO, social selling, etc. All of these are important, but they're secondary to the most important part of marketing—strategy.
It's time to stop putting tactics ahead of strategy.
An effective marketing strategy requires solid business strategy. What's special about your firm? How are you going to differentiate from all the other VARs vying for the same clients?
As Tim Rodman, an ERP implementation consultant at Aktion Associates explained, "At the end of the day, a VAR produces ERP go-lives. The product-specific technology knowledge is important. But even more important is the product-agnostic implementation experience. The main thing that the VAR brings to the table is the implementation model. We use our experience to guide a client through the stressful process of changing systems and managing the implementation project."
So, it's important to focus on your team's background, implementation experience, project management and soft skills.
As you think through the business strategy, consider these questions:
What types of clients are your most profitable? Which have the highest lifetime value?
Where does your team bring the most value to clients?
Where are you able to capture the most recurring revenue?
What kinds of implementations are the most profitable?
These questions help you identify your ideal customer profile (ICP). Based on your ICP, consider these questions:
What combination of products bring the most value to your ICP?
Do you need to add anything to your product offerings?
Consider your revenue strategy:
Can you establish a subscription model to create ongoing revenue?
Is there a way to move past the billable hour model to something more predictable for both you and your clients?
Is there a way to package services and use value-based pricing to move past a time-for-dollars model?
2. Your team as a differentiator
Once you've worked through the initial strategy questions, next consider the skills of your team:
What is your team best at?
What skills do your clients most value?
Where does the team fall short?
Do you need to enhance your team's skills or hire additional talent to attract your ideal customers or execute your ideal implementations?
Lots of VARs focus on the aggregate years of experience of their team. But this is not really valuable. What is valuable is their specific backgrounds, certifications and/or the specific experience they have doing deployments. For example, focus on their unique background in supporting a discreet manufacturing workflow or the fact that they've done five complex supply chain deployments in the past year. This is the type of expertise that should inform your business strategy.
3. Time for the Unique Value Proposition
Once you have a strong sense of your business strategy, you can develop a unique value proposition. What do you and your team provide that stands out from the competition? Whatever it is, make sure your customers know what makes you special.
After developing the unique value proposition, it's time to determine your best target markets, your go-to-market strategy and your positioning. And this is where it's important to consider a focus on niches. We'll cover that in our next article.
Long-term growth in revenue and business value
PropelGrowth specializes in helping Acumatica VARs define effective business and go-to-market strategies that facilitate long-term growth in revenue and business value. If you'd like more information about how we might help your firm, contact us at sales@propelgrowth.com or call us at +1 970.300.2280.
And for those interested in becoming one of many Acumatica VARs who receive the training, resources, and support they need to succeed through the Acumatica Partner Program, contact Acumatica today.