Shopify has a new ERP program, and Acumatica is proud to be one of their first eCommerce ERP partners.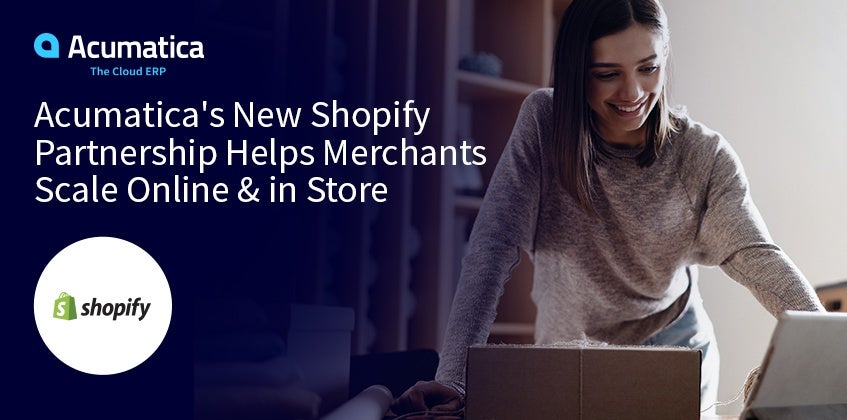 Shopify, a leading, all-in-one commerce platform, has just launched a Global ERP Program geared towards meeting the needs of their larger merchants. The program is the first-of-its-kind for Shopify, as they  partner directly with ERP providers. Now, large merchants can directly connect their ERP solutions to their stores on Shopify to create a comprehensive eCommerce ERP solution.
Acumatica is excited to be one of the first five ERP solutions to partner with Shopify on this new endeavor.
Acumatica's Shopify ERP Integration
Acumatica currently offers Acumatica Native Shopify Integration, an integration that connects the merchants' Shopify stores to Acumatica's cloud ERP business management solution for efficient and automated processing of orders, inventory, customers, fulfillment, product information and more. With this new partnership, Acumatica customers have an effective way to easily connect their award-winning cloud ERP software to Shopify. Shopify's press release explains further:
"[Shopify's Global ERP Program] allows select ERP partners to build direct integrations into the Shopify App Store. The program provides partners with support from the Shopify Developer Success team in building their apps, while also giving merchants confidence that their apps meet a high standard of performance and user experience."
The press release also notes, "Through the Global ERP Program, merchants can now access a suite of certified apps directly integrated with Shopify, without needing to rely on third-party implementations to connect their ERP to Shopify."
Per Shopify, the benefits of activating apps through the Global ERP Program (an extension of the Shopify Plus Certified App Program), include:
Seamless connections between workflows, leading to data-informed decision-making. Acumatica's native Shopify ERP integration will sync products and product details, inventory availability, orders, shipments, shipment tracking information, and customer information.
The ability to save time and money. Many Acumatica customers have already migrated from third party solutions to Acumatica's new native integration. They are reporting that our integration is more robust, flexible, and intuitive than what they had previously experienced with third-party connectors.
The power to control their data. Using Acumatica's integration means each entity (Products, Orders, etc) is connected individually and can push/pull data manually, on a schedule or in real-time. This empowers merchants with accurate, up-to-date data and optimizes the consumer's buying experience. In addition, merchants can add filters to incoming/outgoing data, sync custom fields, and retrieve Shopify Meta Field data for an advanced consumer experience.
Mark Bergen, VP Commercial Revenue, Shopify, calls the program a "gamechanger" in their recent announcement. "ERPs are some of the most complex integrations in the world. By making it easier to connect with them, we'll transform how our large merchants provide commerce experiences."
Acumatica customers easily access and sync with Shopify, a mission-critical application
When Shopify joined the Acumatica platform in 2020, Acumatica CEO Jon Roskill, in the Acumatica 2020 R2 press release, called it a mission-critical application, especially in terms of the pandemic-induced changes happening in the workplace. "Digital transformation has become a requirement. With so many businesses operating from remote locations and home offices now, it's more important than ever to have a single source of business truth that is accessible to anyone, anytime, from anywhere, which can also integrate easily with mission-critical applications such as Shopify… ."
This seamless Shopify ERP integration exemplifies how Acumatica's cloud-based ERP solution provides customers with a multi-channel retail and eCommerce experience. Our Retail Edition allows users to manage omnichannel orders, inventory, picking-packing-shipping, returns, customer support, and accounting—all from one dashboard. While financials, sales, inventory, CRM, and fulfillment systems already tightly integrate with Shopify for a complete eCommerce experience, the new Global ERP Program will make it an even easier and more efficient omnichannel commerce experience for Acumatica customers.
We're excited to continue providing our customers with innovative business management solutions that will help them scale their online and in-store retail business, and our partnership with Shopify will help us do it.
To learn more about this strategic initiative and about Acumatica's award-winning cloud ERP software, contact our experts today.