Did AFF|group's new management make or break the company when implementing drastic changes, including replacing their aging business management technology with Acumatica cloud ERP? AFF|group shares their story today.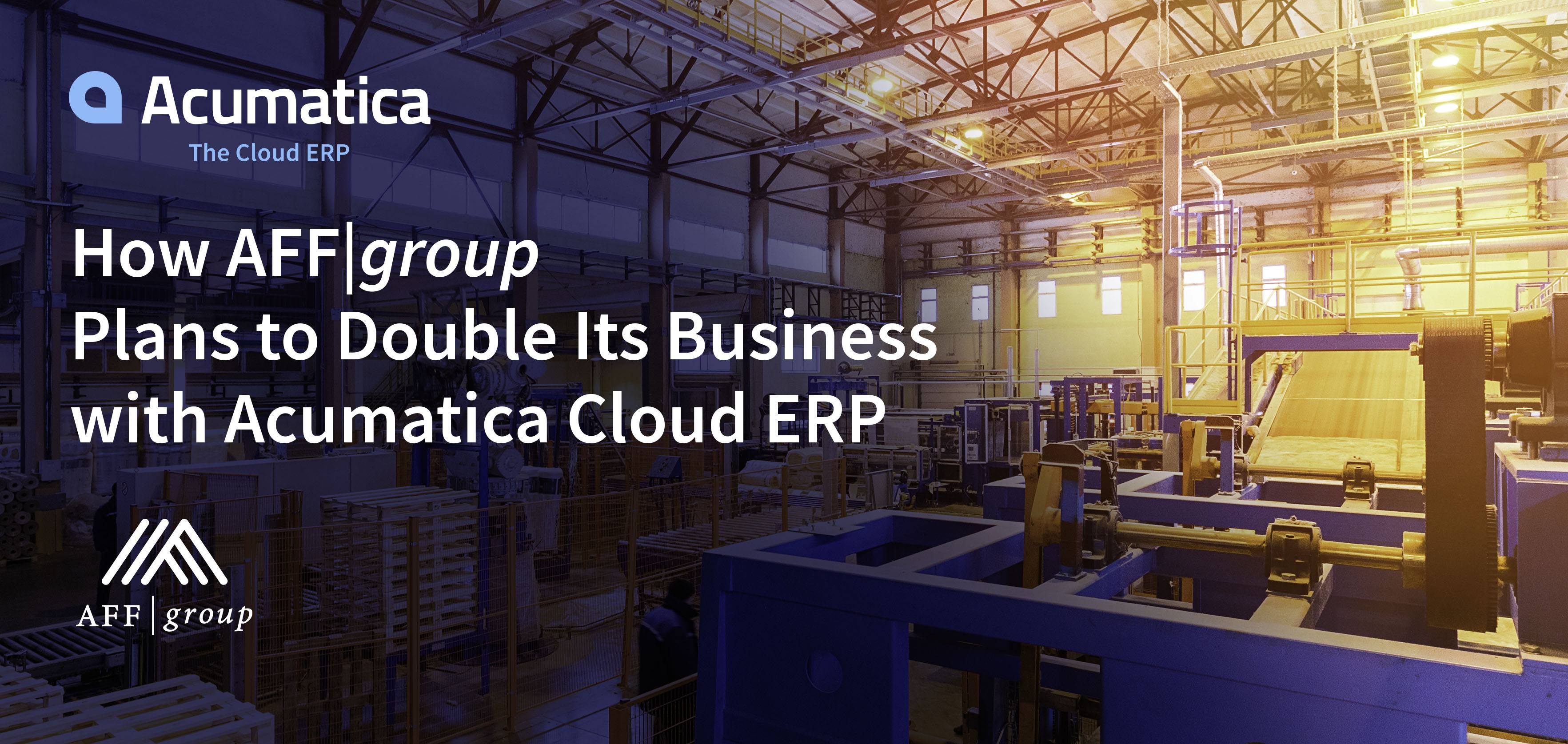 AFF|group's new management, led by Ben Leinster, CEO and Mark Smith, CFO, knew it was risky to ask so much of their employees, but they did it anyway. What did they ask them to do? Change everything, including location, systems, procedures, and culture. And in the midst of it all, they introduced Acumatica's cloud ERP solution.
"We had been running the business for six months when we decided to move to Acumatica, and then we went live relatively quickly," Smith says in the company's customer success story. "We made the decision to go to game speed rather than delay the Go Live as the team adjusted to the new technology.  Once we turned everything on, we ground to a halt."
Was the risk worth the reward? In one word, yes.
Reaching and exceeding their potential with Acumatica cloud ERP
AFF|group is an industry leader in aftermarket textiles, coated fabrics, foam, and other advanced materials for the automotive, marine, retail, and hospitality industries. The company sells its products to regional and local distributors shipping its soft, light and often bulky products nationally through its own fleet of trucks as well as a number of LTL carriers. It purchases product domestically and internationally, bringing in several hundred containers and trucks per year.
AFF had grown steadily in sales under its retiring founder, who did a great job of building the company primarily on hard work and intuition. Prior to the sale, AFF|group's growth had stagnated because of its centralized decision making, a lack of information, and a lack of formal systems and procedures.
First, the company needed to find a better financial system. The company used an outdated version of Sage for accounting, customer service, billing, and order entry; expensing products at the time of purchase; estimating inventory at year end; using spreadsheets to keep track of high-turnover items; and pulling inventory with no respect for dates (e.g. 2019 before 2017).
They also had no single version of the truth, nor did they have mobile access to information. Having run several companies the size of AFF|group previously, the new management team didn't see those as problems. Instead, they saw the potential—potential they knew would be realized with the right ERP solution.
"We wanted something in the cloud and knew it would cost too much to get Sage to the point where it needed to be. There was no point on staying on an old archaic system," Smith says.
After comparing multiple cloud-based ERP systems, Acumatica and Oracle NetSuite rose to the top. Mark says they initially considered Oracle NetSuite to be "a little cleaner" and felt it had a more traditional, comfortable feel. However, in a discussion with their technology partner, Blytheco (an Acumatica and Oracle NetSuite partner), he realized that Acumatica was the winning choice because of its pricing structure and mobility features, which allows the sales team to view inventory at a customer site from their smartphones. He also liked Acumatica's open API, flexible cloud platform.
"I felt we would get better attention from Acumatica, and I had a lot of confidence in (Acumatica implementation partner) Blytheco, which recommended Acumatica," Smith says.
Choosing Acumatica's cloud ERP software and making sweeping process changes across the business allowed AFF|group to not only reach but exceed its potential.
Increasing efficiency, growing margins with Acumatica cloud ERP
"There's only one way to grow our margins, and that's to be more efficient," Smith says.
AFF has been able to do both since implementing Acumatica. With Blytheco's expert assistance, they implemented Acumatica Customer Management, Acumatica Manufacturing Edition with Financial Management, Order Management, Inventory Control, and BOM, MRP, and Production Management.
Additionally, implementing MRP or Material Requirements Planning "has been a game changer," says Cory Childers, Production Manager.
"For us, the power of the Acumatica system is in the WMS and shop floor data collection, the inventory management, the ability to deliver to a customer and to get things right," Smith says.
They're now getting a lot of things right, including:
Providing every department access (including mobile access through their phones/tablets) to accurate information, helping them make better, more informed decisions
Improving business processes company-wide, streamlining operations
Increasing accuracy, reducing errors, improving customer experience
Accelerating inventory turns, better using stock on hand, driving efficiency
Eliminating manual, paper-based workflows, saving time, money, and paper
AFF's customer success story unpacks more details, including (but not limited to) how they're getting their fleet of delivery trucks loaded and going out on time with almost all orders by using barcode scanners as well as increasing loading accuracy, reducing their out-of-stock situations, and eliminating the double booking of inventory.
The risk AFF|group took in shaking up the business has paid off. "We told everyone this was going to be hell for three months because everything was changing. Halfway in people wondered why we made the decision, but now everyone would agree we had to do this. This was something that was required, and we feel much better. We still have a lot to learn but no one can imagine going back to the old way," Smith says.
Leinster adds that the company is now back in a growth mode. "We have power in the information. We can work more logically and save millions in labor by not having to double the staff size."
If you're interested in becoming an Acumatica customer and learning about our manufacturing management software, our CRM software, and more, contact our team today. Like AFF|group, you can grow your company with the right cloud-based ERP solution.