American Meadows, an online retailer needing to replace its disconnected legacy systems, had a choice to make: Acumatica cloud ERP or Oracle NetSuite? They went with the easy-to-use, flexible, and affordable one.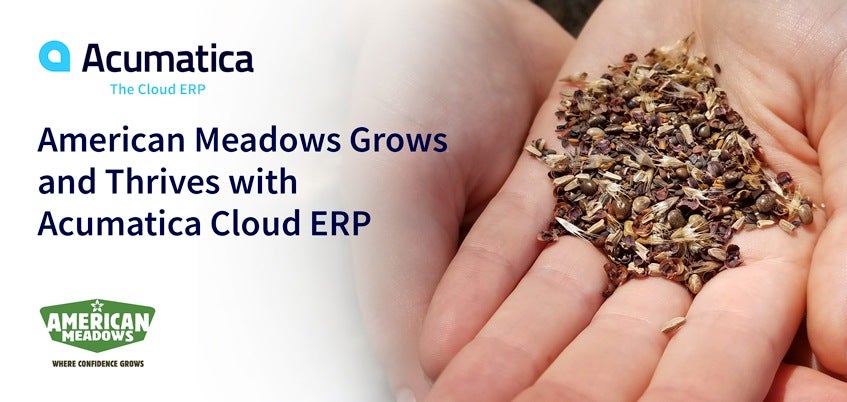 How do small businesses like American Meadows (AMI) provide stellar customer service? With a modern, cloud ERP solution, says President & Co-Owner Ethan Platt. "You need to have a tool like Acumatica that's integrated with all the other tools you have in place to meet Amazon-level consumer expectations."
Meeting high expectations is just one of many benefits they've experienced since deciding to implement Acumatica, but before making that decision, they researched their ERP options.
American Meadows choice: Acumatica cloud ERP or Oracle NetSuite?
AMI has been selling wildflower seeds, perennial plants, flower bulbs, and vegetable seeds since 1981. They receive about 15,000 visitors to their one-stop gardening website every day, and experienced and novice gardeners can find everything they need, including "How-To" planting guides.
Customer RS from Missouri writes on their site, "I have been gardening for years, am a Master Gardener, and work at a famous botanical garden. American Meadows consistently has the highest quality products of any online provider I've used. Your customer service, delivery and the condition of plants/seeds upon arrival are unequalled."
This unequalled service, delivery, and product condition are all a testament to the dedication and expertise of the AMI team, but the company's ability to grow was becoming limited. Why? They were relying on a legacy mail order system and legacy accounting ERP that, though able to handle their ordering processing and inventory needs, were disconnected from each other and from their online sales solution, Magento eCommerce. In addition, AMI's Acumatica customer success story explains that the systems were complicated to learn and difficult to teach to their seasonal staff.
It was time for a modern, user-friendly, and cloud-based ERP solution, one that offered multi-company environment capabilities and seamless integration with third-party applications. They also wanted a partner that was both familiar with Magento and able to keep them "on the cutting edge." AMI considered several business management software solutions. Oracle NetSuite was a major contender, but it brought with it major drawbacks, including its per-user seat-licensing model.
Ethan says, "In the end, I struggled to find people who raved about Oracle NetSuite. Most people I talked with were just okay with it, but very few spoke to how it had radically transformed their business for the better."
Going with the "scrappy technology disruptor"
Ultimately, after weighing the pros and cons of their ERP options, Ethan and his team chose Acumatica's cloud ERP software, calling Acumatica a "scrappy technology disruptor" vs. the "monolith" that is NetSuite.
With the help of implementation partner Kensium, AMI implemented Acumatica Commerce Edition; Financial Management; Customer Management; Magento Connector: Kensium Solutions LLC; StarShip Shipping Software: V-Technologies, LLC; and Vertex Sales Tax Solution: Vertex, Inc.
Since implementing Acumatica's "robust eCommerce solution," AMI has:
— Online orders flowing into their financial system in real time
— Order information being automatically sent to all departments
— A payment gateway that is more secure, can issue credits, and can charge credit cards at the time of order
— Been able to mine their data for business-growing insights through Acumatica's General Inquiry capability
— Effortlessly handled their multi-brand company
Additionally, Ethan says Acumatica was essential to their success when the COVID-19 pandemic hit. "I don't know how we would have gotten through the initial COVID-19 outbreak without Acumatica. We were able to make the switch to be fully remote within a few days of making the decision. We were also able to handle our onboarding training remotely, which we would have never been able to do with our old system."
And because gardening has been a popular activity during the crisis, AMI has seen their sales go up 75 percent year over year. With Acumatica's ERP that supports business as they grow, they've been able to scale quickly and provide each customer with personalized service.
Ethan says, "We now have the data visibility and accessibility to identify our core customers, understand their challenges, and support them with tailor-made gardening solutions. We can do all of this at scale now by leveraging cutting edge technology thanks to Acumatica."
Kensium agrees, noting in their AMI story, "Acumatica's distribution model has resolved AMI's warehouse and shipping issues by vastly improving their ability to manage inventory control and drop-shipping. Back-end processes are now much more efficient. The Acumatica-Magento Connector syncs inventory data automatically so that customers can now see if products are available or not in real-time on the website, improving sales, repeat business, and customer loyalty."
Check out the Kensium customer story along with AMI's Acumatica customer success story for further details on the online retailer's journey as an Acumatica customer. And hear from other companies on why they chose Acumatica over Oracle NetSuite.