It's an exciting time to be in the construction industry. Why? Because Acumatica Construction Edition is now available. It's the cloud-based construction software you need to streamline your business processes and to stay ahead of our competition.
Using technology to manage the business processes in the commercial construction industry is nothing new. Depending on how long you've been in the business, you may have purchased an Enterprise Resource Planning (ERP) system years ago. It may seem to be doing what you need it to do, but is it really? With the advent of the cloud – bringing with it much-needed mobility and integration of multiple applications – the value you receive from legacy systems has decreased dramatically. However, we have exciting news! Our newly released Acumatica Construction Edition means you no longer need to rely on outdated software and time-consuming, disconnected, and delayed systems.
In this second post on our Acumatica Construction Edition, I'll explore how it aids General Contractors (GC) in making their jobs easier and their business more successful. If you missed my first post, Announcing Acumatica Construction Edition for Residential Construction: Homebuilders, I encourage you to check it out as well as read our press release on our newest edition. Increasing your knowledge base before making big decisions, like choosing a cloud-based ERP system with innovative construction software, is essential for making the right decision.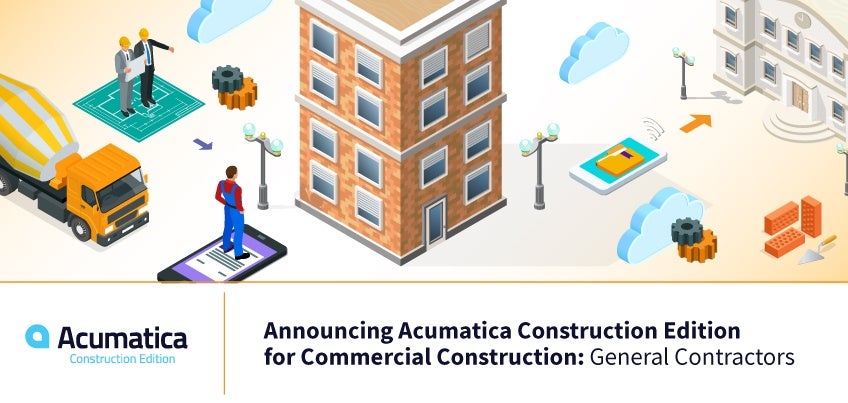 Why Acumatica Construction Edition is the right decision for General Contractors
As a field, financial or business manager, you're at the center of every decision pertaining to every project you're managing. And you're usually working on more than one project at a time. While I'm not saying anything you don't already know, it's important to note that Acumatica is on board with the multi-faceted nature of your job. Acumatica Construction Edition is construction software geared to addressing your specific business management needs and will help you keep on top of your schedule and costs.
Before I highlight some of the features and benefits of our new edition, I want to let you know we'll be attending World of Concrete (WOC) this week (January 23-26, 2018, booth C3408), where you can get a deeper look and a hands-on demonstration.
Here are some of the major features and benefits of Acumatica Construction Edition:
Complete system in one: Instead of spending money on various back office systems and applications and then spending time attempting to collect the data to make decisions, you have one, complete system that does it all for you. At Acumatica, we recognize that we live in a multi-cloud world and it's necessary that the multiple clouds interact seamlessly. With Acumatica Construction Edition, you have a true cloud system already in place to confirm that you have a single source of truth and can access your data, through either importing spreadsheets or using the Construction API based on Microsoft tools. Our construction edition also integrates with accounting, project accounting, CRM, and more. Plus, you have specialized construction capabilities, such as field operations from Procore and visual scheduling from Smartsheet.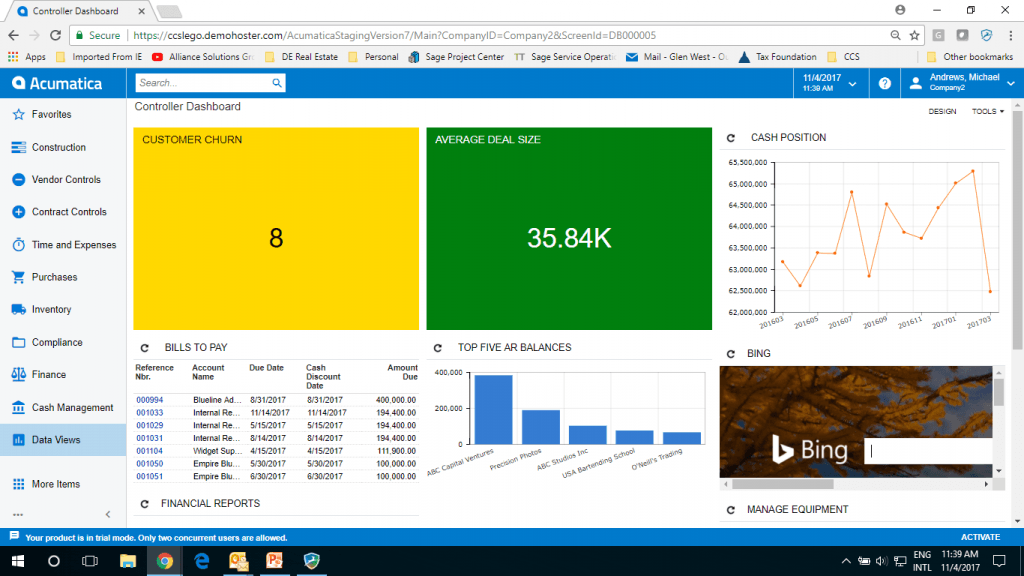 Controller dashboard
Real-time information and mobility: With Acumatica Construction Edition, you have a single source of truth in real time, accessible anywhere and at any time. Can your current system do this? Chances are it can't. Specialized construction capabilities are available in our mobile app; you can process expense receipts and equipment time coded for the job structure. In addition, you can check reports such as committed costs by project and purchase orders by vendor – all whether you're on a phone, tablet, or computer, each with the same functionality.
Adaptability: Tailor the system to your specific needs and designate by customer, employee, and vendor. You can customize without coding and develop system extensions with Microsoft tools.
Comprehensive project management: If you've struggled to effectively manage multiple projects, subcontractors, and employees, Acumatica Construction Edition simplifies the process using mobile and cloud technology. Communicate project requirements, collect project status info (by job), track employee performance, resolve issues, and keep on top of engineering details, including specifications, budgets, compliance information, material and labor costs, and more.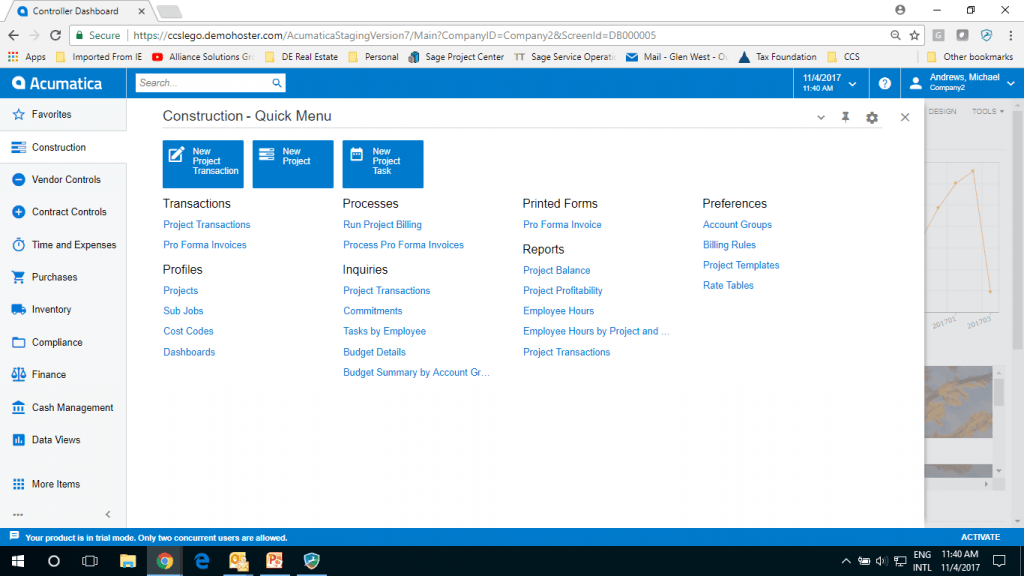 New task project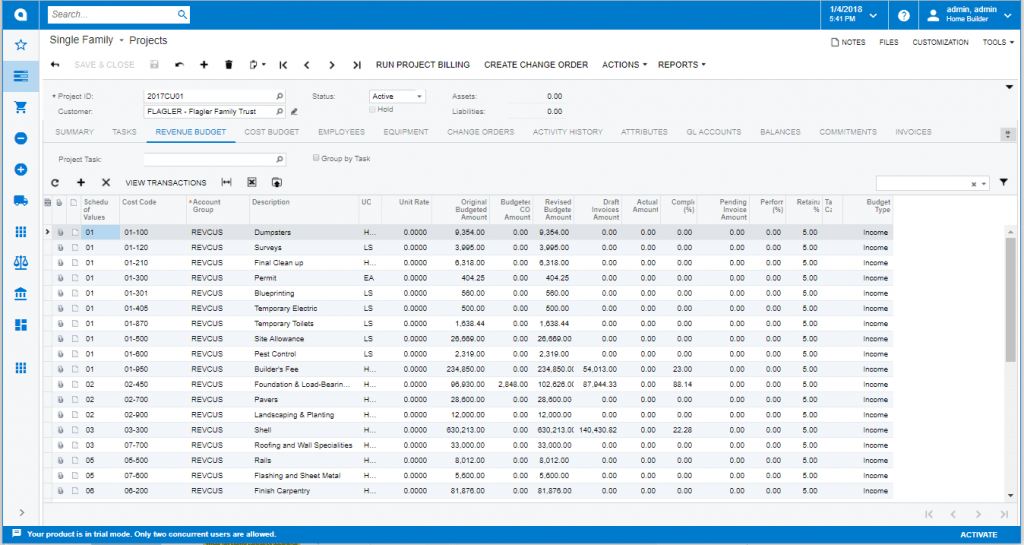 Revenue budget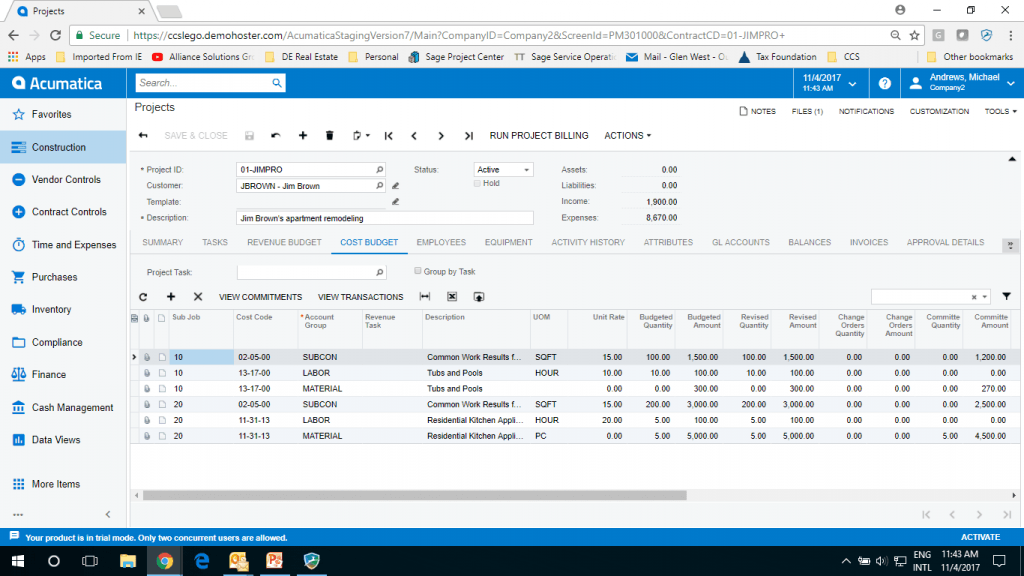 Cost budget
The features and benefits go on. Control costs, increase profits, and minimize risk through fully integrated financial and accounting features (general ledger, project accounting, contracts, billing, AR, AP, retainage, etc.). Use templates to quickly and consistently enter contracts and budgets. Manage the bid process with updated scheduling and staffing information. And so much more through the Software as a Service (SaaS) model, which means you let your software vendor be responsible for your IT needs (servers, security, privacy, and management) while you focus on everything else.
Acumatica Construction Edition meets and exceeds your construction management needs
Ultimately, meeting and exceeding your client's expectations while increasing profitability is your goal (and ours). Acumatica Construction Edition streamlines every process of your many construction projects, increasing efficiency and productivity – both of which are essential for businesses to profit. The foundation of our newest module rests on the three pillars of True Cloud, Real Time, and High Value, each one infused into every feature and benefit.
Acumatica was born in the cloud and as such, allows customers to fully utilize seamless integration with all of our suites, such as financial management, inventory management, CRM, field service management, and now the Acumatica Construction Edition. With real time information, you're always updated, informed, and ready to go. And the high value is found in the significant functionality of a complete system for all of your business management needs.
If this sounds like the cloud-based construction software for you, then we hope you'll contact us so that we can get started. Another great way to learn more about Acumatica Construction Edition is by registering for and attending Acumatica Summit 2018, coming January 28-February 2, 2018. My team and I will be easily accessible and extremely excited to show you how Acumatica Construction Edition can help you jump ahead of your competitors through changing the way you do business – for the better.