The need to weigh costs vs. benefits is a daily occurrence for every business. For those in the construction industry, the variables are vast and keeping track of every detail is a massive undertaking. With our new Acumatica Construction Edition, you can be assured that your investment in the right construction software to handle every business management need will pay off, big time.
As a Homebuilder, researching and selecting cloud-based construction software is probably not at the top of your priority list. Providing bids, landing contracts, securing approvals, tracking materials and labor, staying on top of resource scheduling, billing clients accurately for multiple projects – all while being on the move – keeps you beyond busy. But these tasks are exactly why putting construction software (software geared specifically for your needs) on your to do list is the first step in creating a profitable and competitive business with the latest technology available. This is where our newly released Acumatica Construction Edition comes in.
In this first post about our new product, I'll focus on the value you receive when you invest in the right construction software within the right cloud ERP solution, like Acumatica.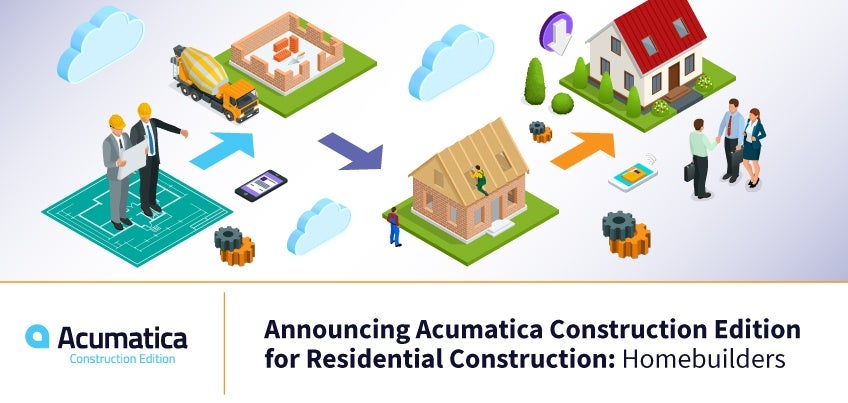 Here's why Acumatica Construction Edition can be the bedrock of your company
Acumatica Construction Edition is state-of-the-art software specially designed for the construction industry. As a Homebuilder, you're typically pulled in many different directions every day. Every home you build, whether spec or custom, comes with different requirements and you're responsible for the complete construction process; having the right tools is essential. Acumatica Construction Edition is the right tool for managing your business management needs.
Let me breakdown the reasons why, starting with discussing the three pillars of our Acumatica Construction Edition: true cloud, real time, and high value.
True cloud means Acumatica was built in the cloud for the cloud from the very beginning. We have not retrofitted our modules like some of our competitors. Your construction management needs seamlessly integrates with our other suites, including accounting, inventory management, CRM, and more.
Real time means you have a single and current version of the truth from one, complete business system. The Acumatica Construction Edition uses our latest release, 2017 R2, and a construction API to simplify and streamline interfaces; it also supports multi-cloud integration such as visual scheduling and sales tax.
High Value means receiving broad functionality, easy implementation, and specific customization all at what we call "Consumption Pricing", where you pay on the resources required not on a per user basis. Along with these benefits, Acumatica Construction Edition comes with expert advice from our VARs, a global customer base, customization without programming (based on a Microsoft development platform), and a myriad of application partners: Smartsheet, Procore, Hyphen Solutions, Microsoft Office 365, and Adobe Sign.
I can break the three pillars down even more. Following are some – but not all – of the amazing benefits of Acumatica Construction Edition:
One complete business system: I already briefly touched on the fact that Acumatica Construction Edition seamlessly integrates with all primary business functions such as finance, project accounting, contracts, purchase orders, subcontracts and customer management. You can view all of your data in one system, allowing you a cost-effective option for capturing important business information. You can also import spreadsheets or use the Construction API based on Microsoft tools. Your ability to make decisions increases exponentially.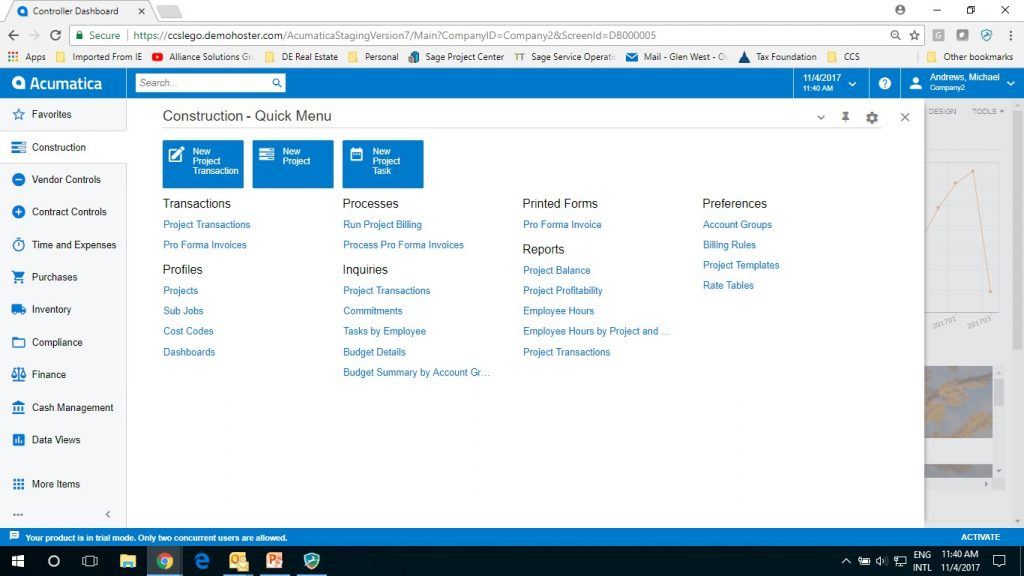 Sample screen shot from Acumatica Construction Edition: Quick Menu
Mobility: You are on the go all day long and must be able to access your information anytime from anywhere. Acumatica Construction Edition is accessible via phone, tablet, or computer; you can manage your business and projects on the cloud without sacrificing functionality on any of the devices and do so in real time. Specialized construction capabilities are available in a mobile app.
Manage projects accurately and cost-effectively: Profitability, costs, risk, estimates, scheduling, new designs, construction processes, material tracking, and more can be taken care of through Acumatica Construction Edition. You can capture the many details of project management, including costing, contracts, regulations, engineering, scheduling, inspection and on. Online access for the current status and compliance needs is available along with reminders for future needs such as permit renewals. Dashboards, reporting, and workflows are easily configured to your individual needs, plus they resize based on the device you're using. Along with these features, you have a global search function that allows you to find all information on a customer and analyze the data with embedded Microsoft Excel and Power BI. The information you need is at your fingertips and helps you control costs, increase profits (and productivity), and minimize risk.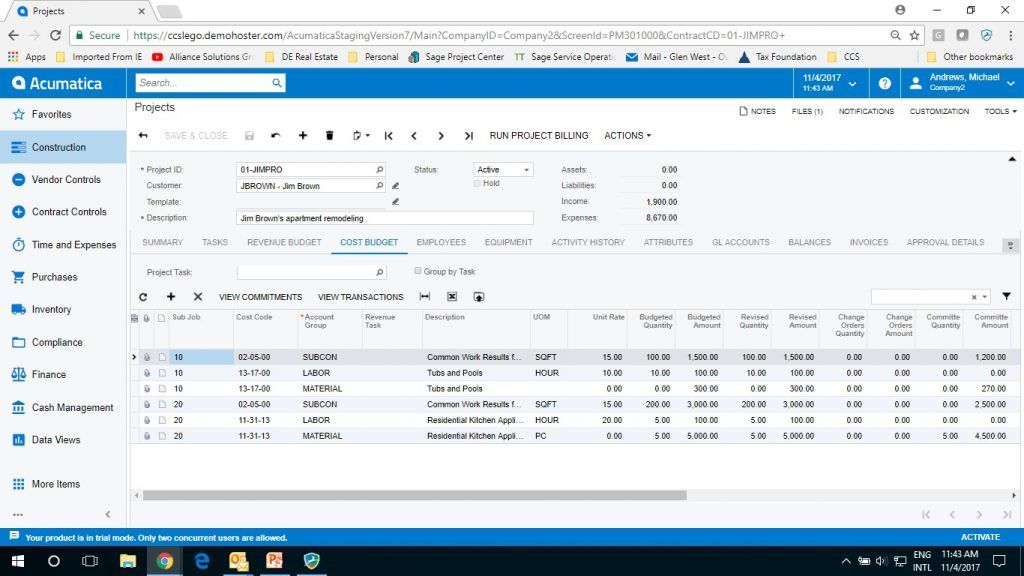 Project costs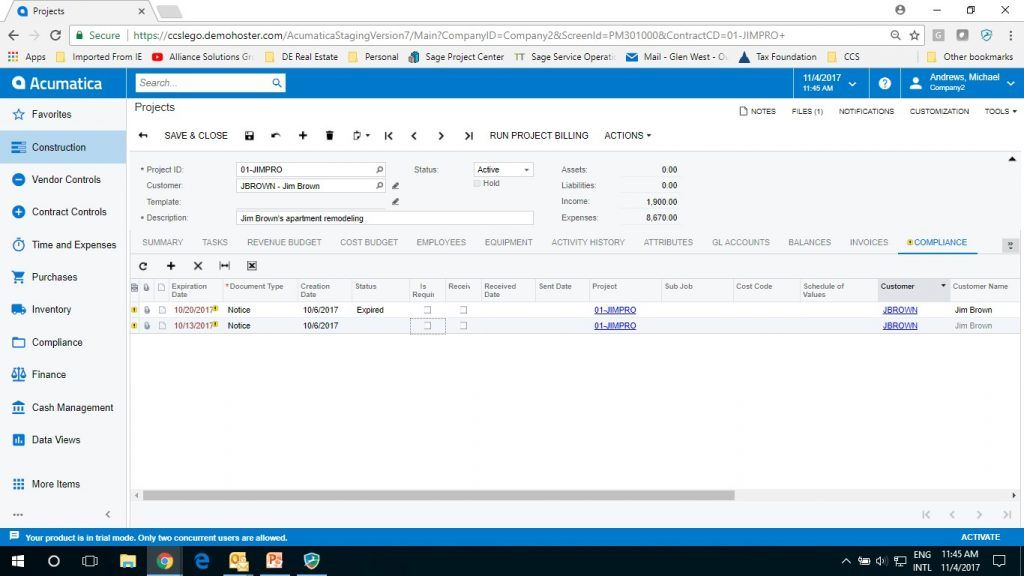 Project compliance
Grow your business and manage customers: Using CRM, you can track your customer information from the very beginning to the end of every project, including marketing, sales cycles, estimates, quotes, and even customer issues. Multi-company, multi-language, and multi-currency management supplies you with every option you need for every project you undertake.
Please keep in mind that this list isn't comprehensive. I haven't even touched on the fact that you reduce IT costs through the Software as a Service (SaaS) model, which also cancels out the need for internal servers and maintenance along with basing pricing on how much you use the system vs. per user. Nor have I mentioned that the reports and dashboards are quickly and easily configured for your customers, employees, and vendors. And there's even more.
Find out more about Acumatica Construction Edition and how it can help your business thrive
The good news is that there are several opportunities for you to research Acumatica Construction Edition, including through our recent press release.
You can also take a long, hard look at Acumatica Construction Edition at both the International Builders' Show (IBS) (January 9-12, 2018, booth W5360) and at World of Concrete (WOC) (January 23-26, 2018, booth C3408). Come visit us; we'll be happy to give you a first-hand look at everything our construction module provides.
Finally, a fabulous way to get substantial details on Acumatica Construction Edition is by attending Acumatica Summit 2018. My team and I will be available to answer any questions and give you hands-on demonstrations. If you haven't registered, this would be a great time as the Summit is almost here. This is the perfect opportunity to see how Acumatica's newest edition provides efficient, productive business processes leading to your business thriving and surpassing your competition.