After much deliberation, the winners of the Acumatica 2019 MVP and Developer MVP Program have been selected. Their efforts on behalf of the Acumatica community surpass expectations, and we want to acknowledge who they are and what they've done.
I'm excited that it's time to reveal the winners of the Acumatica 2019 MVP and Developer MVP Program! I, along with a core group of Acumatica team members, were appointed to review nominations. It wasn't an easy task. We had an amazing group of nominees, all of whom greatly contributed to the growth and success of the Acumatica community. So, as we did in 2018, we decided to increase the number of awardees. Every person selected deserves the honor, and we plan to recognize them during Acumatica Summit 2019, coming next week in Houston, Texas at the beautiful Marriott Marquis Houston.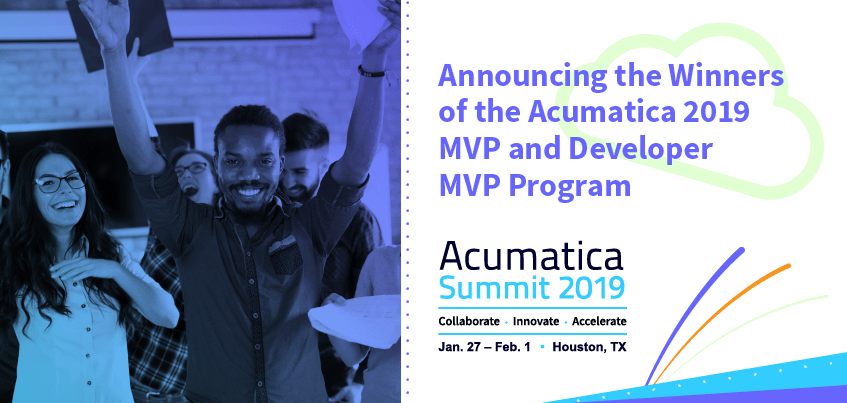 Acumatica 2019 MVP and Developer MVP Program winners
MVPs in the Acumatica community set themselves apart by their knowledge Acumatica's award-winning cloud ERP solution and by developing applications for Acumatica's cloud ERP software and ERP platform.
Then they take it a step further.
They join webinars, participate in forums (such as Stack Overflow and LinkedIn), engage with our team, and attend our annual cloud ERP Summit. They also offer advice and insights to their peers without expectation of payment or reward.
Because of their inspiring actions, the following MVPs have been selected from a long list of deserving individuals. Though they'll be honored during Acumatica Summit 2019 (an event I feel emulates a large-scale family reunion), we wanted to get their names out and recognized in the cloud ERP space before then.
Acumatica 2019 MVPs
Developer MVPs
Congratulations to all our winners!
We appreciate your willingness to advise customers and partners, to freely share your expertise, and to offer your feedback on our products and platform. We recognize how your selfless actions contribute to the success of every Acumatica community member.
Acumatica 2019 MVP and Developer MVP benefits
The MVPs' efforts on behalf of others earned them the title of Acumatica 2019 MVP and Developer MVP Program recipient as well as the following benefits:
Discounted Registrations to Acumatica Summit
A recognition ceremony and token of appreciation given by Acumatica CEO, Jon Roskill, and me during the Summit's Welcome Reception
An Acumatica MVP Badge or Acumatica MVP Developer Badge, which can be displayed on profile pages, social media, resumes, and third-party forums
The opportunity for Developer MVPs to write guest blogs for the Acumatica Development Network (AND) and attend quarterly synchronization meetings
Participation in our Stack Overflow and LinkedInforums by answering questions (recognizing Developer MVP contributions in a leader board format with the leaders acknowledged quarterly)
The ability to contribute to our open source Acumatica projects on GitHub.
We're looking forward to acknowledging their avid support and commitment to Acumatica cloud ERP at Acumatica Summit 2019. We're also excited to be announcing the Developer of the Year award recipient during the Summit's Developer General Session.
For those in the community who have benefitted from the time and energy put forth by our Acumatica 2019 MVP and Developer MVP winners, it's not too late to join us at Acumatica Summit 2019 where you can thank them in person. As Acumatica CEO Jon Roskill says, it's the most wonderful time of the year. The week will be filled with some of the best cloud ERP training, networking, and speakers available and also promises to be a fun time!
Again, thank you to our MVPs. Your efforts have contributed to Acumatica's and the community's continued success, and we truly appreciate everything you do.
For anyone who would like to learn more about joining the Acumatica community or about Acumatica's cloud ERP software and ERP platform, contact our team today. We're here to help you accelerate your success in the cloud.