The way to know if your purchase of a cloud ERP system will pay off in the long run is when the benefits outweigh the cost. Ask Afrika found this to be true and shares their story.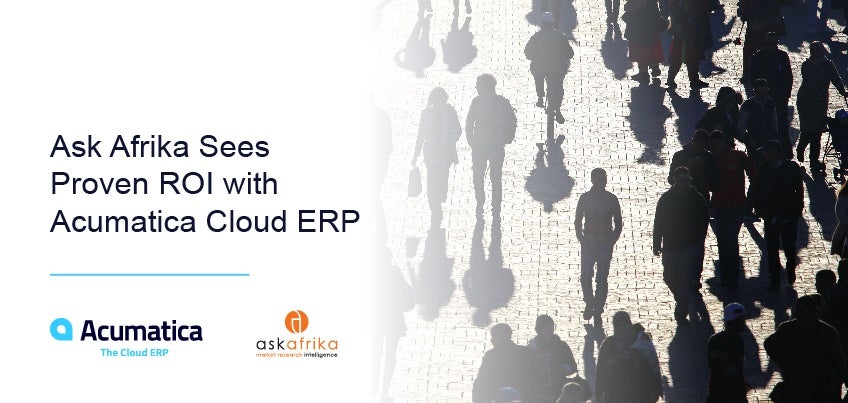 When you make a purchase, you have the expectation to receive a return on your investment, also known as ROI. Sometimes this ROI is satisfaction with the service provided, while other times, it is achieving milestones or cost savings with a product you buy. Ask Afrika, a market research company located in South Africa, had these expectations when they implemented Acumatica cloud ERP, and the ROI they achieved was significant.
Acumatica's single integrated solution provides incredible ROI
The organization, which has a Broad-Based Black Economic Empowerment (B-BBEE) level 3 rating, has been providing their clients with the market research solutions needed to grow their businesses for over 23 years. They offer strategic insights through collecting data, establishing companies' brands, conducting product and social research, and more. But to make their magic happen, they were utilizing three different systems to track their finances, project accounting, and time-sheet allocations, which resulted in time-consuming repetition and figure matching.
"We really needed to have one integrated system where our sales teams could log their opportunities and we could track a sale and project through to a final invoice. When we instituted the systems that we were working on, they were top of the range and suited a company of our size, but Ask Afrika has grown substantially over a relatively short period of time. The fast pace of our growth necessitated that we institute a cutting-edge system that could evolve with us," Elizabeth Barratt, manager of Ask Afrika's Project Management Office, says in the company's customer success story.
Their want list for their integrated financial management software and CRM software solution included agility and scalability, as well as an advanced project accounting module. Acumatica cloud ERP fit the bill.
"Acumatica works perfectly. It handles project accounting, cash flow, project monitoring; but Acumatica is not just confined to project-based operations. Other departments, like sales and marketing, love it as well," Elizabeth says.
The company, whose product suite includes the industry benchmarks Ask Afrika Orange Index®, the Target Group Index, Ask Afrika Icon Brands™, and Ask Afrika Kasi Star Brands, implemented Acumatica Financial Management, Acumatica Project Accounting, and Acumatica Customer Management with the help of Acumatica implementation partner Palladium. They immediately benefitted from Acumatica's customizable cloud ERP software.
The ROI of implementing Acumatica cloud ERP
As cloud ERP implementation benefits go, Ask Afrika hit the mother lode. How so? With Acumatica, they were able to:
Reduce 63 hours of accounting and data transferring tasks to 20 hours
Gain one version of financial truth
Create customized dashboards and reports
Receive real-time data and access it anywhere, anytime
Trust their reports
Integrate easily with third-party partners
And more
"Through decreased software costs and by increasing capacity, Ask Afrika has calculated a return on investment of 1.5 million South African Rand," Elizabeth says. "We receive up-to-date, live data all the time. We have more control about what's happening in the system and who's doing what."
Ask Afrika's customer success story drills further into their experience with Acumatica, including the fact that the company anticipates growing with the help of Acumatica's open platform. And Acumatica's financial management software, CRM system, and project accounting module has helped the company fulfill their purpose of giving their clients the data and insight they need to make growth-enabling decisions.
Charlene Venter, Ask Afrika's Financial Manager, says, "With a click of a button, we know exactly how our company is performing, which enables us to make better and more informed business decisions."
And with a click of a link, you can contact our team to find out more about why Ask Afrika has received a healthy ROI with our highly usable and highly ranked cloud ERP solution.