Why are AV companies like Soundcast and M3 Technology Group choosing Acumatica cloud ERP as their modern and comprehensive business management solution? Here are some good reasons.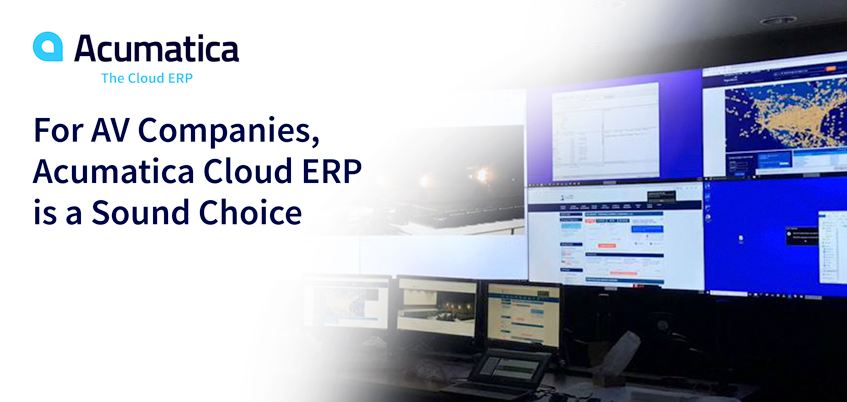 Audiovisual companies that haven't implemented a modern cloud ERP solution have a problem. Actually, they have a few problems:
No access by field technicians to real-time updates from a single, integrated database regarding product, inventory, and sales information
No ability to report time, expenses, and parts from wherever they are, whenever they want
No insights between different departments leading to sales representative challenges who are preparing for customer meetings
No way to increase their speed, efficiency, and accuracy because of their reliance on manual paper processes
No guarantee of software security
No customization capabilities
No analyzing of business data due to lack of synchronization between individual computers and/or the use of multiple Excel spreadsheets
Additionally, their sales teams suffer through a laborious process to create customer quotes. Thankfully, these companies have their choice of innovative, cloud-based ERP solutions that can help them become successful, connected businesses in the digital marketplace, just like the AV companies we'll look at today.
Soundcast chooses Acumatica cloud ERP over Oracle NetSuite
Soundcast, a global provider of wireless outdoor, Bluetooth speaker solutions, was spun off from a separate company. Starting fresh, they had to make a big decision. Should they stay with their parent company's software choice (Oracle NetSuite) or go with another service?
After a demonstration by their IT partner, Collins Computing, they went with Acumatica's  cloud ERP software, implementing it on an SaaS license and selecting Acumatica's Financial Management and Distribution Edition modules. Says Soundcast's Accountant, Elia Sepulveda, "Everything that we wanted in our software, Acumatica had it."
Everything includes a pricing model that doesn't charge per user, offsite access to data for all team members, sales data available directly in a central location, user-friendly navigation, simplified financial reporting, and deployment flexibility with cloud, private cloud, or hybrid options.
"NetSuite is solely a Cloud service—in my eyes, that seems like more of a lease," says Soundcast's Information Systems/Technical Support Rep Norman Bradley. "You never own the system."
Norman points out that with Acumatica, "We can actually have ownership of the software and we can have our own data hosted on our own premise. So that for me is a big deal, being in IT. That for me is what sold me. There's even an option to have a hybrid system, where you can have the data and sync up to the Cloud for more security."
The differences between Oracle NetSuite and Acumatica don't end there. "If we would have gone a NetSuite route, we would have been out at least $10,000 more for the service per year."
In addition to the savings, Soundcast enjoys:
Seamless integration with EDI, which puts orders directly into Acumatica and eliminates duplicate efforts
Access to Acumatica on any mobile device or tablet
Data accessibility through a data channel, which allows the exposing of data to a public network (not allowed by Oracle NetSuite)
Norman is feeling positive about the future. "I see good things coming out of Acumatica at this point."
The company's customer success story provides further details about Soundcast's success with Acumatica cloud ERP
M3 Technology Group chooses Acumatica, the cloud ERP without competition
M3 Technology Group designs, builds, and installs networked audiovisual and videoconferencing systems. It's also a company that believes in providing outstanding customer support to their customers in education, corporate, military, government, healthcare, and worship settings.
They were using a legacy software solution to handle their financial, customer, project, and field service needs. Though they had an expert team that had already successfully grown their company, it was obvious that they needed to replace their slow, manual, and multi-platform solution with a cloud ERP system that rests on a comprehensive platform. After assessing their many ERP options, M3 Technology Group crowned Acumatica the winner.
"Once we started pricing things, no competition," says ERP Developer and former COO Kelly Burns. "Acumatica was on the rise while the others felt like they were fading away."
The company implemented Acumatica Distribution Edition with Advanced Financial Management, Order Management & Inventory Control; Acumatica Project Accounting; and Acumatica Field Service Edition. With Acumatica's open API interface, M3 Technology Group seamlessly integrated with  Avalara, Microsoft's Power BI, APS Payment Solutions and Velixo. They also later added Acumatica Customer Management.
"M3 Technology has grown dramatically since implementing Acumatica. With the move from the old on-premises solution to Acumatica's Cloud ERP, M3 experienced a growth in revenues by 60% in just the first two years, all while maintaining the same headcount in the finance department. We came out of the gate billing larger orders, but we covered the tasks with the same people. We weren't extra stressed or working overtime to keep up, yet we were doing way more in sales and transactions through Acumatica," Kelly says.
From gaining a more efficient mobile workforce and eliminating on-premise technology challenges to decreased time for creating quotes and achieving real-time insights into their business/technical operations, the company sees Acumatica as their foundation for continued growth.
"I would absolutely recommend Acumatica to businesses not just in our industry but really in any industry," Kelly says in their customer success story, which provides even more information about the benefits they've experienced. "I can't imagine coming from any other ERP and being dissatisfied with Acumatica."
Acumatica cloud ERP is a sound decision
These companies' choice to become an Acumatica customer has been a sound one.
The business benefits of a modern, digital audiovisual solution are clear to AV providers and integrators, but few have deployed the same kind of end-to-end solution for managing their company. Acumatica provides a single source of business truth under one pane of glass—available 24/7 on any mobile device to any authorized user—with industry-leading uptime and performance.
If you're an AV company (really, any company in any industry) that would like to learn more about Acumatica and/or are in the market for manufacturing management software, field service software, inventory management software, and order management software, contact our team today.