With growth on his mind, the president of Bell and Company knew he needed a cloud ERP solution that could handle his small-business management needs. Acumatica beat out the competition, and the company's subsequent growth confirms he made the right choice.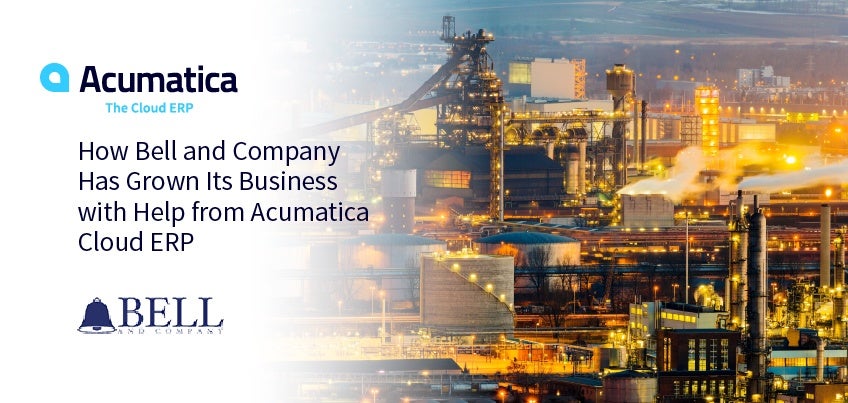 Small (but growing) business? Check. Desire to deliver superior customer service? Check. Modern, cloud ERP software? Nope.
Bell and Company is a family-run industrial and marine supply distributor that is known for taking care of their customers. It was founded in 1955 by Fred R. Bell, Jr., and his grandson, Dan Wilkins, joined the company in 2008. One of Dan's first decisions was to update the company's financial processes, moving their paper-based system to QuickBooks' Enterprise Edition.
It was an improvement, but the passage of time highlighted what QuickBooks lacked:
Automated communication with customers
Sophisticated reporting and dashboards
Integration with third party applications
Mobile access to their network
And more
The next step? Finding an affordable ERP solution that would meet their more sophisticated requirements with modern financial management software, distribution management software, and sales order management software.
Why Acumatica was Bell and Company's cloud ERP choice
Dan did his ERP homework, narrowed down his options, and chose Acumatica's cloud ERP software
"Most of the software companies I looked at could provide the functionality I needed, but the key thing for me was to find something everyone could use and understand," he says in the Bell and Company's customer success story. "My Acumatica demo helped me realize that the layout and workflow processes of Acumatica were better than any other offering."
More than Infor and SAP, Acumatica showed Dan they were behind him 100%. "What I found…was their willingness to answer all my questions and do multiple demos. From the start, I really felt like they were here to fully support us."
Bell and Company implemented Acumatica Financial Management (and the Fixed Asset application), Acumatica Distribution Management, and Acumatica Customer Management software. Because it's a small company, and because Dan wears many hats, including co-owner, president, salesman, purchasing agent, and IT guy, he was very happy that the implementation, as well as the importing of business accounts and items into Acumatica, were more straightforward and easier than he expected.
"You're able to do a lot of it yourself," he says. "You don't need a networking background, and you don't need programming knowledge."
With such ease of use, Bell and Company has been able to make the software work for them rather than adapting their workflow to make it work for the software. "One major feature that has helped me achieve this has been the ability to create different generic inquires within Acumatica for each employee job function here at Bell. I asked each employee what information they would like to have on one screen that would help them execute and be more efficient in their day-to-day tasks. Based on this feedback, I've designed a generic inquiry for each job function giving them the exact information they requested."
Having the relevant information at their fingertips has improved task management and customer response. Additionally, Dan has used generic inquiries to open up lines of communication and increase insight into operations.
"By identifying areas in our operations that were producing the most issues, I was able to create generic inquires that would expose information and bring insight to me and other users that we use to proactively identify potential issues before they happen, take corrective action, and prevent these issues," he explains.
Growing with Acumatica cloud ERP
For Dan, growing Bell and Company, and doing so at a reasonable cost, is important. Acumatica's unlimited user pricing is a huge plus for him. "Competitors wanted us to pay per user, which wasn't affordable."
Other major pluses include:
Mobile access for his sales team, increasing efficiency and improving customer service
User-friendly design and layout, streamlining implementation and employee training
Easy configuration
Detailed help on every screen
Tight integration between sales and purchase orders
No hardware investment
As he notes in the customer success video, "You often hear about the complexity of ERP systems. With Acumatica, I think we got the full capability of an ERP with the simplicity that allows not only me but our whole sales force to take advantage of the system."
Don't let a complex ERP system slow your business' growth. Contact our team, ask us any questions about our cloud ERP software, and schedule a demonstration today.
You're also invited to Acumatica Summit 2020 (January 26-31, 2020) where you can learn all about our comprehensive ERP solution from Acumatica customers, partners, and developers in a dedicated learning environment that will also be a lot of fun (it's going to be in Las Vegas, Nevada at the Cosmopolitan of Las Vegas!).
As Dan says, there are "advantages that more powerful software" can bring, and he's enjoying those advantages after choosing Acumatica cloud ERP.