What happens when you replace a legacy ERP with a modern, comprehensive cloud ERP solution like Acumatica? Bob Davis Sales answers that question.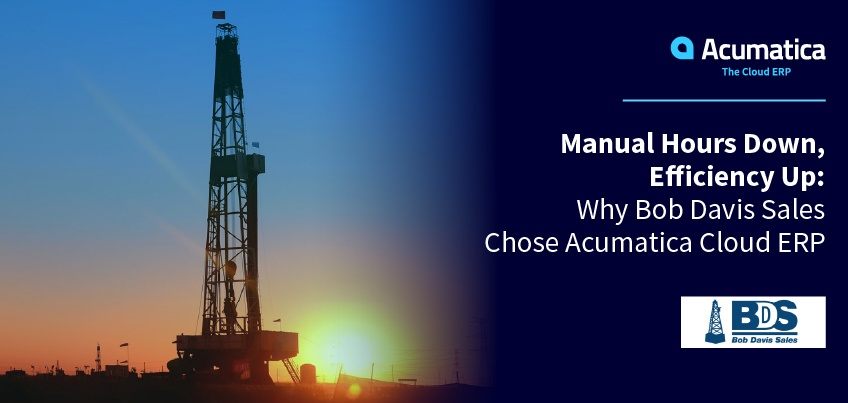 Like most businesses, Bob Davis Sales (BDS) lists growth as their main goal, but the technology they relied on for many years was limiting their ability to achieve it. That all changed when they implemented Acumatica cloud ERP.
"For our company, it's improved our inventory process, our invoicing processes and, at the end of the day, it's improved our bottom line. Since we've instituted Acumatica, we're already seeing returns on our investment," says owner Bob Davis, Jr.
What are those returns and what were their challenges before implementing Acumatica's distribution management, inventory management, customer management, and financial management software?
Here's their customer success story.
BDS pre-Acumatica cloud ERP
Bob Davis Sales was established in 1978 by Bob Davis, Sr. in Shreveport, Louisiana. With the help of son Bob Davis, Jr., the company expanded to three locations. Currently, they represent seventeen companies and provide complete sales, distribution, and technical support for the exploration of crude oil and natural gas, guaranteeing the highest level of customer service to their Arkansas, Louisiana, and Texas base.
The oil industry has experienced its share of ups and downs. The downside included the substantial drop in oil prices in 2014. Sales dropped, and though the family-run company, which now included son and grandson Brett Davis as Operations Manager, was running a version of Sage (Peachtree), they were still running predominantly with manual processes, including invoicing.
"Our system was basically computerized ticket writing. What we did was terribly inefficient," Brett says.
Their inefficiency from disconnected operations, inconsistent product item numbers, and varied processes added up to an unproductive environment. To counteract these challenges, Brett wanted to implement a modern, cloud-based ERP. His dad agreed, and Brett set about researching his cloud ERP software options.
"When we were looking for a new ERP, we wanted something geared towards small-to-medium-sized businesses. We also wanted something where we could have hands-on customer service," he explains in an Acumatica interview. "We just wanted to be able to have a system where all of our people could work collaboratively with each other."
He also says they wanted to efficiently creates invoices, streamline their inventory management, and make it easier to generate reports for their manufacturers. After evaluating Intacct, SAP, and NetSuite, Brett chose Acumatica, due in large part to the actions of Acumatica partner AIM Solutions.
"Our concern was never capabilities but always had to do with the relationship with the people we'd be working with," he says in the BDS customer success story. "AIM came out here immediately and developed a good relationship right off the bat, and we had high confidence in their ability to help us."
BDS post-Acumatica cloud ERP
Once BDS implemented Acumatica Financial Management, Acumatica Customer Management, and Acumatica Distribution Edition, they knew they had made the right decision.
"It's just been a very easy transition and a very easy product to learn," says Bob Jr. "We've seen all kinds of benefits, from efficiencies in our invoicing, even in our inventory all across the different lines of our business."
Brett agrees. "We can get answers much faster than we were ever able to get in our previous system and that goes a long way in creating a happier customer base."
Additional benefits include:
Immediate boost in productivity due to centralizing their three operations and all customer accounts
Access to inventory, sales, and other information from more than 25 vendors in one system
Eliminated and automated time-consuming paperwork to transfer products, increasing efficiency
Reduced invoicing from 30 hours to 2 hours and building reports from an entire day to 30 minutes
Increased sales team productivity on the road by accessing data anywhere, anytime
Brett says, "It's made my life a whole lot easier."
You can check out the video below to hear Bob and Brett talk about their experience with Acumatica cloud ERP.
Is it time for you and your company to increase your efficiency, collaboration, customer service, and ultimately, your bottom line? If so, we recommend you research Acumatica as the cloud-based ERP solution for you.
Brett does, too. "I would recommend Acumatica. I have recommended Acumatica. Just the unlimited user licenses and the customer service you get alone is well worth it."
Please contact us with any questions or to schedule a demonstration.