Acumatica customer Cesar Chavez Foundation is a complex organization that was running their financial systems on multiple programs, including an end-of-life system. They recognized their need for an affordable ERP for nonprofits and chose Acumatica, resulting in growth, improved efficiency, and increased productivity.
In this new, four-part series, you will have the opportunity to meet – via video – Acumatica customers and learn from their success stories. Stayed tune for upcoming posts in this series!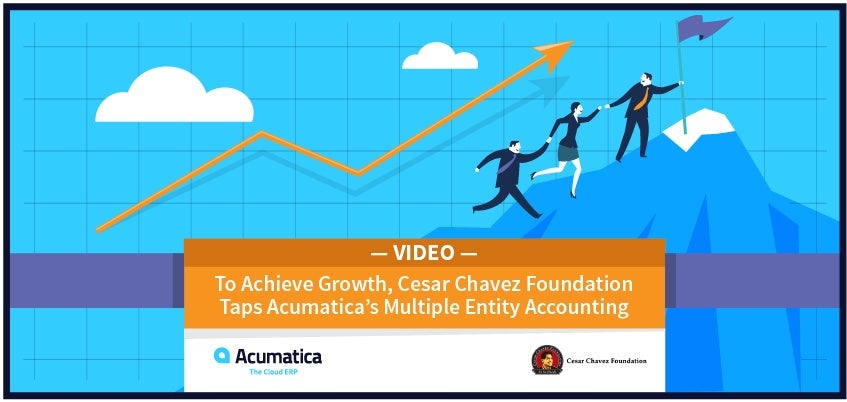 Why customer success stories are important for your business and how you can learn from them
Success in business is not just about grit, a "can do" attitude, and knowing the fundamentals – though these are essential. It's also about learning how other businesses navigated the sometimes murky waters of integrating multiple systems… and then utilizing those lessons. How they streamlined their operations, adjusted to our multicloud world, and accelerated their businesses can help you do the same for your business if you absorb – and apply – their methods. And one of those vital methods is implementing an adaptable ERP system such as Acumatica.
An organization that understood this implementation need is the Cesar Chavez Foundation, one of our customer success videos in our new series. This complex organization required a software platform overhaul and began the search for an affordable ERP for nonprofits. After attending user conferences and comparing Acumatica, NetSuite, and Intacct's benefits and price points, Chavez Foundation CFO Cliff Timmermans chose Acumatica because it was the most adaptable ERP system in general and the best fit for the needs of the Foundation specifically.
"Unique to Acumatica was that others based their pricing on the number of users and number of entities, which in our case was complicated to structure," Timmermans says. "By having unlimited users and not charging extra for that, Acumatica allows us to get the information out to the individual users at the operational level."
Watch the video below to learn more about the Cesar Chavez Foundation and to learn how they successfully implemented Acumatica's adaptable ERP for their specific needs and for future growth. You can also read their case study here.
As you saw in the video, the foundation offers services ranging from real estate and property management to broadcast radio and education for Latinos. They employ over 300 people in five states. The mainly nonprofit, multi-entity organization used Yardi, FundWare (a DOS-based system), QuickBooks and Excel spreadsheets to run their financial systems. The financial accounting system and payroll were handled manually, which was inefficient and opened them up to the possibility of human error.
"Acumatica has a good, solid GL multiple entity accounting system, payroll, budgeting, the flexibility of information and dashboards that make it a very important software for us," Timmermans says.
Implementing Acumatica = implementing success
The solution for the Cesar Chavez Foundation was the multiple entity Acumatica Financial Management suite. The benefits were immediate:
Empowered division managers and entities with financial dashboards
Saved three days a month processing payroll
Increased efficiency and productivity, speeding quarterly closes
Gained an affordable ERP that doesn't charge per user
Established an adaptable cloud platform to accommodate future growth
Timmermans had this to say after their implementation: "I would highly recommend Acumatica to any nonprofit, especially where they have multiple departments and multiple operations."
Acumatica is the affordable ERP for nonprofits
We hope the video and case study jumpstarted the thought process about how to grow your business in this multicloud world. If your organization has complicated multiple entity accounting procedures and requires an affordable and adaptable ERP that works for a nonprofit, we think Acumatica – the cloud ERP – is the way to go. Give us a call and we'll walk you through how we can help you accelerate your business…just like we did with the Cesar Chavez Foundation.
In the next post in this series, customer Ray Allen Manufacturing focuses on Acumatica's unlimited user licensing model and on how it has helped with growth now and in the future.