Clive Coffee's mission is guiding their customers towards great espresso, design, and quality. Acumatica Cloud ERP is helping them fulfill it.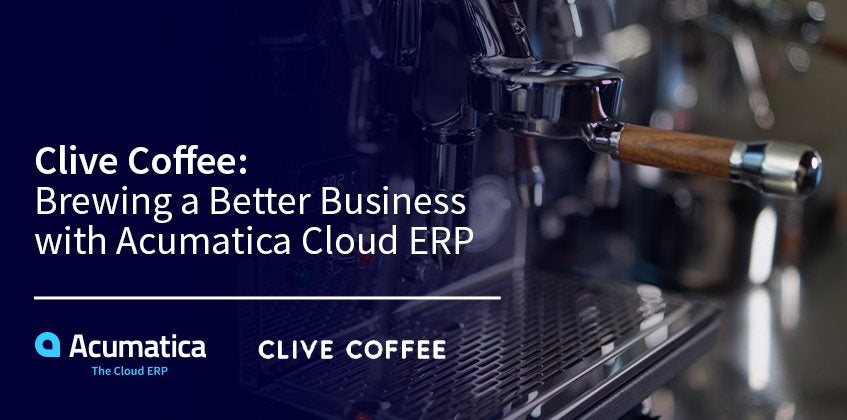 Clive Coffee is the leader in the luxury home espresso market. The company is also Acumatica's 2021 Retail Customer of the Year. They have worked with us to improve our product and increase Acumatica awareness in the marketplace, and our cloud ERP solution is helping them brew up success.
"The world is your oyster in terms of possibilities for efficiency and having seamless operations. We feel like we are prepared by using Acumatica for whatever the market has to offer," CFO Amanda Datte says in the company's Acumatica customer success story. "It's going to be a big part of our company now and into the future, and we're very excited to continue growing that."
Clive Coffee's story
Pre-pandemic, Clive Coffee, headquartered in Portland, Oregon, sold their espresso machines in person and on their website. They acquired Mistobox, a personalized coffee subscription company that connects consumers with roasters across the country, launched a Coffee School to better enable everyday consumers to become home baristas, and expanded their operations by adding another warehouse in Nashville, TN.
Hear from the team about how, in 2020, they made a major operational change. Emily Sloan, Director of Marketing explains. "As the pandemic hit, people were missing their daily espresso or latte, which really began the search for a home barista set up. We had to be flexible and pivot quickly. As consumer preferences changed to home espresso, so did their expectations."
In response, they closed their in-person store and focused solely on their online business. It was the right response, but they didn't have the right business management systems in place to handle their expanding needs.
For example, they were using QuickBooks for accounting and bookkeeping while inventory, order processing, and eCommerce were handled by three other systems. Each one did their job, but they were all disconnected. Manual input required monthly reconciliations; visibility into sales, revenue, inventory, and payment statuses was limited; and month end took up to 15 days.
Then there was the warehouse. Supply Chain and Operations Manager Jessica Yutrzenka says tracking inventory was challenging. "[We] had an inventory management system, a separate finance system, and a separate shipping station. A lot of our systems were decentralized from an operational standpoint."
Clive Coffee could not keep up with the growing demand for their products and services. They needed versatile, flexible, and connected retail technology, and Acumatica Cloud ERP fit the description to a 'T'.
"We found the perfect size for us in terms of cost and flexibility, which was Acumatica," Amanda says. "We knew Acumatica was a solution that we could grow with. We knew it wasn't going to limit us to what we could do. There is a lot of possibility for Clive and how we want to continue to expand."
Clive Coffee with Acumatica Cloud ERP
In just six months, Clive Coffee implemented Acumatica's Retail Edition and Financial Management software. They also chose to integrate with Acumatica Native Shopify Integration: Acumatica U.S.A and third-party application AcuSync – Bank Feeds & Expense Receipts: Eclectic Innovation Solutions LLC. As a result, they've gained a single, centralized solution providing end-to-end visibility and insight into the company's entire operation.
Now, they have:
Instant, accurate, and automated financial reporting: "As our business is growing so quickly, it's really important to have up-to-date information at our fingertips, at any point, any day, and at any moment."
Reduced month-end closing: "For month-end accounting, it's night and day. When we integrated Acumatica, I reviewed a checklist we had for our month-end procedures and was surprised that over half of them were eliminated, so it allows us to scale our business without having to hire more people to do this type of work."
Mobile access: "Having a system that's in the cloud where we can use it on a laptop, a desktop, your phone, anywhere that you're traveling at any point in time, is absolutely critical."
Improved customer experience: "When we switched to Acumatica, it really created a seamless experience for our consumer because our data accuracy, our inventory and the way we communicated with our customers was in one spot and created a single source of truth."
Real-time inventory insight: "Because our inventory system is in the same system as our distribution, we are able to receive products in real time and then sell it the second we receive it. Order cancellations and order edits all happen in that very moment. And distribution is a lot smoother because we have one place for everyone to go to get all the answers they need."
Clive Coffee is considering adding other Acumatica modules, including Manufacturing and Field Service, as they continue to grow their business with creative ideas. Some of the ideas include refurbishing older machines, opening pop-up retail stores, and offering a mobile educational component.
Jessica says, "[Acumatica] is extremely intuitive and has so many different modules so you are able to scale your business in whatever direction you want to go."
Passion-fueled success with Acumatica Cloud ERP
The company's Acumatica Customer Success story provides further details into Clive Coffee's journey with Acumatica Cloud ERP. What it doesn't tell you is how passionate the company's 45 employees are about what they do.
Self-described "coffee-enthusiasts," they are solely focused on sharing their knowledge so that other coffee lovers can "build a better home espresso experience." According to their website, they're also very personal about it. "We genuinely enjoy picking up the phone and answering questions, whether it be about espresso or, frankly, anything."
Their passion is paying off.
Customer Malcom S. says, "I cannot recommend Clive Coffee highly enough. This company checks all the boxes: great products, great service, great follow up, great customer care."
Acumatica is proud that our modern retail software has played a significant role in Clive Coffee's continuing success. If you'd like to learn more about Acumatica's cloud ERP software, contact our experts today to ask any questions or to schedule a demonstration.