Construction businesses seeking to increase their customers' satisfaction may want to start with the right cloud construction accounting software, which gets your teams on the same page. The result? A connected and collaborative business working towards the singular goal of making customers happy.
Pop quiz: who sits at the center of your construction business? If you said anyone but your customer, then you're wrong. The customer is the be-all and end-all, the determiner of your success or your failure. You must meet their expectations to succeed, but if you're working with a legacy construction accounting system, chances are you probably have organizational silos— where information doesn't flow smoothly across the organization and the entire business suffers. Acumatica's new Whitepaper, Connected Construction: Eliminate Silos, Improve Collaboration, and Increase Project Success, has some sound advice on how to end the disconnect, and it starts with looking for the right cloud construction software.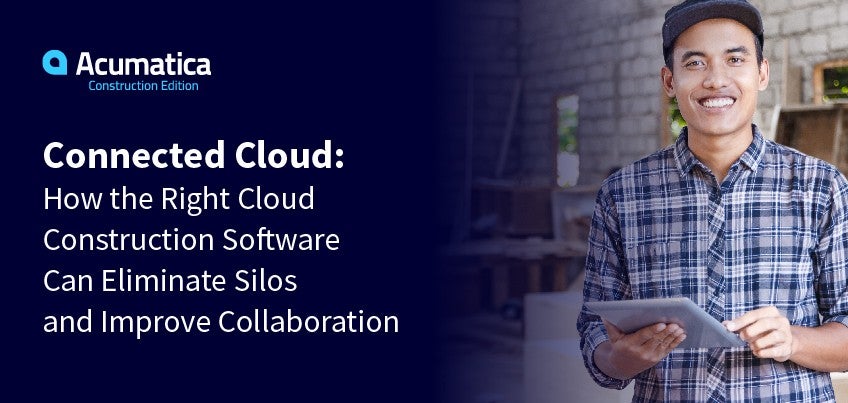 Ending the disconnect with cloud construction software
"Silos can impede communication and collaboration, both of which are essential to providing smooth customer experiences and delivering construction projects on time and on budget," the Whitepaper states.
What does a siloed organization look like? Your accounting, sales, and project teams are working diligently at their own jobs without considering whether what they're doing may affect the other teams. This is a classic case of the left hand not knowing what the right hand is doing. And the person who suffers the most is the customer.
The Whitepaper provides five signs you may be suffering from silos (four of which are noted today; you can download the free Whitepaper for the fifth sign). The first three signs are:
Information doesn't flow smoothly across your organization.
It's difficult to determine which projects are profitable.
Lack of visibility on labor costs.
The fourth sign has to do with the multiple software applications you use in addition to your accounting system. Most legacy systems are unable to integrate these external systems, forcing construction firms to manage their estimating, accounting, project management, bid management, and project scheduling via a paper-based and error-prone process.
Hartzell Construction, a company that provides commercial remodeling, residential, and local and federal government projects as well as new construction, windows, and plumbing services, had first-hand knowledge of this disconnect before finding Acumatica's construction accounting software.
"I needed a system that my accounting department, which is the heart of the company, could utilize," says Owner and CEO Anderson Pinto. "I also needed a system that could communicate with my scheduling and estimating departments. I was looking for a complete system. I couldn't find exactly what I wanted until we came across Acumatica."
After implementing Acumatica Construction Edition and Acumatica's CRM, Financials, Project Management, Inventory, Intercompany, Distribution, Field Services, and Outlook Integration modules, they experienced rapid growth and improved profitability. They've benefitted from seamless integration and connectivity for a real-time view of the entire business, at any time and from anywhere. They've also experienced improved data availability (such as material arrival timelines, invoice approvals, and actual project expenses), increased communication and efficiency.
Hartzell realizes that every successful construction project begins with an estimate that is accurate, timely and competitive. And with growing demands for lower costs and greater workflow efficiency, outdated spreadsheets and manual calculations aren't up to the job. With an integration to ProEst's flexible cloud platform and powerful automation features, estimating time is reduced, and estimating inaccuracy and other costly errors are all but eliminated.
According to the Whitepaper, moving to modern, transformative cloud technology as Hartzell Construction did provides you with "an end-to-end solution in which everyone from management and field operations to the back office is connected and has complete visibility into your business and your customers," and offers five major benefits, including:
Connecting your accounting with your construction business
Generating reports showing the percentage completed for projects
Tracking inventory and helping your service business in scheduling, dispatching, and managing work orders
The other two benefits of using cloud construction software are just as good and the result is a connected, collaborative business.
Become a connected construction business, make customers happy
Connected cloud technology through the right construction accounting software is the pathway to making your customers happy. Download the complimentary Whitepaper today and find out exactly how cloud construction software eliminates silos, opens the door to seamless collaboration, and increases customer satisfaction.
"I highly recommend Acumatica to the construction industry," Anderson says. "To be able to go into a system and have a vision of the entire company, not only your finance department but every department, and understand how a project is moving—that's just amazing."
Learn more about Acumatica cloud ERP and Acumatica Construction Edition—a mobile, connected construction accounting software solution that keeps your teams working with the same project reporting, contract, budget, change order, invoice, purchase order, and job cost information at the same time—by connecting with our team today.