Can you (and should you) transform your construction business with cloud construction software? Acumatica's new Whitepaper says you can and you should, offering five reasons it makes perfect sense.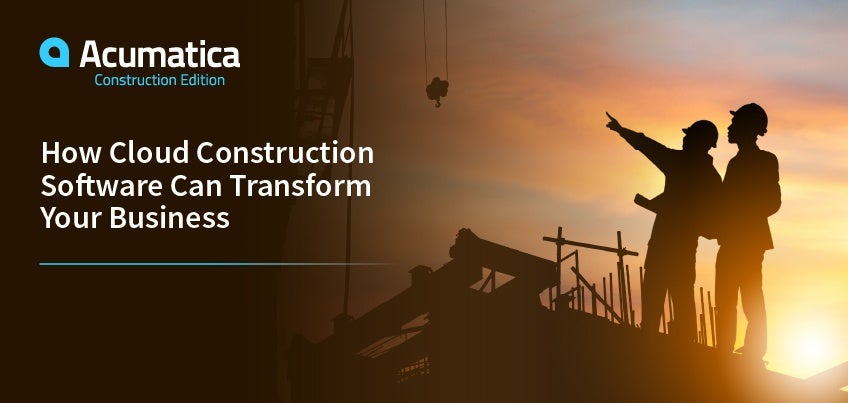 If nothing else, the COVID-19 pandemic has brought home the fact that as a construction firm, you must have cloud construction software—designed with your specific needs in mind—if you want to stay in business when chaos comes calling.
Implementing cloud construction and accounting software, like Acumatica Construction Edition, sets you up for a complete digital transformation, and Acumatica's new, complimentary Whitepaper, 5 Reasons Why Cloud Financials and PM Make Sense, maps out the transformational benefits.
Cloud construction software: Connect and transform your business
Let's jump right in.
Here are the five transformational benefits your business will experience with an ERP for construction industry. Each benefit includes a brief synopsis of what you'll learn in the Whitepaper.
1. Connect All Aspects of Your Business to Drive Profitable Growth
If your business is currently running an accounting system in addition to multiple applications that do not integrate (or don't integrate well), then your employees are working inefficiently, visibility into your projects is severely limited, and profit margins are shrinking as we speak. Connecting your business end-to-end with the right cloud technology (e.g. manage sales and opportunities, track costs, order materials, monitor daily project endeavors, capture time, schedule on-site visits, and so much more from one solution) eases headaches and increases profitability.
2. Manage Cash Flow More Effectively
As they say, cash is king. You need to balance your expenses with your budget but trying to manage your cash flow without cloud construction and accounting software is a never-ending source of stress. As the Whitepaper notes, "With cloud software, you can combine bank balances, billings, and invoices into a comprehensive view of cash flow that enables you to make contractual commitments, meet payroll, and manage your business."
3. Establish Tighter Project Controls
Want to simplify your business processes? Utilize cloud construction software with real-time dashboards with drill-down capabilities. This ensures that you reduce your risk, increase productivity, and improve customer satisfaction. The Whitepaper explains how.
4. Enable Remote Connectivity
This is a big one. Contractors without cloud-based technology struggle with inefficient, paper-based processes. Essentially, information you need in the field is only available in the office. However, mobile access to that same information at any time and from anywhere transforms the way you can manage project changes and alert your team to issues. Delays in your project will quickly become a thing of the past when you can see and respond to what's happening immediately.
5. Integrate Your Teams and Streamline Your Workflows
Finally, the fifth transformative power of cloud construction and accounting software is the integrating and streamlining of your workflows. For example, ordering materials for the job site manually and/or within separate applications becomes an automated task from beginning to end. You'll also benefit from business intelligence tools that allow you to analyze current and future projects.
Cloud construction software: Makes sense for all construction firms
If you download 5 Reasons Why Cloud Financials and PM Make Sense, courtesy of Acumatica, you'll see how cloud construction software, like Acumatica Construction Edition, acts as the linchpin for your field and office management functions, including Sales, Materials, Inventory, Project, Payroll, Financial, and Service. Employees across the board have access to real-time, synchronized information. Decisions made by those in the office or in the field that affect profitability and growth are based on a single source of truth.
Roberts Glass & Service, an Indianapolis-based company that designs, manufactures, and installs glass curtain walls and systems for commercial customers, was using Sage 50 as its financial software. When Matt Dodson and Jeff Hamilton purchased the company in 2017, they continued to use the inherited legacy software, but the siloed data, manual processes, lack of insight into projects, and more, were no longer acceptable. They searched—and found—the right construction and accounting software for them: Acumatica Construction Edition.
With robust Project Management features, a seamless integration with third-party application ExakTime, Acumatica's mobile app, and direct access to project information, Robert Glass is ready to grow with Acumatica as its foundation.
"We've torn down the silos we had with the client-server solution, so now we have access in one view of the data," Jeff says. "We're now able to see where we are cost-wise with our existing construction projects. We're able to look at the profitability of each project, look at the customer base and understand where we are most successful."
He also says, "Acumatica Construction Edition has helped us grow in terms of revenue because we're much more efficient at managing projects."
They're not alone in thinking cloud construction and accounting software is a powerfully efficient tool for construction firms. Acumatica's Ajoy Krishnamoorthy spoke with Procore's Kris Lengieza, Senior Director, Business Development, and Carma Group's Bob Scott, Controller, about how to drive greater productivity and profits with connected cloud construction software. You can hear their conversation by downloading the on-demand webinar.
To learn even more about transforming your business with cloud construction software, listen to another on-demand webinar about navigating COVID-19 construction challenges and read how staying ahead of the competition is difficult if you are relying on legacy construction accounting software.
You can also contact our team to ask any questions about Acumatica's cloud ERP solution and to request a demonstration.