Is it time for you to implement a new ERP system? As a Modern CFO, this is the question you need to answer if you and your team are struggling with legacy accounting software. Download our free Cloud ERP Buyer's Guide for expert advice.
In a recent multi-part series, we addressed important Modern CFO topics: KPIs & reporting, planning for growth, communicating financial information, achieving auditability and handling compliance. We also compiled these posts and more into a single, free eBook.
Today, we're offering a complimentary cloud ERP Buyer's Guide. It offers the steps you as a Modern CFO can take as you select the right ERP and financial software for your company.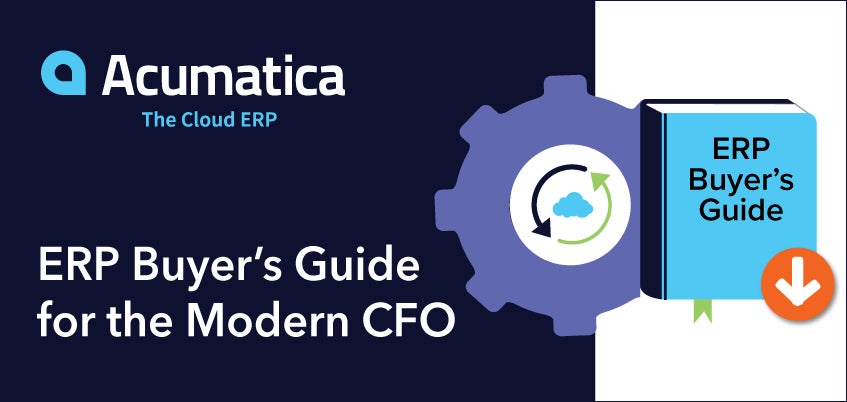 First, why do you need a new ERP system?
As the ERP Buyer's Guide for the Modern CFO notes, your financial management system is the system you and your team use daily. It's imperative that it does what you need it to do. If it doesn't, then you're probably experiencing various challenges, such as:
Working with manual workarounds
Using Excel spreadsheets to store data
Laboring over month-end close processes
These three challenges are three too many, and the guide suggests four more. The good news is that Modern ERP systems can alleviate these problems. The potentially bad news is, you may be concerned about the cost. It's a valid concern, but instead of focusing on dollar signs, the focus should be on the ROI you'll receive when you invest in the right ERP software. The benefits include increased efficiency, better financial reporting, proactive analysis for decision-making, and so much more. The Buyer's Guide provides a comprehensive look at the cost of an ERP system vs. the benefits of investing in your future—something we think the Modern CFO will appreciate.
You've decided to invest in a new ERP system, now what?
Your organization can succeed or fail based on the business management system you implement. Deciding to invest in new, modern financial management software is the first step in the right direction.
The second step is polling every person in your company—from key stakeholders and your financial team to sales, marketing, and everyone in-between—to get their feedback for your ERP wish list. You'll want every person who will use the system to participate. Once you have your list, you can check out the six things the Buyer's Guide says you should be looking for in a modern ERP system, such as whether the ERP software can be deployed in the cloud or on premises.
The guide also gives you a list of questions you should ask software vendors. They address auditability, security, reporting, test platform/sandbox, data storage and backup, ease of use, customizability, and add-on products/extendibility.
As to vetting the vendor themselves, how long have they been in business? Have they received any awards, and do they have solid customer references (preferably in your industry)? How will they support you after you purchase their ERP product? The answers to these questions will go a long way in helping you make your ERP system decision.
Ready to begin the ERP buying process?
There's no simplifying the ERP buying process, but the Cloud ERP Buyer's Guide for the Modern CFO can help you get through it successfully. Download the guide for free and learn all eight steps of the ERP buying process.
The guide also includes bonus information. There's a section on the pros and cons of on-premise systems vs. cloud-based systems. There's also a section on which style of vendor—Direct Sales, Partner Sales, or Direct and Partner Sales—may work best for you. And one more on ERP pricing.
As you embark on your cloud ERP journey, we hope you'll download the guide and contact us here at Acumatica. We're here to help you through the process as well as demonstrate what Acumatica's products, including our highly-rated Acumatica Financial Management edition and our Reporting, Dashboards, and Data Analysis Toolkit, can do for your business. And you can visit our knowledge base of ERP software selection resources to find FAQs, checklists, whitepapers, and more to help you select your next ERP system.
Download the ERP Buyer's Guide for the Modern CFO