This is the 8th episode of Coffee & Code – a monthly video podcast for Acumatica developers by Acumatica Developers!
In this episode, we have Robert Waite a Developer MVP who was this past year's Acumatica Developer of the Year with us sharing his secrets to his success – specifically around developer learning and practices he uses to stay on top of the Developer game.
Enjoy the episode and happy coding!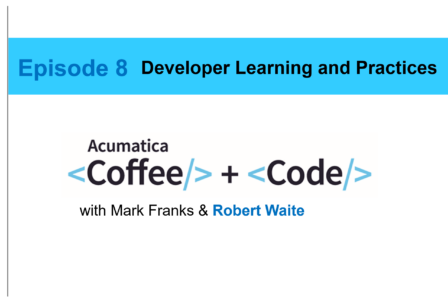 Below are a few links you should find useful that Robert mentioned in our discussion:
Services such as Pluralsight and Udemy are good gotos for non Acumatica related development study material.
ANKI geru Derek Banas a polyglot programmer that does YouTube videos.
Another great resource but this guy has a focus on Med School. The content is still useful to developers or anyone wanting to learn more about ANKI
This is a very powerful course on the subject of learning.
ANKI website where you can download the application.