Designed to meet the specific needs of the construction industry, Acumatica Construction Edition can help you ensure business continuity and success in uncertain times.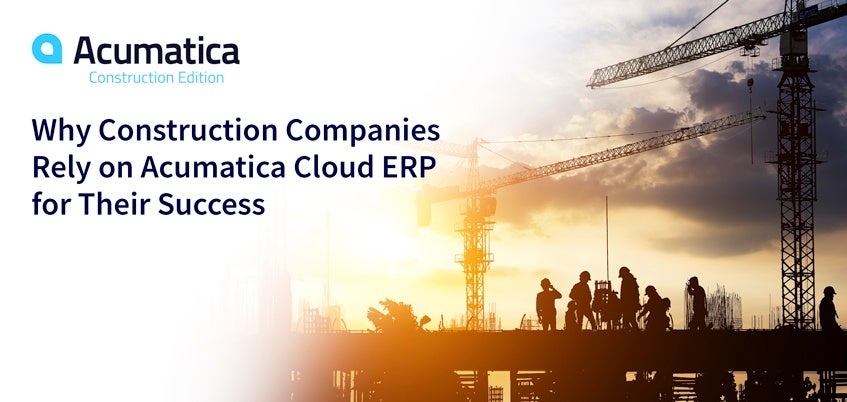 Acumatica Construction Edition is closing in on its third anniversary, and though that may make us a relative newcomer to the construction industry, Acumatica's construction and accounting software has performed as well—if not better—than its more mature counterparts. Evidence of this fact is seen in the success of construction companies that rely on Acumatica's premier cloud construction software.
Success with Acumatica Construction Edition
Acumatica Construction Edition allows general contractors, subcontractors, home builders and land developers to gather and analyze their project information from a centralized, "single source of truth." Every employee—whether in the office or in the field—can access that information at any time. Acumatica's ERP for construction industry also seamlessly integrates with third-party applications, such as Procore, creating one end-to-end solution.
By implementing Acumatica's comprehensive cloud software before the COVID-19 pandemic and during, numerous construction companies have reaped major benefits. Read on for a few of their stories.
Onni Group
For almost 50 years, Onni Group has been a trusted real estate developer, constructing new homes, managing rental apartments, and building office, retail, and industrial space (not to mention additional space in different phases of development) in major U.S. cities, including Los Angeles, Seattle, Chicago, Phoenix, Toronto, and Vancouver.
Their success led to the outgrowing of their ERP technology, platform and database, and Ming Kwan, VP, Accounting and Enterprise Systems, says, "We needed to look for something that was one, integrated solution for all of our business needs."
That solution was Acumatica Construction Edition.
With it, Onni Group continues to deliver world-class urban communities, confident that Acumatica's ERP system for construction companies will help them keep their projects on schedule and on budget no matter how fast they grow.
Roberts Glass & Service
Roberts Glass & Service has been designing, manufacturing, and installing glass curtain wall, storefront, and entrance systems as well as providing interior glazing since 1990. Though deemed an essential business during the pandemic and having a record first half in 2020, the new owners (as of three years ago) quickly found out that continuing to run their business on the existing Sage system and storing their data locally on desktop computers was going to slow growth, profitability, and efficiency.
President Jeff Hamilton says he wanted to get off of the client-server application and move to a cloud-based solution that was focused on the construction industry. After reviewing their options, including Sage and Salesforce, he knew becoming an Acumatica customer was the right choice.
"We've torn down the silos we had with the client-server solution, so now we have access in one view of the data," Jeff says. "We're now able to see where we are cost-wise with our existing construction projects; we're able to look at the profitability of each project, look at the customer base and understand how we are most successful."
Jeff also says in the company's customer success story, "Acumatica Construction Edition has helped us grow revenue because we're much more efficient at managing projects."
Spohn Associates, Inc.
Spohn Associates, Inc. was founded by Jack Spohn in 1976 as a manufacturer's rep agency with a strong focus on building and maintaining relationships. Today, the Architectural Installation Company is run by Eric Spohn. They serve the commercial construction industry in three states, providing architectural products and expert sales associates for "wall-to-wall project management of each order."
Though incredibly successful, the company experienced issues with their construction software program. For one, connecting to their system when outside of the office required a "sometimes clunky" VPN connection that didn't work well with a tablet or iPhone, according to Director of Operations Jeremy Sturgeon. He also says that while they had flexibility and maneuverability within their program, their larger projects were generating more data than it could handle.
CFO Sean Barrett seconds the "clunkiness" of the remote access situation, and he says that they searched for a customizable, cloud-based construction and accounting software package for two years before they were pointed towards Acumatica cloud ERP by Somerset CPAs.
Spohn Associates implemented Acumatica Construction Edition, and Sean says he has saved two hours a month in manual tracking. "When we're inputting invoices for our subcontractors, it actually notifies us that their [certificates are] expired from a simple customization by Somerset. The implementation of the dashboards has been a huge help for us and a time saving having all the information right there on one page."
Hartzell Construction and Renovation
Acumatica's 2019 Construction Customer of the Year, Hartzell Construction and Renovation, offers commercial, residential, local/federal government construction services as well as new construction, windows, and plumbing. Owner and CEO Anderson Pinto's first impression of Acumatica Construction Edition was that it was "easy to use" and that Acumatica would be "good to partner with after seeing the innovative technology Acumatica is bringing to help modernize the industry."
According to the company's customer success story, after implementing Acumatica Construction Edition along with Acumatica's CRM, Financials, Project Management, Inventory, Intercompany, Distribution, and Field Services modules, they were able to enjoy multiple users on the system at the same time at no cost, seamless integration and connectivity for a real-time view of the entire business at any time and from anywhere, improved data availability, and so much more. The more includes a 10 percent increase in gross margins due to the decrease in unprofitable projects and another 10 percent increase due to better controlled inventory, per Controller Stella Carneiro.
Experiencing rapid growth and improved profitability, Anderson recommends Acumatica Construction Edition for those in the construction industry, saying, "To be able to go into a system and have a view of the entire company, not only your finance department but every department, and understand how a project is moving—that's just amazing."
Envelop Group
Headquartered in Indianapolis, Indiana, with offices across the Southern and Midwestern United States, Envelop Group has a mission and that's to be "advocates and trusted advisors for anyone wishing to achieve environmental and economic balance throughout their facilities."
They provide building technologies, HVAC products, and technology partner services that help them meet their mission statement. Because of their success, they quickly outgrew their software solution. John Wiebke, Director of Finance, says that after reviewing his options, "[I] quickly came to the conclusion that Acumatica was the best product out there in terms of value and technology and what it could offer us."
His conclusion was based on:
Unlimited user licensing
A modern infrastructure
An efficient way to consolidate and manage multiple related companies
Robust reporting capabilities coupled with unlimited custom fields
Envelop Group now has the ability to control costs, integrate with best-of-breed 3rd party applications, meet their specific reporting needs, and grow their business with Acumatica Construction Edition.
Pin Oak Corpus Christi
Pin Oak Corpus Christi is a storage and logistics company. They serve North America's crude, refined product, and chemical industries and are committed to "safety, environmental protection, customer service, integrity, and conducting business with high ethical standards."
When the COVID-19 crisis hit, Controller Dawne Meijer says they relied on Acumatica Construction Edition to transition their employees from working in the office to working at home. "The transition for accounting, projects, and purchasing was pretty seamless."
She also says, "Cloud software is the way to go because it's so easy. Just log in—nothing different that just sitting in an office. You can see the same screens; everything is exactly the same. It's important that you have that accessibility for your project managers so they can see what's going on in their projects."
Curran Young Construction
When Chris Curran and Bruce Young founded Curran Young Construction in 2018, they knew they needed to find a modern, innovative, and cloud-based business management solution. They looked at their options and chose Acumatica Construction Edition, implementing it along with Acumatica Project Accounting.
"Everything in the product is efficient, available at your fingertips, and the flow of information and accessibility is incredibly powerful," Chris says.
Bruce is amazed at how much time he saves switching between tasks within Acumatica Construction Edition with just a click of a button. There are many other benefits, but they have enjoyed flexible, customizable cloud ERP software that has allowed them to seamlessly integrate with industry-specific applications and enjoy mobile access for every employee.
According to Bruce in Curran Young's customer success story, "other software couldn't compare to Acumatica's Construction Edition."
Rely on Acumatica cloud ERP
Construction companies rely on Acumatica Construction Edition to ensure their business continuity and success in uncertain times. If you're in the construction industry, these are great examples of what you can expect if you become an Acumatica customer.
To find out more, contact our team to set up a demonstration.
Are you curious about why Construction companies need to use Cloud ERP? Learn more about how Cloud ERP systems help fulfill the unique needs and challenges of the construction industry.