Staying connected and ensuring the safety of offsite employees isn't new for contractors but doing so during a pandemic is. Acumatica's COVID-19 Checklist for Contractors explains why and how Acumatica Construction Edition can help you do both successfully.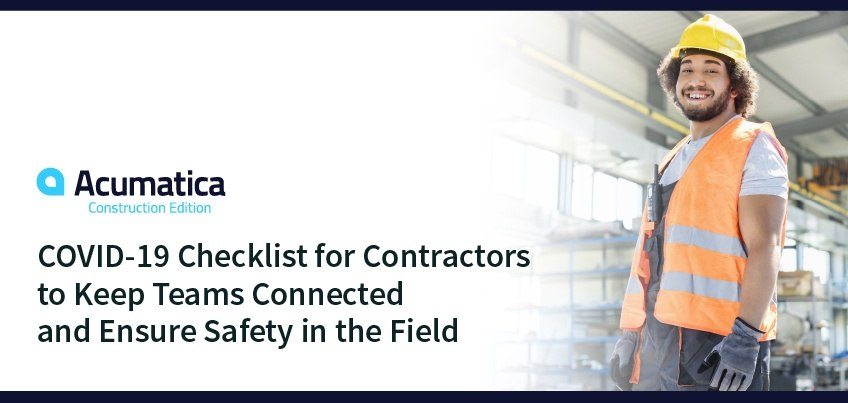 As a construction firm, keeping your office and onsite construction employees connected and establishing safety protocols for those working in the field are already priorities, but COVID-19 has changed everything. Many—if not most—of your office employees are currently working remotely, and safety protocols have expanded dramatically.
To help you in such an unprecedented time, we've created a comprehensive COVID-19 Checklist for Contractors where you'll learn why now, more than ever, you need cloud-based construction and accounting software, like Acumatica Construction Edition, to keep your team safe and connected both today and in the future.
About the COVID-19 contractor checklist
The checklist is a free resource containing ten questions specifically designed to help you evaluate the effectiveness of your current software and of the safety protocols you have in place during the COVID-19 crisis. Each question contains a 'Key Consideration' explaining why answering 'yes' to every question is necessary for you to experience business continuity. For example, question one asks, "Can your office and field team members access your software from any device, anytime, anywhere?" If your answer is 'no' to this (or any) checklist question, then investing in cloud construction accounting software is mission critical for you and your organization.
In a recent webinar on navigating COVID-19 challenges, Dawne Meijer, Controller for Pin Oak Corpus Christi, discusses how her organization hasn't "missed a beat" during the crisis because of their decision to implement Acumatica's cloud ERP construction and accounting solution. "It's so easy. Just log in—nothing different than just sitting in an office. You can see the same screens; everything is exactly the same. It's important you have that accessibility for your project managers so they can see what's going on in their projects."
Question seven on the COVID-19 Checklist for Contractors addresses job site worker safety: "Do you have COVID-19 training practices in place?" The 'Key Consideration' for this question explains the importance of updating your practices for the crisis, such as utilizing an employee wellness tracker, like Acumatica Surveys, to guarantee the highest safety standards.
An Acumatica customer that uses Acumatica Surveys every day is Derrick Elledge, VP of Operations at Power Storage Solutions. "Our technicians have to keep working to help keep up the electrical grid, telecommunications, hospitals and other critical infrastructure. We care greatly about their health and safety and needed to find a better way to communicate with them daily. We can check with our team daily to know they are safe."
Stay connected and safe with Acumatica Construction Edition
The COVID-19 crisis has created unforeseen challenges. Investing in an ERP for the construction industry, like Acumatica Construction Edition, can help you meet them head on.
Acumatica Construction Edition is complete, native and cloud-based construction and accounting software. It allows general contractors, home builders, land developers, and subcontractors to operate from a single source of truth in real time. Office and field teams can use any device to connect via mobile technology, and staying abreast of job costs, contracts, budgets, payroll, project documents, and more has never been easier.
To learn more about how you and your construction team can continue operating as a successful, connected business while ensuring the safety of your field employees, download the COVID-19 Checklist for Contractors today.
You can also connect with members of our team. They are always available to answer your questions and are committed to serving our customers during the outbreak and beyond.