What do Superprem, Specified Technologies Inc., Ray Allen Manufacturing, Berthold Technologies, Shoebacca, Tayse Rugs, MiiR, Firewire Surfboards, and Nothing Bundt Cakes have in common? They're all Acumatica customers who have found success with our true cloud ERP. Today, we focus on another successful customer, Curran Young Construction, one of our first customers to implement Acumatica's modern, flexible construction accounting software.
Curran Young Construction, a General Contractor firm located in southwest Florida, was founded by Chris Curran and Bruce Young. Together, they have 35 years of experience in the construction industry and share the same drive to offer "best-in-class construction services" based on a "passion for continuous improvement, professionalism, and attention to detail." To successfully fulfill their mission, they needed construction accounting software that could connect their front and back-office and seamlessly integrate their essential third-party applications.
Their search led them to Acumatica Construction Edition with Acumatica Project Accounting.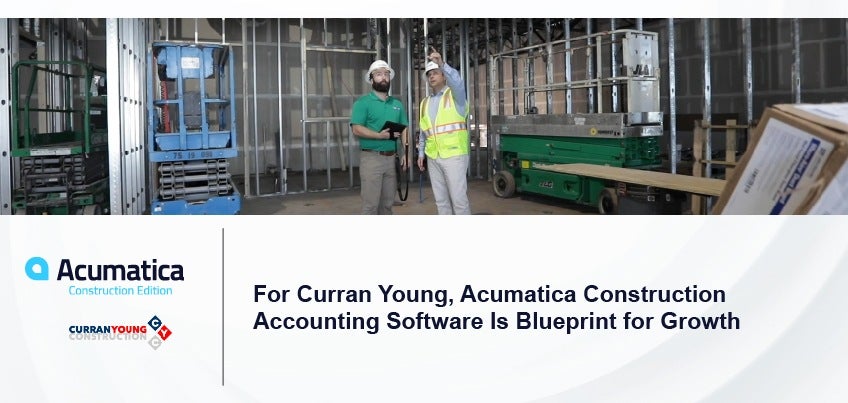 Acumatica Construction Edition: the logical choice
When Chris and Bruce founded the company (which, as noted in Curran Young's success story, provides general contracting, owner representation, pre-design, and design build services), their growth plan included finding a modern, robust, cloud-based business management solution that didn't require a large technology infrastructure investment. They, with the help of Acumatica VAR Alliance Solutions Group LLC, embarked on a search that had them looking at Sage and other siloed software packages. After being introduced to Acumatica's end-to-end construction ERP, they didn't look back.
"Once we made a decision to go cloud, other software couldn't compare to Acumatica's Construction Edition. Being cloud-based takes away the necessity of having servers and infrastructure and their associated operating costs. It was a logical choice," says Bruce.
As a modern, innovative company operating in an area with huge construction growth (both in industrial projects and healthcare facilities), Curran Young has definitely benefitted from the mobility, flexibility, and scalability of Acumatica's cloud ERP solution. They've been able to seamlessly integrate with Procore Construction Management Software and other specialized applications. In addition, Bruce says their need for customized reporting capabilities and for an intuitive system was met.
Here's a brief summary of the many benefits Curran Young has experienced since implementing Acumatica's cloud construction software:
Record-breaking implementation, going live in five weeks
Flexible software, set up based on Curran Young's needs
Seamless integration with industry-specific applications due to Acumatica's open system, keeping field operations and the front office in synch
Increased efficiency due to ease-of-use and integrated functionality with click-of-a-button navigation, saving Bruce 30-35% of time and effort
Mobile access for Curran Young employees, providing instant communication and problem solving no matter where they are or when they need it
Built-in expense report coding, eliminating the need for separate software programs
Another benefit? The fact that the general contracting company can add employees cost-effectively due to Acumatica's unlimited user pricing structure, which Bruce says allows them to scale without fear of the expense.
Curran Young, in addition to implementing Acumatica Construction Edition, has also implemented Acumatica's Financial Management module. The combination offers them increased functionality, including Job Costing, Project Management, Subcontractor Bidding and Payment, integration with specialty applications (e.g. Smartsheet, Procore, and Office 365), and more.
As Chris points out, "While many in the construction industry may not have heard of Acumatica, everything in the product is efficient, available at your fingertips, and the flow of information and accessibility is incredibly powerful."
You can also hear from Bruce, in his own words, on how Acumatica has helped him save time and be more efficient.
The need for construction accounting software met
In reference to the construction industry, Bruce notes, "For the most part, it's still a bricks and sticks industry run on Excel. Instead of examining fundamentals to create greater efficiencies, most firms still get through with grit. There hasn't been a perceived need to make any advancement in back office technology."
As you've read, this was not going to be the case for Curran Young. The introduction of Acumatica Construction Edition and its growing list of integrated solutions has proven to be a welcome and much-needed answer for them. It can also be the answer for others in the industry who have, up to this point, lacked modern and comprehensive cloud construction software options.
"Comparing other financial software and legacy construction tools to Acumatica is like comparing black to white. Learning Acumatica and being able to run with it in just a few weeks speaks volumes," Bruce says. "…we're not accountants but the learning curve has been short because Acumatica is easy to access, and its intuitive nature is awesome."
We hope Curran Young's success with Acumatica cloud ERP and Acumatica Construction Edition is incentive to connect with our team. They're always ready to share why Nucleus Research rated us highest in usability and Gartner highest in customer satisfaction, to answer any questions, or to provide a demonstration.