In a couple of recent posts, GitHub & Our Use of Online Communities  & Acumatica Knowledge Base articles on StackOverflow, I discussed resources we offer to our partner developer community. Stackoverflow & GitHub . In today's post, I would like to share with you the rich training resources available to access free of charge. This is not a limited sample of introductory courses.  We provide access to our complete catalog of training offerings, open & accessible to everyone.
For customers & partners, they can access this training on our Customer & Partner Portal.  For others without access to our portal, we offer the same training on Acumatica Open University.  You simply need to create an account using your Facebook, Gmail, LinkedIn, or Twitter accounts.
To access our Open University, click on the following link here.  You'll be taken directly to the course catalog page as I have captured below.
As mentioned, you are required to log in using one of your accounts before any of the links listed in the catalog can be accessed. Besides the training, on the page, you see we have convenient links to our software & documentation for download if you haven't installed and configured it yet. Even if you have, it's advisable to install a new local instance you can use for the training. You'll want to have separate production, training, and development instances installed. Therefore, it is very important to go through the specific instructions for installing and configuring your training instance of the product and choose the options that are necessary for doing the training exercises.
If you are new to Acumatica, you should view the getting started with Acumatica video before jumping into any of the training. For developers, you should first take the T100 course – an introduction to the framework. It consists of step-by-step lessons, divided into five (5) sections that will help you develop a complete business application and give you an idea of how to develop your own applications by using the framework.
There are two (2) PDF documents that will provide you instructions required for properly configuring the development environment and the framework – which is a separate install from the product itself.
It should be obvious, but please note that you'll need to have Microsoft Visual Studio installed as part of the development environment for the training.
We also have four (4) instructor-led videos that correspond to the written training workbook for T100.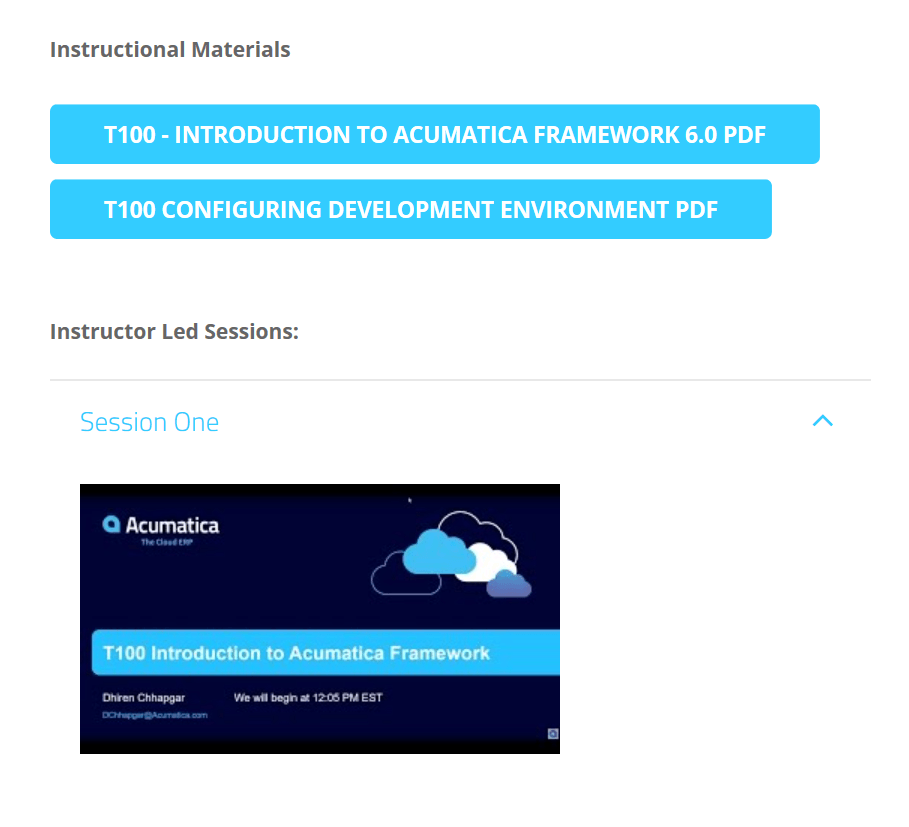 The T200 Class – Acumatica Framework Fundamentals course continues your framework training as you follow the training to extend the functionality of the RapidByte application you have started to develop in the T100 Introduction to Acumatica Framework course.
Public Documentation Portal
Ancillary to the open access to the training materials, I would like to point out that we just recently made all our documentation available to everyone without the need to login.  Previously, partners & users of our partner portal or those with the product installed were the only ones to have access to the documentation. Now, like our training, it is completely open to the public. In the screenshot below, you can see a list of all the documentation that a developer would likely reference.
Summary
With public access to the full-range of training offerings & documentation, you have no excuse not to get your hands dirty and see first-hand how powerful our framework & APIs are for rapidly building new applications. There are no barriers to entry – everyone has access. So why not jump in today and start exploring & learning about our developer platform in-depth and start realizing what you can do with your developer skills, our platform, and rich set of powerful developer tools at your disposal.