How you see digital transformation may impact the success of your business. Today, Acumatica CEO Jon Roskill explains why digital transformation requires hard work, technology, and people—and that the end goal is a connected business.
"Digital transformation" is clearly the buzz-phrase of the moment, with almost every tech company on the planet claiming to have a fairy-tale wand that can magically transform your business. Mobile devices in the workplace? Digital transformation! Business process automation? Digital transformation! Artificial intelligence, augmented intelligence, or basic machine learning? Presto! Your business has been digitally transformed!
The Gartner IT Glossary says that "digital business transformation is the process of exploiting digital technologies and supporting capabilities to create a robust new digital business model," which strikes me as a circular definition if there ever was one (while also managing to use "digital" three times in a single sentence).
Wikipedia holds that "digital transformation is the novel use of digital technology to solve traditional problems." Okay, that's a broad enough definition, yet we know that technology is no silver-bullet solution. There are many problems it cannot solve.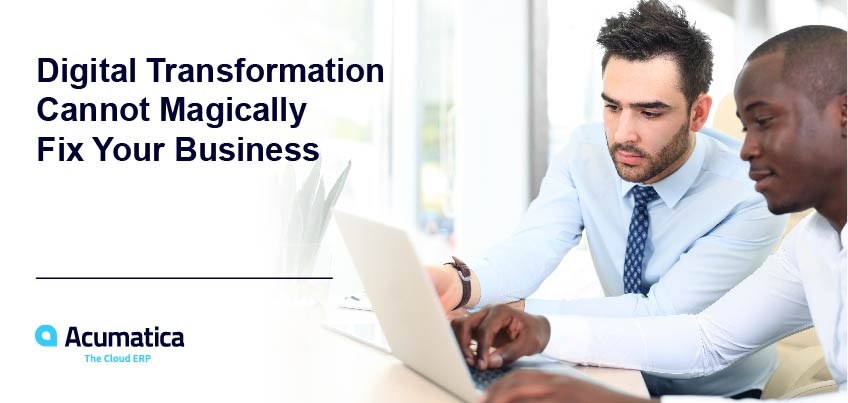 Technology is only a part of the solution
In my day-to-day world of cloud ERP, we see typical small and midsized business running on ledgers, spreadsheets, and worst of all, disconnected legacy accounting systems, all of which creates siloes of redundant or conflicting data. Digitizing those siloes won't fix the problem. Taking traditional analog processes and making them digital only disguises the dysfunction. For a business to begin to transform (modernize, really, and become fully interconnected), it must become a connected business, one that synchronizes all records, data sources, and systems under a single pane of glass.
I agree this is most readily accomplished through technology, but then its people, processes, and peers must also be aligned. The "digital" part of business transformation is less than half the job. The human component may be even more critical. This is why leadership support is required and employee buy-in matters.
It goes without saying that without leadership support, a new digital business model may never the see the light of day. They're responsible for signing off on investment funds. But more importantly, they also need to provide the drive and excitement for the project from the beginning to the end. This whole-hearted support encourages employees to jump on board.
Employees are the people who'll be using the new digital business model, and they know better than anyone what's wrong with the old ways of getting work done. Obtaining valuable input from these subject matter experts before a technology purchase and during the digitizing process will reveal new efficiencies, and, equally important, it will increase employee commitment to—and satisfaction with—the new system. Their involvement in workflow changes dramatically shortens the adoption curve. It also goes a long way towards ensuring the new digital system continues to be used over time and that people don't revert to their old deskbound habits.
Businesses determined to modernize must also seek input from industry peers, colleagues, and user communities. These are the people who can provide best practices and time-saving tips, as well as a forum of like-minded individuals facing similar business challenges.  There's no better way to understand a new journey than to learn about it from someone who has already taken it.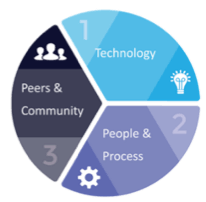 Digital transformation is not magic
The goal of digital transformation must be to reach a place where your business is connected end-to-end, from employees and stakeholders to partners, suppliers, and customers. The core technology purchase is very important, but no more so than the implementation, user buy-in and training, or application integrations that will follow.
That's right, there's no digital wand or transformative magic that can revolutionize your business. Don't believe the hype. It takes the same old-fashioned teamwork, communication, and sweat equity that got you this far to make the next step: change.
Make no mistake, this is a big step, but it's worth it. A truly connected business is streamlined, efficient, and agile, ready to take on the new challenges and opportunities of the future. If you're ready to roll up your sleeves and get to work on becoming a connected business, a cloud-based ERP, such as Acumatica, can help. We've connected countless businesses and would be happy to do the same for you. Contact our team today.