Acumatica says your ERP data is yours. Does your cloud ERP vendor say the same thing?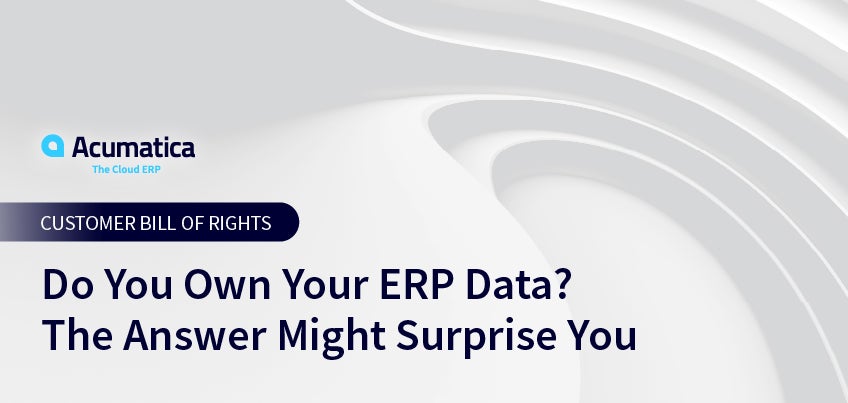 We've recently been breaking down the Acumatica Customer Bill of Rights, diving into how each right affects you, a current or potential Acumatica cloud ERP customer. So far, we've covered your right to an easily understood SaaS end-user license agreement; licensing that doesn't inhibit growth (and limited annual increases); ERP implementations without hidden fees; and deployment flexibility.
Today, we'll talk about the importance of owning your ERP data.
Do you own your ERP data?
As an SMB that has implemented a cloud ERP solution, do you know if you own your ERP data? You may think you do, but Acumatica customers know they do.
If you're not an Acumatica customer, you may be surprised to learn that your vendor's SaaS end-user license agreement (EULA), which gives you the right to use their software, doesn't necessarily give you ownership of your ERP data. Techopedia explains that the vendor's data rights are protected, not the customer's. "The software vendor owns the license and also legally owns the user's private data entered into the software. Software providers may access private consumer data at any time, as well as read it or share it as they please."
In a recent TEC article, PJ Jakovljevic asked me about Acumatica's stance on ERP data ownership. I explained that the Acumatica Customer Bill of Rights confers on our customers the right to own and to access THEIR data, anytime. Sadly, not every cloud ERP vendor subscribes to this belief. This is seen in the expensive, business-disrupting process that often occurs when a company attempts to transfer their data to another vendor.
The data transfer is purposefully hindered by the vendor, who returns the data in a flat file format that is both difficult and time-consuming to reload. Even worse, some companies' data has been known to "disappear" or be "held hostage" by the SaaS vendor they're leaving. Why do other vendors do this? Because they don't want you to leave, even as they continue to subject you to price increases and an undecipherable EULA.
This is never a concern for Acumatica customers.
Acumatica customers can take their data snapshot and save it locally in an easily imported database format. It's their data. Additionally—and very importantly—access to their data is not an additional cost but an integral benefit of choosing Acumatica's cloud ERP software.
But there's another issue that needs to be addressed here: your customers' data. For example, in the area of Artificial Intelligence (AI) and Machine Learning (ML), who owns the right to mine your customers' data? If you don't know, you and your customers may be unpleasantly surprised to learn that your vendor is gathering and utilizing your combined data—without permission or your knowledge—for their own purposes.
Once again, this is never a concern for Acumatica customers.
To protect yourself, JP writes, "Prospective ERP software customers should vigorously prod [competing ERP software providers] on all of the Customer Bill of Rights that Acumatica offers hassle free."
Acumatica cloud ERP to customers: Own your data, access it anytime
I recently wrote a post on protecting customers against misleading practices by other cloud and SaaS vendors. One of the practices is hijacking their customers' data, causing delays and disruptions that can be costly. And in an article for BDQ on the same topic, I explain that company data is a huge asset for making informed choices, spurring advancements, and ensuring relevance in the market.
It's a decision that has the power to make or break your ability to become a successful, connected business. Thus, it's imperative that you choose a cloud ERP software vendor that lets you own your ERP data, like Korpack, a B2B single-source supplier of standard, custom, and retail packaging along with packaging machinery and automation solutions, did.
They wanted a mobile, easily customized, and affordable solution that could seamlessly integrate with third-party applications and had the data-analysis capabilities they required for fast decision making (a must in their industry). They thoroughly researched their options before choosing Acumatica's cloud-based ERP solution.
"Acumatica helps us collect data we need to make informed decisions, and we are very good at taking that data and turning it into actionable decisions," says Korpack CFO Patrick Madison in the company's customer success story. "We get to do that because Acumatica is customizable and allows us to do that on the fly, based on live data."
Their data, which they've used to drive decisions and to grow from a regional to a national player, is their data.
Contact us today if you would like to learn more about your data ownership rights as an Acumatica customer and to schedule a demonstration of Acumatica's user-and-analyst approved cloud ERP solution.