With over 70% of our employees in technical positions, we're constantly improving our product for our end users. Your feedback is vital to the way we do business, and we incorporate your requests into each release. Acumatica 2018 R2 is no exception.
 With our latest release out in September, we're encouraging you—customers, partners, and industry analysts—to join us at our Acumatica 2018 R2 Launch Event Series and learn about our major set of enhancements. The first event is happening on Wednesday, September 12, 2018 in Boston, Massachusetts, and it will be followed by  eight additional cities for your convenience. These half-day events supply you with a close-up and first-person look at the features and benefits from Acumatica's award-winning cloud ERP solution improvements.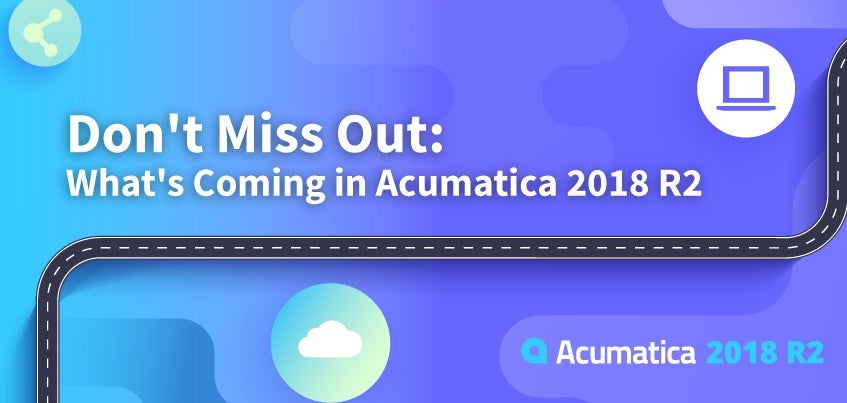 Diving into Acumatica 2018 R2
Every new Acumatica release is based on user feedback and requests. You tell us what we need to work on, and we do it. With a focus on flexibility, usability and customer satisfaction, Acumatica 2018 R2 provides a series of upgrades that solidly address those objectives.
To do that, Acumatica Release 2018 R2 has significant enhancements in three areas: Cross Industry Applications, Industry Specific Solutions, and the Acumatica Platform. Here is a high-level overview of selected enhancements:
1. Cross Industry Applications
Financial Management is the heart of the Acumatica platform. We've made significant enhancements to close financial periods by company by providing different financial periods to manage books separately for each company in the same tenant. We're also providing a Tax Calculation Integration Plug-In to support a choice of sales tax calculation providers. And as promised, we're offering more functionality to support ASC 606 compliance in revenue recognition.
For Project Accounting, we're releasing labor cost rates and project labor cost accounting integrated with payroll. Also, new project quotes (convert opportunity to project) simplify project sales and pricing by supporting complex quote processes.
CRM upgrades include Outlook integration enhancements that will link email activities with any contact in the system. The new Portal setup by branch allows users to display financial documents associated with all companies and branches. Also included in the release are GDPR Compliance Tools to simplify handling personal data. These tools let users protect personal data and restrict its processing.
2. Industry Specific Solutions
Distribution Management offers several ease-of-use improvements. Improved discount functionality will save time in sales, order management, purchasing, and accounting. New landed cost document types capture and allocate landed costs while simplifying standard receipts. The purchase return process improves control over returns, including the needed accounting transactions. Shipping improvements (international, new carriers, freight calculation) accurately match freight costs to shipments and reduce operating costs.
Manufacturing has advances in Advanced Planning and Scheduling (APS), equipping manufacturers to consistently and cost effectively set accurate and reliable delivery dates. Engineering Change Control simplifies and controls product changes to improve product design and reduce costs. Production Management streamlines production of a stock item and simplifies production management. For project-centric manufactures, the new Project Accounting Integration improves project quality and visibility while reducing operating costs.
Field Service delivers new functionality for creating a sales quote and a service order from an opportunity, along with the ability to easily copy notes and attachments into orders. Service orders can allocate items and display calculated tax amounts. To address the needs of repair and maintenance companies, we added inventory allocation controls and scheduling improvements, so organizations can ensure parts are ready when appointments are scheduled. Updates to payment and tax calculation on orders make it possible for field workers to complete transactions while on the job.
Commerce Edition improvement will support omni-channel sales. We provided additional sales order processing workflows so transactions originating from online systems with upfront payments can be processed and calculated differently from transactions entered by salespeople with payment terms.
Construction Edition includes enhancements for Requests for Information (RFIs), including a lifecycle management capability for requests, notifications, tracking, and automatic email linking—accessible from phones, tablets, and PCs. Compliance improvements include automatic processing. For example, when a check is issued, Acumatica links it to the Lien Waiver on the bill and pre-fills the amount.
3. The Acumatica ERP Platform
Mobile functionality has always been one of Acumatica's top priorities. In 2018 R2, you'll see push notifications, navigation, and customization updates to improve on our overall theme of usability. As you sign on to your Acumatica system, you'll be greeted by a Welcome page that offers links to helpful resources. Pop up notes increase your productivity in working with documents, customers, vendors, and items. Improved navigation between companies and branches will increase usability and productivity for customers with multiple entities.
Reporting now allows the use of pivot tables for Generic Inquiries. Also, in the Generic Inquiry function, the navigation side panel improvement lets you add a side panel to Generic Inquiries to show the details of specific records in an inquiry using the same screen. For those who create and distribute regular "reporting packages," the new release allows you to String Reports together by creating multiple reports and merging them into a single package before sending them as an HTML or PDF file.
What was accomplished in this 2018 R2 Release
As one reads through the list of improvements, there are many new features listed. But, looking at it from a different perspective, it is clear that Acumatica has created improvements across the entire product line to address:
Compliance issues that are mandated by regulation that we strictly support
Usability improvements that streamline operations
Customer satisfaction enhancements in response to feedback we have received from our customers and partners
Continuous improvements increase the value of our customer's investment in their Acumatica solution.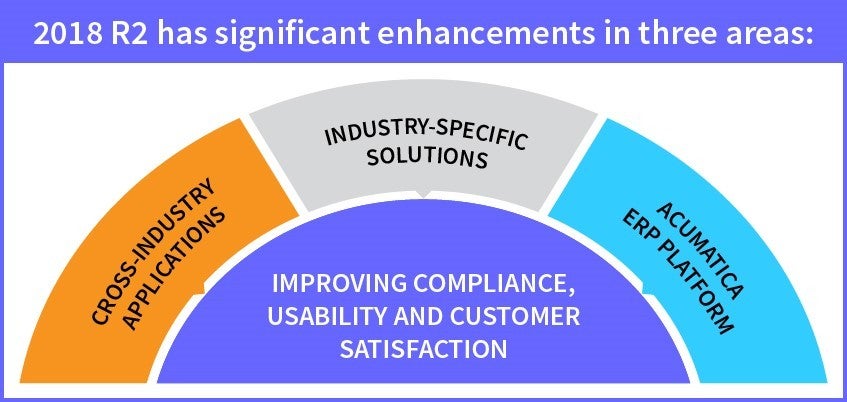 Experience all Acumatica 2018 R2 improvements in just four hours
Can you carve four hours out of your schedule? This is the duration of our Acumatica 2018 R2 Launch Event Series. Reading about these improvements versus being on-hand to witness them in person—plus being able to ask questions and to take the new upgrades for a spin—are two different experiences. In our opinion, registering for and attending the Acumatica 2018 R2 Launch Event Series is very much worth the investment of time. You'll be introduced to the practical improvements that will further enhance your Acumatica cloud ERP experience.
And don't forget that registering for Acumatica Summit 2019 also affords you the opportunity to learn more about Acumatica 2018 R2. It's taking place in Houston, Texas, January 27-February 1, 2019.
If you have any questions about our upcoming events or about our cloud ERP products and platform, please contact our team.