In a new on-demand webinar, experts explain why connected cloud construction software is crucial for construction to turn greater profits—especially during these challenging times.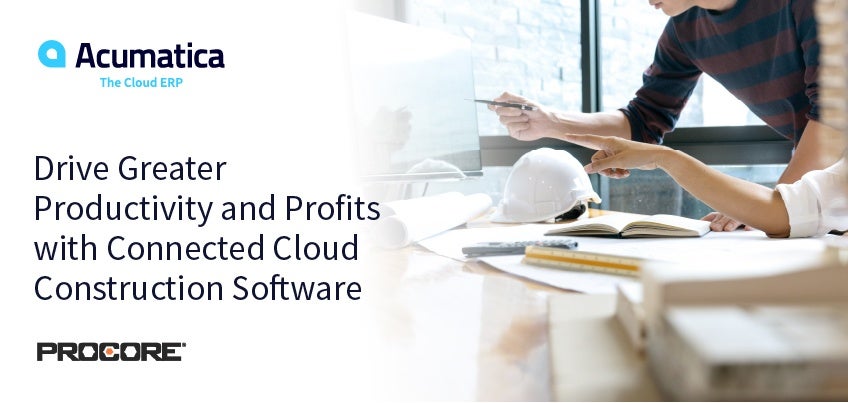 Like companies in every industry, the COVID-19 crisis has hit construction companies with unprecedented challenges. How have some successfully weathered the storm while others have struggled to stay afloat? Companies that have survived—and in some cases, thrived—have done so by relying on connected cloud construction software.
In a recent webinar, Driving Greater Productivity and Profits, Acumatica's Ajoy Krishnamoorthy, Vice President, Acumatica Construction Division, joins Procore's Kris Lengieza, Senior Director, Business Development, and Carma Group's Bob Scott, Controller, to discuss the importance of connected construction through cloud technology in turbulent times.
The hour-long webinar, moderated by Acumatica Product Specialist Mike Gillum, is available on demand.
A "new normal" and cloud construction software
In the on-demand webinar, Kris, Ajoy, and Bob reflect on how the COVID-19 pandemic has created a "new normal", which includes pushing construction companies to expedite digital transformation. They begin the webinar, however, with a brief look at what their respective businesses have done in response to this unprecedented crisis.
Procore
According to Kris, Procore has been actively working to help their customers adjust to the new normal. One way has been by providing insight on how the industry has been affected by the crisis through their Construction Activity Index. The score measures the percentage of construction activity, as measured by worker hours, compared to pre-COVID-19 levels across the United States. This data has helped industry organizations and economists analyze trends, debate potential courses of action, and decide on the best path forward.
"We did that because we wanted to give some of the information back to the industry so they could make better decisions," he says.
He and the Procore team have leaned into their connected platform during this time, and with help from partners like Acumatica cloud ERP, they've collected critical data so customers could keep projects moving forward. Procore also spent a lot of time and effort on getting people back to work safely, including providing free tools to support that endeavor.
Acumatica
For Ajoy and the Acumatica team, the COVID-19 pandemic has highlighted what they've always known: cloud technology is necessary for every business.
Businesses relying on legacy systems have been pushed to make a digital transformation they weren't ready for. They've scrambled to get their teams working remotely, taking a lot of time and effort. On the flip side, businesses that have already implemented cloud technology, such as Acumatica customers, have made a smooth transition in a matter of days (if not hours).
To help Acumatica customers further, Ajoy explains that Acumatica has provided several tools that can help them navigate the crisis: Acumatica Surveys, a COVID-19 employee wellness tracker, and a COVID-19 checklist for contractors, which ensures safety in the field and helps keep teams connected.
Carma Group
Carma Group is a Procore and an Acumatica customer. Though they, like most construction companies, were impacted by the pandemic, they have found that implementing cloud technology has been a huge help in their response.
Bob explains that prior to the pandemic, the founders of Carma Group knew they were going to use Procore as their "go-to platform" to manage projects. QuickBooks handled financials, but they were quickly outgrowing its capabilities. They needed a cloud-based ERP solution with construction expertise to accommodate their growing operation, and it had to integrate with Procore.
Their specific requirements significantly narrowed down their choices. Ultimately, they went with Acumatica. "It could not have been a better choice," Bob says.
In fact, the value they've gotten by choosing a cloud-based construction and accounting system that seamlessly integrates with Procore, another cloud-based system has been huge. Bob no longer waits for nightly updates and can access project data real time—hours spent on the job, crew size, change order conditions, etc.—whether he's on his phone, tablet, or laptop. The data entered in Procore is pushed to Acumatica.
"Conversely," Bob explains, "as invoices come in and payroll gets posted to Acumatica, that information gets pushed back to Procore so that the people out in the field can take a look at real time data and see if actuals meet expected and look for deviations. The field team can respond quickly to deviations that are starting to get beyond the parameters to find out the why, pivot, adjust, protect and save margins."
When COVID-19 hit, Bob explains that they shifted their mindset. "We focused on partnerships and leveraged our relationships with our clients, but we really began to focus internally. We focused on the business rather than in the business."
They took advantage of the free learning and training opportunities both Procore and Acumatica provides. "We're set up to succeed by leveraging all the tools to the maximum capability and running with it."
The Acumatica and Procore Integration
According to Kris, construction teams in the office and in the field must connect and be in sync. This is true prior to, during, and after the COVID-19 crisis, and the Procore and Acumatica teams designed the Acumatica and Procore Integration to equip businesses to do just that.
Bob says the integration allows Carma Group to "seamlessly share accounting and project data between the office and field to make the strategic decisions to move projects and the business forward."
The integration between the two cloud-based platforms provides:
Automated and synchronized data between Acumatica Construction Edition and Procore
Elimination of manual processes
Seamless workflows
Standardized, streamlined processes and procedures
Updated RFIs, change orders, and project issues
And more
Every employee has access to real-time data via any mobile device, at any time, and from any place. Visibility into project metrics, financials, job cost accounting, reports, job site updates, and more keeps everyone apprised of each project's status in real time. Connected construction and accounting software saves companies and their employees time and effort, driving productivity and profitability.
"Having that collaboration between accounting and the back-end office and the project managers to get relevant, real-time data so you can make decisions goes a long way to enhancing margins," Bob says.
Connected cloud construction software a must for every construction company
Access the Driving Greater Productivity and Profits webinar and hear Ajoy, Kris, and Bob discuss in detail why cloud construction and accounting software is a must for every construction company. They also discuss the use (and benefits) of artificial intelligence (AI) and machine learning (ML) technology in construction; how cloud-to-cloud technology offers reliable, creative construction solutions that drive businesses forward; and the positive affect cloud construction and accounting software has on employees. A Q&A session wraps up the insightful discussion.
For any questions about the webinar or to schedule an Acumatica cloud ERP software demonstration, contact our team today.