Why are there ERP and Business Technology Buzzwords?
Every industry has their own buzzwords, acronyms and jargon. It helps us lighten our conversations by making our repetitive tech speak faster and easier for those in the know, but it can be confusing for people who aren't familiar with our 'language'.
If you're in the middle of a software research project and feel like you're missing something when you hear words like ERP, the Cloud, SaaS or CRM, I'm going to define some of the most commonly used ERP and business software buzzwords.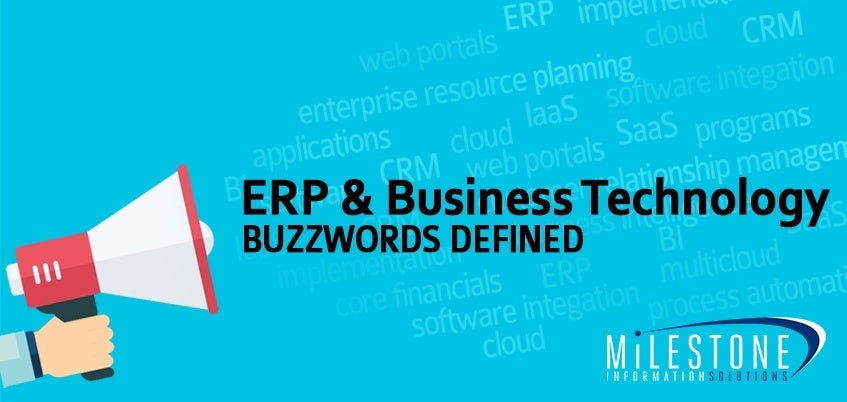 The Backbone of the Business Technology Buzzwords and Acronyms
The Cloud: The Cloud is a network of servers housed and maintained by another company, that you access via a SaaS (Software as a Service) or IaaS (Infastructure as a Service) application. The Cloud is someone else's computers, servers and hardware that you access on the internet through an internet browser.
ERP (Enterprise Resource Planning): ERP is a shared database software that will serve as the backbone you use to run your business. ERP manages your financials, order management, inventory, distribution, manufacturing, operations, production, job costing, reporting, ecommerce, and more. With everything under the same software 'umbrella', you'll be able to streamline and automate processes. Depending on your business, you may choose complimentary applications that integrate with your ERP for additional functionality like CRM or more in depth supply chain management, business intelligence, etc. ERP is also known as Accounting software. business management software
CRM (Customer Relationship Management): CRM is software that companies use to manage customers, leads, quotes, contact information, along with customer support tracking and automating marketing and sales processes. CRM helps you log all of the steps, and track the interactions that lead from the first contact to the closed deal. This gives management better oversight and the ability to track trends, campaign success and patterns in buyers.
Software vs. Application vs. Program: There are technical differences between the three, but for your research you can assume they are used interchangeably and are one in the same.
Software: The base programs and other operating information used by a computer. Examples would be Windows, MAC OS X, Linux. Also known as Operating Software, System Software.
Application: A set of computer programs designed for the end user. An application needs software to run, software does not need applications to run. Examples of applications are Chrome, Outlook, Excel, Acumatica, Acrobat.
Program: A set of instructions that tell a computer what to do. All software and applications have programs.
More Business Technology Buzzwords and Acronyms
Below you will find more definitions in alphabetical order.
BI or Business Intelligence: Every company seems to have a different definition of business intelligence, so let's talk about the basics, and then how we think of it here at Milestone. BI is a term used for analyzing and reporting on data from multiple sources. Milestone Definition: Business Intelligence tells you about more than what's happening in your business today – it tells you about the future.
Core Financials: Core financials describe the base financial accounting suite that usually includes the general ledger, accounts receivable, accounts payable, cash management, fixed assets and more.
ERP Implementation: Why is everyone going on about implementation? Why is this such a big deal?
The basics: ERP implementation is the process of installing your ERP software.
The nitty gritty:An ERP software installation is so much more than any other software install process you will go through. When done correctly, every business process is mapped, analyzed, revised, and analyzed again. This ensures that the system fits your business and helps identify bloated processes and opportunities to automate. Every financial account, incoming and outgoing process is documented and mapped for re-creation within the system. These things may not sound like software installation, but the process of mapping your entire business and redesigning them or recreating them in the software is what we call ERP Implementation.
​IaaS (Infrastructure as a Service):IaaS providers rent you access to their computing power, that you access through their software, via the internet, from your computer or device. Examples: Your website host, G Suite, Amazon AWS, DropBox or Microsoft Azure.
Multicloud:
Below you'll see a graphic that shows a few of the applications that integrate seamlessly in Acumatica. Some work in conjunction and some are so tightly integrated that they are invisible as separate applications to the user.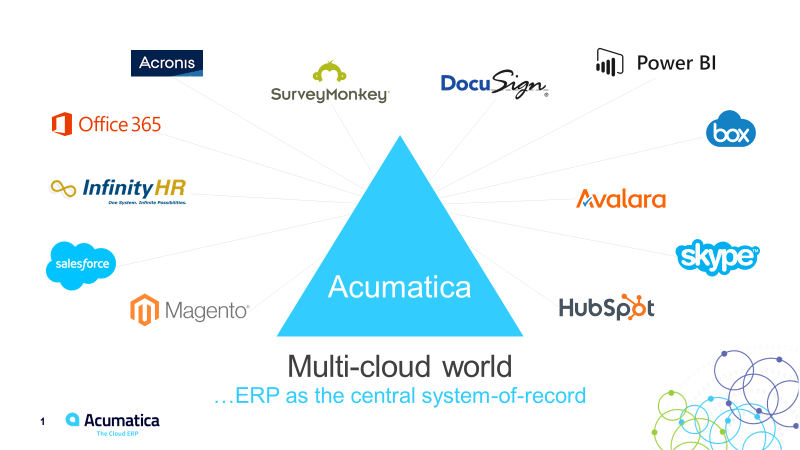 Process Automation: Automating a process could be cutting down on the number of clicks necessary to complete a task, or automation could completely eliminate a process previously done by a person that took upwards of 5 minutes at a time, like eliminating the need to duplicate data entry in more than one system.
SaaS (Software as a Service): SaaS is an application that lives in 'the cloud', and you access from your computer or device. When you use Office 365, Google Applications or GoToWebinar for instance, you are using SaaS applications.
Software Integration: Software integration is the process of connecting one piece of software with another so they can share information that is vital to a desired end result. ​For example, Acumatica Cloud ERP integrates with Magento (via Kensium Solutions) and Shopify. These integrations allow an organization running on Acumatica to have their inventory reflected accurately and in real-time on their website.  This saves hours of manual inventory updating in multiple systems. It also cuts down on refunds and time customer service spends alerting customers to stockouts and delivery delays due to products being sold that aren't available. Software integration is also known as System Integration or Application Integration.
Web Portals: A web portal is a special website designed to give customers access to account information, create support cases, check status' and make purchases. It's a secure place on the web where they can login and see their own account information that is only relevant to them. Some other ways to use a portal could be to provide access for relevant vendors/suppliers or employee self-service to update HR information.
As you can see, there are a variety of buzzwords and tech jargon that we all use. Did we miss any key words you've overheard? Let us know in the comments. A recent new one is the "hyper converged hybrid cloud", which Acumatica's CEO, Jon Roskill, defines here. We hope that, after reading these definitions, you feel more equipped to do your job accurately (and more in-the-know when the next buzzword bomb is dropped!).
If you want to learn more about how you can leverage a fully integrated cloud ERP like Acumatica, contact us today for more information. Milestone Information Solutions has been helping small and medium size businesses improve their operations with software and technology for over 20 years.  We are proud to be anAcumatica VAR partnerand would be happy to help you.