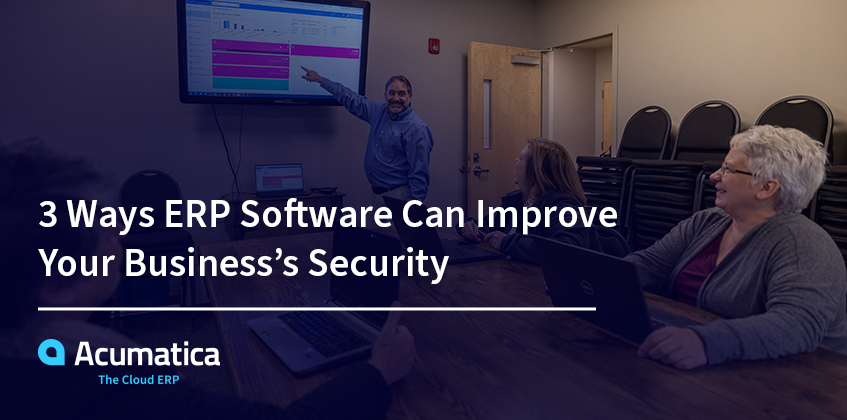 Leveraging ERP Security Across Your Organization
Life is full of opposites. Hot and cold. Up and down. Good and evil. It's this last pair of opposites that we often struggle with, knowing that something meant for good can be used to harm.  A fitting example of this dichotomy can be found in the continuously growing dependency of hosted Software as a Service (SaaS) environments in the form of ERP solutions.
Like many sources of valuable data, enterprise resource planning (ERP) solutions are not immune to cyberattacks. Just this past year, McKinsey Digital brought attention back to a 2018 report co-authored by two respectable research firms in congestion with CISA/DHS collaboration, regarding the cyber threats specifically related to ERP systems. (The report was updated by CSIA/DHS in April of 2021.)
At the time, this report was intended to make folks aware of the growing number of cyber threats to ERP systems. But now, more importantly, its intent is to spotlight the continuous effort by cyber-threat actors to target hosted ERP systems.
How did ERP systems become a cyber target? The answer is simple, and it comes down to one differentiator: onsite (internal) ERP operations vs. SaaS-hosted. When any solution potentially containing valuable data is internet-facing (like an ERP system), the cyber-threat level to these systems and the data grows by 300%.
So how can the security of a hosted SaaS ERP solution be assured?
Bringing the Power of Enterprise Level Security
Thankfully, the rule of opposites works both ways. Technology—such as cloud-based ERP solutions—can help you counterstrike widespread and damaging cyberattacks. An ERP system safeguards businesses through effective cloud ERP security capabilities that don't require expensive investments for buying new hardware or expanding security and IT teams.
Cloud ERP solutions are hosted in the software vendor's own data centers or in third-party data centers, such as Amazon Web Services (AWS) and Microsoft Azure. The vendor—not the customer—is tasked with maintaining, updating, and securing the software. Because their reputations are made or broken by their ability to meet strict standards and ensure data security for their customers, vendors take their security responsibilities very seriously—performing system maintenance (e.g., regular updates), controlling access to the equipment, protecting against environmental hazards and disasters, and detecting (and preventing) cyberattacks.
Such extensive, enterprise-level protection affords you considerable peace of mind, but the security benefits of modern cloud ERP software don't end there. What follows are three additional ways a cloud ERP solution can improve your business's security.
1. Securing Your Business By Reducing Operational Inefficiencies
A cloud ERP solution connects every department in your business, so data from each team is collected, synchronized, and stored in a centralized system. This data is updated in real time and is instantly accessible to every authorized employee. The ERP software also provides the tools you need to analyze that data and draw fact-based decisions from it. In turn, those fact-based decisions will help you optimize your workflows and procedures, eliminating operational inefficiencies that could slow your ability to adapt to changes in normal business processes or respond to malicious cyberattacks.
2. Improving Security with Expanded Visibility
A cloud ERP solution provides end-to-end monitoring of your data environment, which gives you a 360° view of your business and exposes vulnerabilities that might otherwise have gone undetected. Real-time alerts and pattern recognition will warn your teams of potential—or actual—breaches, so quick action can be taken to prevent and/or contain them.
3. Empowering Your Teams to Combat Cybercrime
Technology is often touted as the best way to battle never-ending cybercrime—a "fight fire with fire" relationship. But one other thing is equally important: educating your employees on cyber security. Your organization is under constant attack, and, though the security provided by an ERP system and its vendor is extremely strong, your team must still be trained to recognize the signs of and respond to a threat.
ERP Advisors Group lays out the specific steps cyber criminals take to get past your security measures and into your system. These include:
Testing.
Setting up the bait.
Using fear and curiosity.
Getting inside.
Preparing for the attack.
Attacking from all sides.
Making demands.
Understanding these steps and keeping your employees informed bolsters your ERP security protocols. So, too, does remaining ever vigilant. As ERP Advisors notes: "Enterprise security needs to happen all the time. It needs to become a part of your company's culture, a part of who your employees are when they are in the office, as well as outside the office as part of their normal day-to-day activities. Only with constant vigilance do we have a hope to keep our systems safe from attack."
How Acumatica Can Help
Combining your employees' efforts with the right cloud ERP system helps ensure that your business successfully combats ongoing, devious, and ever evolving cyberattacks. At Acumatica, we're passionate about protecting your business, and, in addition to using the powerful security features of AWS, we also offer valuable security measures, including:
Restricting user logins to specific IP addresses.
Controlling user access by assigning unique security credentials and enforcing role-based data access.
Providing a variety of password protection measures (e.g., prompts to change passwords, password complexity requirements, and unique, multi-factor identification options).
Supplying built-in redundancy in case of a natural disaster or a large network outage.
Storing Acumatica subscriber data in separate databases and ensuring that all customer workstations are completely segmented.
Providing an Acumatica URL protected by ICANN DNSSEC standards.
Using Acumatica's Advanced Web Application Firewall solution (WAF).
Applying enterprise-class MDR services to the SaaS environments—proactively preventing malicious cyber threats.
Supporting and complying with GDPR and other regulatory requirements.
Acumatica also provides 24/7/365 monitoring from a highly trained security operations center.
If your business is not protected by a comprehensive cloud ERP solution, it's time to learn more about ERP security and see why Acumatica is the best system for the job. Contact our experts to set up a demonstration today.