For companies in the retail, distribution, and eCommerce industries, Everest ERP, a legacy ERP, worked well… in 2004. However, after a buyout by a firm who claims to 'revitalize' distressed companies, the only ones who are distressed today are end users.
If you're a small or medium business in retail, ecommerce, or distribution, you've likely heard something about Everest. Once considered an innovator and up-and-comer in the ERP industry, the company had a great 2004. Unfortunately for the company, much like Friendster, excitement over revolutionary 1 MP camera phones, and the marriage between Kevin Federline and Brittney Spears, not everything from 2004 was going to last. Neither was the success of Everest, a legacy ERP.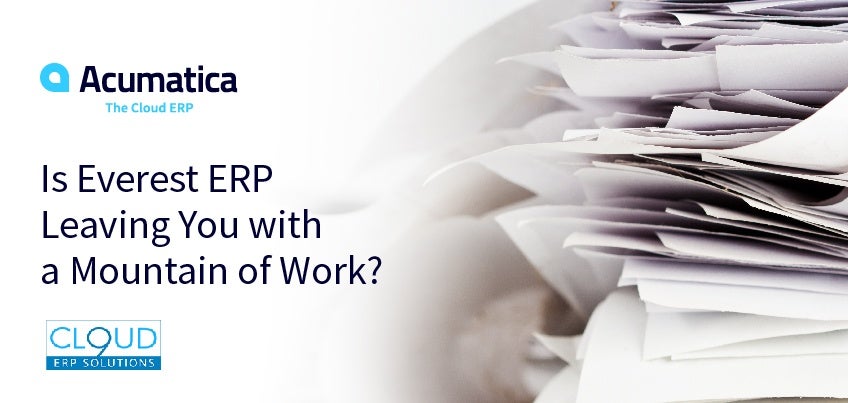 By 2007, the company had fallen to a point in which they were acquired by a "revitalization" firm. Today, this once-exciting platform is held together by rubber bands, custom code, and a small network of companies who do what they can to keep it together.
Legacy ERP causes enough challenges, unsupported legacy ERP is even worse
Most small business leaders will say they don't have the time, personnel, or budget to take on an update to the ERP system—it feels like there's never a perfect time to implement. In fact, for companies using legacy ERP, half of all customers use old software releases, some as many as four years old or more.
It's understandable. ERP implementations are challenging, intimidating, and expensive. However, as time passes, you'll begin to realize that the costs of running legacy, on-premises ERP are going to climb. Nearly every element of a legacy ERP product has an expiration date:
Hardware needs to be replaced
Integrations and customizations falter
Companies supporting legacy ERP start to leave the product
Taxes and accounting standards outpace legacy ERP
Employees who understand your legacy ERP start to retire or leave, making it harder to find someone who understands software that hasn't been used for years
The Everest ERP expiration date passed long ago
In a world of two-day shipping, user-friendly websites, and increased visibility, customers have higher expectations than ever. Legacy systems like Everest were designed for the mid-2000s and fail to deliver much needed automation, functionality, and user friendliness that modern systems provide.
By 2009, Everest was faltering, receiving poor reviews, churn, and horror stories from across the web (including this video from Oregon-based Sports Vision Bend). This was before Everest's team was gutted and the revitalization firm shifted its focus to "maintenance." Updates became sparse and unstable, companies providing support disappeared, and end users are left asking for advice on a Google Forum if they want to find integration.
With an expiration date over a decade in the rearview, companies continuing to use this product face a variety of challenges.
The channel disappeared—where do you go for support?
Channel partners left in droves with little innovation and no incentive to sell, leaving customers struggling to keep the software up and running for the better part of a decade. While there are a few companies who still do integration work for the software, you can be sure this comes with a high cost.
With little channel partner support, customers have relied on Everest's own support plan, something the customers didn't bargain for. Many have turned to the Google Forum, a still-active source of other Everest users who share advice, complaints, and recommendations.
Tax compliance? Not here.
Following 2018's Wayfair v. South Dakota ruling, eCommerce businesses using Everest were introduced to a new challenge—sales tax. Wayfair changed the way companies had to track, measure, and manage sales tax.
According to the user group, the last stable version of the software was Everest 5.0.2.6, released in 2009—nine years before the Wayfair decision. This means that Everest users are not only inconveniencing themselves, they are putting their business at risk.
Manual processes abound
ERP software is supposed to make your job easier. For many legacy ERP users, such a platform once was a viable alternative to the options at the time. However, when a platform was already considered clunky and outdated in 2009, where does it stand today? No better than it did a decade ago. Business processes have advanced, competitors have advanced, and Everest has largely stayed the same.
While today's ERP can automate many processes in the business landscape, legacy ERP users still are toiling away in spreadsheets trying to get an accurate picture of where they stand.
Disconnected systems could spell disaster
Legacy ERP and its inherent lack of integration means that your people must spend more time just to combine data from a range of sources, often forced to turn back to the aforementioned manual processes and spreadsheets to do so.
The problem with this is? Humans are error prone. Any time someone has to type something in manually, there's a chance that something is entered incorrectly. Imagine getting audited because of a mistake tracking sales tax in a spreadsheet.
If you're worried that using outdated ERP software is dangerous, what happens when the only server operating system it can run on is no longer supported? 2020 marks the end of extended support for Windows Server 2008, meaning that you will either be running your ERP on a platform that will never again see a security patch from Microsoft or will be paying a much higher price for custom support.
Descending Everest: Take steps today with Cloud 9 ERP Solutions
With so many dissatisfied Everest users, many Cloud 9 ERP Solutions clients like M3 Technology Group, Supermarket Source, Classical Conversations and Caswell Plating have found Acumatica's cloud ERP software as the leading replacement for this once-popular product.
Kelly Burns, ERP Developer & former Chief Operating Officer, M3 Technology Group, says this in M3 Technology Group's customer success story:
"M3 Technology has grown dramatically since implementing Acumatica. With the move from the old on-premise solution to Acumatica's Cloud ERP, M3 experienced a growth in revenues by 60% in just the first two years, all while maintaining the same headcount in the finance department. We came out of the gate billing larger orders, but we covered the tasks with the same people. We weren't extra stressed or working overtime to keep up, yet we were doing way more in sales and transactions through Acumatica."
Acumatica cloud ERP is a functional, easy-to-use product built on modern technology, providing true mobility, flexible licensing, and lower total cost of ownership compared to Everest, and makes a ton of sense for companies looking for a long-term solution for their business.
As an Acumatica Gold Certified Partner and one of many Acumatica VARs fully supported by the Acumatica Partner Program, Cloud 9 ERP Solutions has helped a variety of companies using Everest to move beyond this product and find a home in the cloud with Acumatica's cloud-based ERP solution.
Get to know more by signing up for Acumatica's on-demand webinar, Everest—The Path Forward, and by reading our entire Descending Everest Series by clicking the links below. You can also request a demo today.