Distributors: fake cloud distribution software may negatively affect productivity and your bottom line. The good news is that Acumatica's latest whitepaper can help you find a true cloud ERP.
Do you know the difference between true or fake cloud distribution software? If not, our complimentary whitepaper, True Cloud vs. Fake Cloud: How Companies Can Tell the Difference in Distribution, delves into why it's important to implement a true cloud ERP solution, the hazards of choosing one of the many fake cloud options on the market today, and how to differentiate between the two.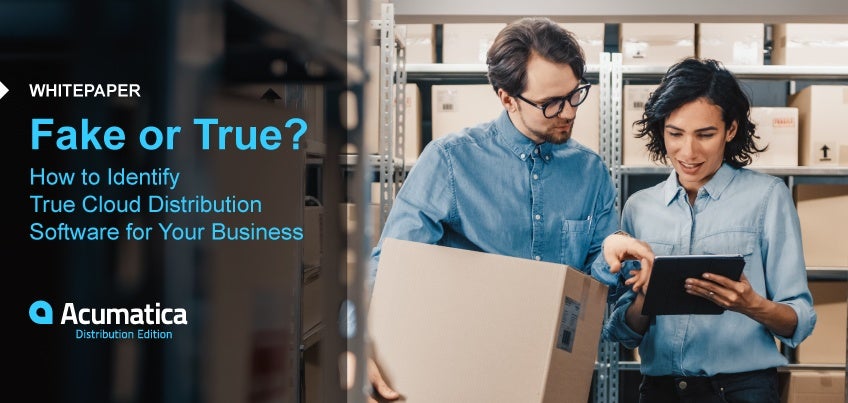 The importance of choosing true cloud distribution software
Every business is susceptible to choosing the wrong ERP for their needs, especially those who don't do their fact-finding first. And "wrong", in this case, means fake. As we note in the whitepaper, "Fake cloud software occurs when legacy applications are adapted and hosted on the internet, but never truly designed to be delivered and used via the cloud."
If you're in the market for distribution ERP software, then recognizing the issues of choosing a legacy application is the first step. These issues include—but are not limited to—needing specialized software to access your legacy ERP system (causing limited availability), requiring the assistance of a trained programmer due to the lack of user interface personalization, and difficulty in integrating with third-party applications because of proprietary integration tools. These, and more, increase your ownership costs and hinder your scalability.
Though fake distribution software is detrimental to your productivity, true cloud distribution management systems enhance it. In the whitepaper, you'll learn four important ways they enhance productivity, one of which is increased functionality, something companies need.
The other productivity-enhancing benefits of true cloud software pertain to seamless integration, security concerns, and incorporating emerging technologies, but where does mobility factor into this discussion? Very prominently.
Mobility is a top requirement for any business desiring growth. Real-time information translates into gaining comprehensive visibility into your operations, beating your competitors to the punch, and meeting your customers high expectations with informed service. Even legacy systems have upgraded their online, mobile capabilities, but often, they don't provide distribution-specific functionality, or they utilize apps that don't communicate with each other. If you're able to find a software vendor that offers a hosted or cloud solution providing access to employees in the field, they still don't satisfy the true cloud distribution ERP software requirements.
This leads to an important question: What are the requirements for distribution software to be classified as true cloud software?
If you download our free whitepaper, you'll learn eight identifying factors you can use to gauge the efficacy of every distribution management ERP you research. Here are the first three:
Full functionality and reporting offered on common mobile devices as well as on the desktop
Personalization
Full integration of spreadsheets, data services, apps, and equipment
The whitepaper explains why these are important, as well as exclusive, to true cloud software. The other five requirements are just as crucial as you research your distribution software options.
Compare your distribution management system options
Differentiating between true and fake cloud distribution software is essential. Download True Cloud vs. Fake Cloud: How Companies Can Tell the Difference in Distribution right now. It's an invaluable resource for comparing your distribution management software options, including Acumatica Distribution Edition.
Chip Hooks, the Controller at Berthold Technologies, is glad they researched and ultimately chose our Distribution Edition, citing multiple benefits in a recent post, including integrated and streamlined databases, a single version of the truth, and the ability to customize, to name a few. The company—a global leader in high performance measurement technology and detection systems—had a serialized part-number database, an inventory system, a financial system, and CRM that were all separated but are now fully integrated.
"It's the mobility, the streamlining, putting everything into one system, the flexibility of Acumatica to update, customize, change. We can change little things within Acumatica to match our current processes," Chip says. "Acumatica continues to add different functionalities and those are things I constantly review year in and year out."
And Acumatica customer Taylan Sevimli, Business Development Manager at Tayse Rugs, is also glad they chose Acumatica Distribution Edition. He says in a recent post, "One of the best things about Acumatica is how customizable it is, especially the user interface. I can change screens, processes and workflows. I can also create custom reports by connecting tables, combining tables and then generate a single table that has all the information I need."
As you review your options, we have one more resource for you, a Distribution Management System Evaluation Checklist. It provides an in-depth comparison of three top vendors, including Acumatica cloud ERP.
For any questions about Acumatica Distribution Edition or to request a demonstration, contact our team at any time.