Global success with a global cloud ERP solution. That's Firewire Surfboards' continuing story.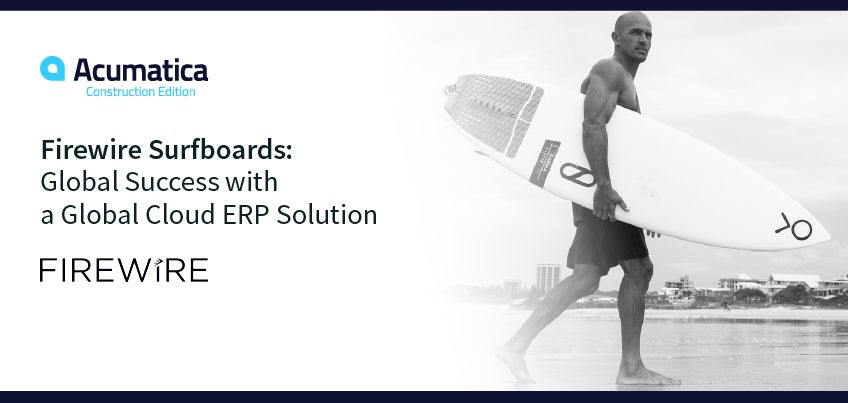 In March 2019, we shared Acumatica customer Firewire Surfboards' story in Firewire Surfboards Shredding the Industry, Thanks to Acumatica Cloud ERP. They were a quickly growing company that had replaced its disconnected legacy solutions with Acumatica's comprehensive cloud ERP, specifically Acumatica Manufacturing Edition and Acumatica Financial Management, thereby increasing their flexibility, visibility, efficiency, integration capabilities, and cost savings.
Now that they've been using Acumatica for over two years, and with the advent of COVID-19, we wanted to check in to see how they're doing.
According to CFO Franklin Shiraki, shutting down their physical offices due to the pandemic has not diminished their productivity and gives Acumatica the credit. "Having Acumatica is pivotal as our ERP system is the lynchpin of the business."
How Firewire Surfboards and Acumatica cloud ERP connected
With distribution in Australia, the U.S., and Europe and manufacturing in Thailand, Firewire Surfboards opened its doors in late 2005. For the first 12 years, they used disconnected solutions to operate, including Excel for financials and analysis and a legacy ERP as their database.
Crestwood Associates, Firewire's technology partner, was instrumental in keeping their former platform working. When Firewire began looking for cloud-based manufacturing software and financial management software, they knew exactly what the company needed.
"Without a doubt, Acumatica was the perfect fit for Firewire Surfboards because it's a global solution for a global organization to be able to deploy and have success," says Brian McGuckin, Partner at Crestwood.
Firewire Surfboard's global success with Acumatica cloud ERP
The surfboard maker's use of innovative designs, new (eco-conscious) materials, and advanced construction methods, which was considered disruptive at first, keeps them at the forefront of surfboard technology. Firewire's implementation of Acumatica cloud ERP has helped them to continue to disrupt the industry.
As they work to elevate the surfing experience, the Firewire team relies on Acumatica's cloud-based ERP solution, which, they say:
Has been easy to onboard
Is intuitive, highly functional, and flexible
Offers real-time visibility into global business performance
Provides seamless workflows between modules and seamless integrations with third-party applications
Saves time by automating financial and operational reports
Makes working easier, in the office or out
Allows them to scale and grow
"To have this global platform and everyone on the same page and to have that granular visibility into what's going on in the business has been a sea change for us," says CEO Mark Price. "If you talk to our sales guys around the world, they're just over the moon with the integration."
Exceed your strategic growth goals with Acumatica cloud ERP
Ultimately, Firewire's decision to implement Acumatica's cloud ERP software has been the right one. In fact, according to the Firewire leadership team, Acumatica is helping the company reach (and exceed) their strategic growth goals. Hear from Mark, Franklin, and Meredith directly on their experience pre-and-post Acumatica.
And, as we touched on at the beginning, the COVID-19 crisis hasn't slowed them down. Utilizing Acumatica cloud ERP has provided them with the business continuity many other businesses have not been able to sustain.
If it's time to replace your legacy systems with a modern, mobile cloud-based ERP solution, then contact our team today. Acumatica's global cloud xRP platform can meet you where you are and take you beyond the borders of your current reality.