Why did Nick Novy choose Acumatica cloud ERP before he even launched his company and how did the decision help the industrial packaging supplier grow nationally? He explains today.
The customers we've featured in our ongoing customer success blog series (Superprem, Specified Technologies Inc., Ray Allen Manufacturing, Berthold Technologies, Shoebacca, Tayse Rugs, MiiR, Fabuwood Cabinetry, Nothing Bundt Cakes, Firewire Surfboards, World Hope International, Curran Young Construction and ProPharma Distribution) have a recurring theme: struggling with inefficient and disconnected legacy systems before experiencing growth and success with Acumatica's fully integrated cloud ERP solution.
However, today's customer is different.
Korpack never experienced the struggle. Instead, President and Founder Nick Novy chose Acumatica cloud ERP—with its flexibility, easy customizations, and agile cloud xRP platform—right out of the gate.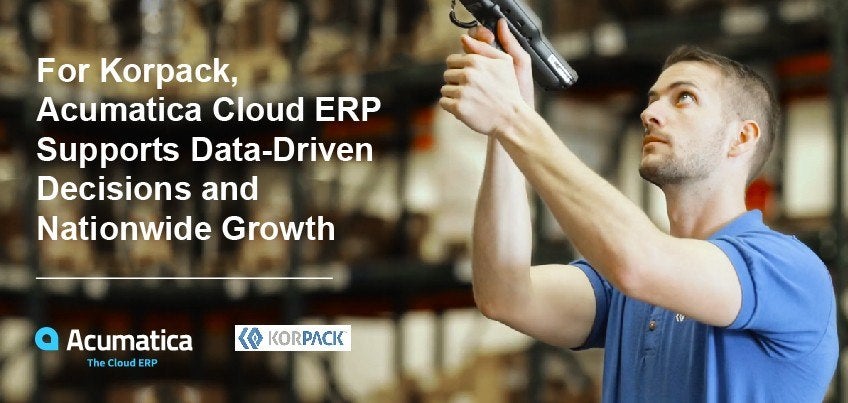 Korpack's cloud ERP success
Before founding Korpack in 2014, Nick was an engineer in the packaging industry. He learned that exceeding customers' expectations requires a tailored approach. This understanding led Nick to design his own business—a B2B single-source supplier of standard, custom, and retail packaging along with packaging machinery and automation solutions—to meet each customer's unique needs. And he used technology to make it happen.
"Technology is important—and so is customizations—in our industry because it's a relatively low margin, high volume type industry, and if you're not doing things fast and efficiently, you're not doing well," says Nick in Korpack's video testimonial.
The company he worked for previously had selected an ERP system that ultimately slowed them down. To ensure this didn't happen to him and to obtain optimum efficiency, Nick searched for a modern and affordable cloud ERP solution that was not only mobile and flexible but was also easily customized, could seamlessly integrate with third-party applications, and had the data-analysis capabilities they required for fast decision making.
Acumatica's cloud ERP solution met his requirements. Korpack's CFO, Patrick Madison, says, "We chose Acumatica for three main reasons. Acumatica bills once per year as opposed to per user, which allows for scalability. It's a cloud-based software application that can also be used on a mobile device. And we chose Acumatica because it's a highly customizable tool that allows you to tailor-make the platform to your business needs."
He adds, "Acumatica helps us collect data we need to make informed decisions, and we are very good at taking that data and turning it into actionable decisions. We get to do that because Acumatica is customizable and allows us to do that on the fly, based on live data."
You can hear more from Patrick as he describes in his own words how Acumatica has saved Korpack time and helped them become more efficient.
As noted in Korpack's customer success story, the industrial packaging supplier implemented Acumatica Financial Management, Acumatica Distribution Edition, Customer Management, FusionPOS, and FusionWMS along with Acumatica Manufacturing Edition for demand and resource planning.
The task of finding the right software accomplished, the next move was finding the right partner, which Nick discusses in an article about choosing partners carefully by Jon Reed of diginomica. That partner turned out to be Dan Schwartz, President of Acumatica VAR NexVue. Dan and his team aided and abetted Korpack's implementation process and continue to assist Korpack with software updates and maintaining third-party integrations.
Having worked closely with Korpack's founder, Dan says, "Nick is a true visionary when it comes to leveraging technology to make his operation much more efficient and effective."
Korpack's far-reaching benefits with Acumatica cloud ERP
Choosing to implement Acumatica cloud ERP from the start has given Korpack an edge over its competitors. Acumatica's cloud-based financial, distribution, and manufacturing software allows Korpack to:
Make quick decisions based on real-time, centralized data
Automate and streamline their operations
Provide immediate quotes and fulfill them accurately
Work with their over 300 vendors and partners to fill customer orders
Integrate seamlessly with the Microsoft Office suite and third-party applications (e.g. SPS Commerce Fulfillment)
"The three keys to Korpack's success are Korpack's employees, vendor partners, and Acumatica," Patrick says. "I would recommend Acumatica to any organization because of all the benefits we have seen from Acumatica."
With Acumatica's cloud ERP software, Korpack has been able to grow from a regional company to a national player. The company was able to sidestep the challenges many companies face after choosing the wrong cloud ERP system or hanging on to antiquated and inefficient ERP systems.
Are you ready to let go of your legacy system and find a modern cloud ERP solution and a manufacturing ERP that's flexible? If so, contact our experts for a demonstration of Acumatica's highly usable and award-winning cloud ERP solution. And if you'd like more details about Korpack's success with financial, distribution, and manufacturing ERP software, then check out their full success story.