No manufacturing company wants to fall behind their competition. Those who decide to implement modern manufacturing ERP software don't have to worry about that, but they may worry about how to choose the best cloud manufacturing system for their business management needs. With Acumatica's newest (and free) evaluation checklist, however, you've got the tool you need to choose wisely.
It's time to invest in manufacturing ERP software to help you shift your business from just surviving to thriving. This may seem like a high expectation for a cloud manufacturing ERP, but the reality is that using modern business systems can up your performance and profitability. But which manufacturing ERP is right for you? Use our complimentary Manufacturing Management System Evaluation Checklist to compare Acumatica's Manufacturing Edition with two other leading vendors to find out.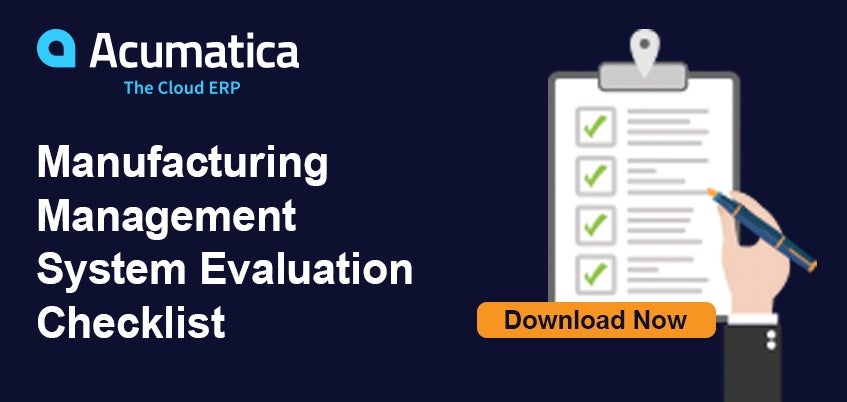 What our manufacturing ERP software checklist will tell you
Manufacturing companies such as yours rely on business systems that can effectively handle your sales, production, and fulfilment processes. These systems must be able to seamlessly integrate so that every person—from the C-level executive to the employee on the shop floor—is on the same page, at the same time (in real time), and from wherever they happen to be. In addition, you deal with production planning and control challenges, which include ever-changing customer demands, the need to balance supply with demand, new methods and technologies, and managing resources and inventories to control costs.
With our ERP for manufacturing evaluation checklist, you can take a comprehensive look at top manufacturing ERP vendors to see which one meets your business management needs and will also make your life easier. The manufacturing checklist allows you to directly contrast the cloud ERP features and benefits of each vendor based on the categories of productivity, functionality, technology, value, and risk.
Let's take a brief look at a few of the features from the different categories. The right manufacturing production software should:
Be intuitive
Have true universal availability
Provide multi-language and multi-currency capabilities
Support standard accounting functions (e.g. GL, AP, AR, Cash Management, Tax Management)
Help with product structure control (e.g. BOM costing, custom configurations, and more)
Manage production with material requirements planning (MRP) and advanced planning and scheduling (APS)
Have integrated business intelligence
Be true cloud
Scale as you grow
Provide predictable monthly costs
As you go through all the features and benefits noted in the checklist, you'll find that Acumatica's manufacturing ERP software meets each one.
"Acumatica was able to handle the full end-to-end functionality, it was cloud-based, and it was exceptionally cost-effective," says Acumatica customer Derek Szabo, Managing Director of Devil's Peak Brewing Company, about Acumatica and Acumatica's Manufacturing Edition.
He goes on to say that Acumatica has given them improved control and visibility into their beer-making business. "Full supply chain visibility will enable us to target the areas where we have issues and tackle them, to ensure we are operating efficiently and driving growth across sales, supply chain, manufacturing and finance."
The company plans to add new regions and products, and Derek feels confident that Acumatica will help them handle the complexity that comes with growth. You can read about their successful Acumatica ERP implementation in the Devil's Peak Brewing Company case study.
"I would definitely recommend Acumatica to other businesses," Derek says. "It covers the full ERP functionality, it integrates with other products well, and it's cost-effective."
Compare Acumatica's cloud manufacturing system for yourself
You can download the Manufacturing Management System Evaluation Checklist right now. It's a time-saving tool that will help you analyze not only three of the top manufacturing ERP vendors on the market today but also has the features and benefits you can use to compare any cloud ERP vendor of your choice. That's truly what we want for you: the ability to choose wisely using fact-based information. Your decision will affect every aspect of your business for years to come.
If you have any questions about our manufacturing ERP software or our true cloud ERP solution, then contact our team. As the recent CODiE-award winner for the Best Manufacturing Solution 2018, we understand the importance of integrating your manufacturing, inventory management, and accounting processes and want you to succeed using the perfect cloud manufacturing system for you.
Download our Manufacturing Management System Evaluation Checklist