The COVID-19 crisis has caused unprecedented challenges, especially for SMBs. Thankfully, Acumatica cloud ERP can help, and two Acumatica customers share how today.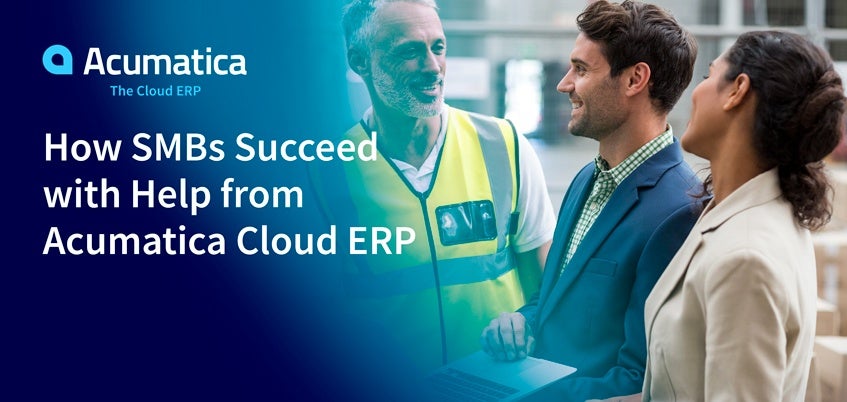 As an SMB, you, like many, are struggling with ensuring business continuity and finding success during the COVID-19 pandemic. For Acumatica customers Flo-Tec and American Challenge, the struggle has been alleviated by their decision to implement Acumatica's cloud ERP solution.
Finding success with Acumatica cloud ERP
Flo-Tec
Since 1983, Flo-Tec has been providing non-woven media (which they develop with their in-house manufacturing and converting capabilities) in the air and liquid filtration markets. Their ability to customize sizing requirements and meet same-day requests has held them in good stead in the automotive industry. So much so that they've expanded into other markets, including the agricultural market where they've found success with their patented Gro-Guard® Crop Cover Technology.
The company was thriving even though it was running on Macola's manufacturing software. Director of Marketing Wesley Yarnell, who joined the company about 15 years ago, says Macola wasn't getting the job done.
"They couldn't adapt. They couldn't change. Nothing could be done remotely," he says, adding that getting information out of the system was impossible.
Over the years, he sounded the alarm about their software with his dad, Owner and President Tim Yarnell, and when their technology advisor Algorithm told Flo-Tech they were no longer going to support Macola, the decision to move to another solution was made.
After reviewing NetSuite and Acumatica, Acumatica emerged the victor due to several factors. One was cost. Another was the ability to transfer Wesley's low-code database systems—something he had developed and maintained in response to Macola's lack of usability—directly into Acumatica.
Choosing Acumatica's cloud-based ERP software was the right decision, especially when COVID-19 hit. Their team's anytime, anywhere access to Acumatica has been a huge advantage, allowing them to continue shipping their essential product and keeping their employees working. "Without Acumatica, it would have been such a mess trying to get all these people into the office physically."
In addition, their non-woven fabrics, one of which is polypropylene, became much in demand for PPE products. "The phone was ringing off the hook a few days after COVID hit. When our industrial business dried up for four months, our PPE business, which we didn't even have a dollar of before, almost filled the hole."
As they've successfully adapted to the changing marketplace with the help of Acumatica, Flo-Tec's ERP benefits include saving time, automating invoicing, and improving inventory. Wesley believes that "Acumatica pays for itself."
"I feel like I'm at a point now where I'm almost like an in-house Acumatica developer, and I know that's crazy because I don't know how to code or anything," he says. "The ability that any of my employees can come to me and say, 'Hey, I want to see this on a daily basis; I want this email to me or to a certain customer', I now can literally make that happen in minutes for them."
American Challenge
American Challenge, which supplies teams, clubs, leagues, schools, and camps with soccer uniforms, balls, and gear, was started "accidentally" in the basement of the Laker home in 1973.
Owner Bob Laker caught the soccer bug after taking over a U-7 boys' house league team and coaching a travel team. Finding that the quality of equipment was lacking, he took on the role of Equipment Manager of a 1200-member club, started importing gear directly from overseas manufacturers, and began selling equipment with his wife, Ida, at his side.
The family-run company is now an international mail order business, and as with any growing business, it needed a business management system that could grow with them. Unfortunately, the solution they were using was, according to President Bruce Laker, "slow, cumbersome, and problem-riddled." It also wasn't based in the cloud.
Though Bruce hates change and didn't want to switch software, he says, "At a certain point, you have to."
Their business technology solutions provider, AKA Consulting, told Bruce to look at Acumatica's cloud ERP software, and Bruce didn't look anywhere else. "It was a no brainer for us."
Sadly, American Challenge, like many SMBs, has felt the sting of COVID-19 with youth sports being cancelled around the country. Where they would normally do about 4,000-to-5,000 orders in July, August, and September, the number dropped to approximately 1,200 in June, July, August, and September in 2020. With this drop in orders, only one person was needed to fulfill orders, and Bruce single handedly did so, crediting Acumatica with helping him do it.
"The Acumatica solution, the way it works, the internal email, is fantastic. It made it a lot easier for me to do everything in a reasonable amount of time," he says.
He discusses their experience with Acumatica's cloud-based ERP solution, including their ERP benefits of improved customer interactions and speed of orders, below.
Looking forward to a new year with Acumatica cloud ERP
As 2021 unfolds, now may be the time for you to hit the reset button. Replace your legacy business management solution with a cloud-based and comprehensive ERP solution, like Acumatica, that ensures business continuity no matter the circumstances.
Contact our team with questions and/or to request a demonstration. We're ready and able to help you successfully run your business today and into the future.