As a part of doing business, distributors and manufactures that sell complex mechanical or electrical equipment typically include a warranty to provide repair and offer service contracts to maintain those systems. These types of equipment can range from in-home HVAC systems to emergency electric generating plants in a customer's facility. The customer satisfaction depends on streamlined dispatching and rapid response times to provide the right people with the right skills. This is all happening while at the same time you, the service provider, are striving to balance the workload of the technicians and minimize travel and repair costs. This post is the first in a three-part series of blogs that will address various challenges and present some solutions available to you today.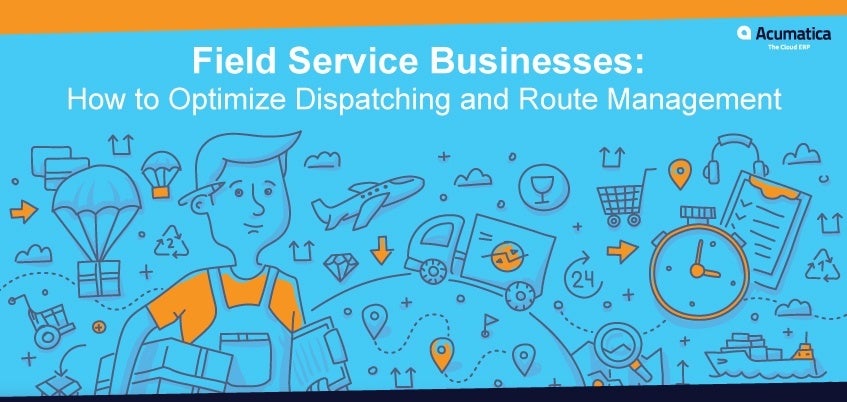 To stay competitive, midsize and larger field services teams have found that the solution to addressing all these challenges is by automating this vital set of business processes. That is where Acumatica Field Service Management is the answer. The solution can handle these challenges. To show you how, I recently sat down with Jorge Santos, Field Services Product Manager and resident field services guru here at Acumatica. We discussed all things affecting today's Field Service Management, including the challenges faced by these businesses and the solutions the Acumatica platform can offer.
Let's start with scheduling and dispatching
One of the core processes is scheduling, dispatching and managing service technicians in the field. Dispatching is the act of sending someone out to fix a problem for a customer. The person could be a technician, engineer, etc. The process of dispatching is super important, as you need to be able to get the right technician to the right location in as timely a fashion as possible. Customer retention and satisfaction require and demand it.
It sounds simple but it can be a bear of a task. There are lots of moving parts to plan for, including:
Geography: You need to avoid sending a technician out to the first call, then sending them 20 miles to a second, and then back 15 miles to an area close to the first call.
Adjustments: Typically, a technician's route is scheduled in advance, but often an emergency call comes in and changes the carefully thought-out plan.
Variables: It is essential that the right parts and the right people end up going to the right place, or you've wasted your time (and money).
How does Acumatica Field Service Management assist in dispatching?
Geographic scheduling: If a technician has four appointments, Acumatica helps organize them to optimize the drive time and make sure appointments don't overlap. Google Maps services are embedded within Acumatica so you can visualize where the issues are occurring. By seeing the distances, you can make better decisions in dispatching, saving your business time and money, and enabling your technicians to do their job as effectively as possible.
Routing adjustments: Changes are unavoidable. With Acumatica's Field Services Management, the visual dispatch board easily allows the scheduling team to visualize the impact on the schedule and determine the best ways to resolve the required changes.
Variables in scheduling: To help get the right people to the job, Acumatica tracks the history of the prior customer's service orders, the information of the machine to be worked on, and the inventory of the parts currently on the service vehicle.
How important is Mobile Technology in Field Service Management?
Enabling your technicians with mobile technology is critical for many reasons. A main, common issue is that without this technology, technicians must fill out their paperwork by hand on a job site. This presents the following challenges:
may not be legible or correct
creates a delay in getting the information into the system for billing and restocking parts inventory
requires rekeying the information into the system which is costly and error prone
With Acumatica, technicians in the field have access to prior customer service information and what parts are under warranty and what is not. After the job is completed, the time and part used is instantly uploaded in real time to the system for faster and more accurate billing. This information is also then accessible to any future technicians who work on that customer's needs. Handwriting and other grammar issues are taken out of the equation completely, providing a seamless experience that saves time (and money) on all fronts.
Another benefit of mobile technology is that technicians can take a picture on their phone or tablet of what the situation looks like before and after the service call. This then becomes part of the service record.
Many mobile devices have other productivity features built in such as:
voice recognition software which allows the technician to dictate job site information instead of keying
customer signature capture on quotes and/or completed service orders
ability to clock in and clock out to accurately record time on an appointment
An additional advantage using mobile devices is those "routing adjustments" we discussed earlier. Since the mobile device is connected in real-time with Acumatica, when any changes to the technician's "itinerary" occur, they will see the updates immediately. The same goes for traffic: the mobile version constantly refreshes to find the best current route.
With Acumatica Field Service Management, technicians are connected anytime, anywhere on any device with a browser. There is no need to purchase expensive proprietary devices to be fully mobile.
What data should be analyzed and reported on? What KPIs are important?
While the technicians will require a seamless mobile interface from which to work more productively, the team supporting them back at the office have important tools they need to be productive in their work. One that is vitally import is reporting and customizable key performance indicators, or KPI's.
As we discussed, there are many "moving parts and variables" in scheduling and dispatching. Having accurate and real time information is a great help. The days of working from printed reports have passed and information not data is vital in making informed business decisions. That requires a modern, integrated systems where all information is instantly available to the decision maker.
The Acumatica platform provides this type of reporting so you can optimize your business activities. For example, you want to know which preventive maintenance contracts have expired so you can renew your customer (for recurring revenue) and avoid surprising them with an expired contract (reducing customer satisfaction).
If you want a list of those, Acumatica readily provides that information and data.
However, there is something even better than a report. If "contracts ready to expire" is a KPI you want a team member to stay on top of, then place an "Alert" on their personalized dashboard (that they create and maintain easily).  It may be as simple as a button turns red when there are contracts expiring in less than a month.
We find that clients like their dashboard to hold different statuses. For example, it'll may show "35 service requests pending, 20 approved and ready for dispatch, 40 being actively working, and 20 waiting for parts."
This creates an interesting dashboard, like moving pieces across a chessboard. The person coordinating the field service technicians must be able to effectively and in real-time pay attention to all the pieces. Acumatica's technology enables all of this.
Should you choose Acumatica Field Service Management?
Acumatica Field Service Management automates hours of painstaking planning in minutes and frees up technicians—and those who manage them—to focus their energy on the customer. Interested to see if it is a fit for your own dispatching and route management?
Look for the second blog in this series, "How to Optimize Inventory and Equipment Maintenance", coming out in the next few weeks.