We think it's time you got rid of disconnected CRM and ERP systems. Why? Because combining them into one efficient, customer-centric solution results in benefits for you and your customers. 
Today's topic is one you, a small or medium-sized business (SMB), will find hugely important. We're discussing why you should integrate your CRM Software and ERP systems and the resulting benefits. And because it's so important, we'll be following this discussion with another one coming soon, explaining how to build an integrated CRM and ERP solution your team will actually use.
Let's get started.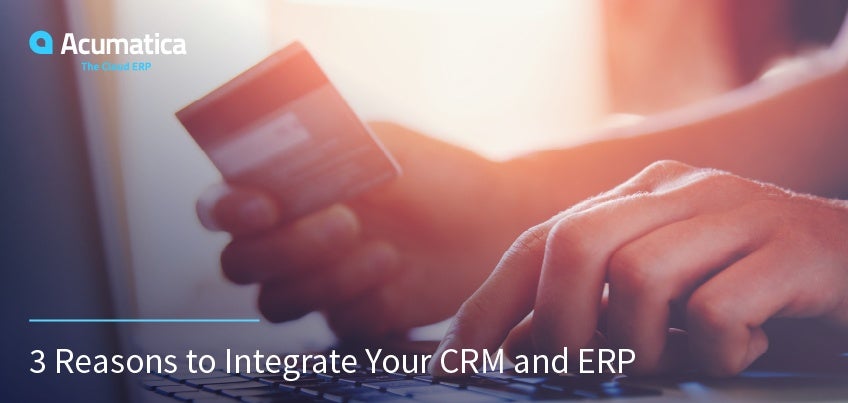 Why SMBs should integrate CRM and ERP
Effectively managing leads, contacts, opportunities, and customer accounts is imperative if you plan on having a successful, thriving business. Knowing what's happening during each step of the sales cycle (marketing, quoting, sales, delivery and post-sales support) requires a standardized customer management system that the entire organization can use.
"Chances are, if the sales team, the finance team, and anyone else in the business who touches their customers is not using a CRM tool, they're using some other tool or it's completely manual. Do they have some kind of workflow associated with leads and opportunities or is it random? It shouldn't be," says Sean Chatterjee, Acumatica VP, Sales, "As a business grows, there's always a need to standardize the system and have operational guidelines in place. If they don't, their growth will be restricted."
A CRM system will track the customer journey, from lead to deal. But it also needs to seamlessly connect with your cloud ERP solution. Why? Here are three solid reasons:
1. Company-wide access to real-time data
As Sean touched upon, there are a number of people who will interact with customers. The salesperson is the initial contact. He or she documents the sales journey and then hands the customer off to the warehouse or servicing department to handle the customer's order or service. And the finance department enters the picture, handling the billing and accounting processes.
If your CRM software is integrated with your ERP solution, then every department has access to the same (synchronized) data from a single source of truth in real time. This sharing of information fosters company-wide collaboration, and because everyone has the information needed to meet the customer requests, it improves customer satisfaction.
2. Save time with improved Quote and Order Management
With the right CRM software, you can create quotes and proposals easily, and just as easily, turn them into orders within your integrated cloud-based ERP solution. This automated feature provides unbeatable time savings and usability appreciated by employees and customers alike.
3. Consolidated information provides improved visibility and forecasting
Most sales teams have weekly and/or monthly meetings as a status check on opportunities and leads. When the information is consolidated into a single CRM and ERP application, the time it takes to prepare for the meetings is substantially reduced as management already has visibility into the entire process.
Additionally, having a single source of truth for critical business information allows you to analyze the customer lifecycle, improve efficiency, and increase conversions.
Which CRM and ERP should you choose?
The benefits of an integrated CRM and ERP system include increased productivity, better decision making, increased profits, and most importantly, happy customers. So, how do you choose the perfect CRM software for you and your business? You should consider one that comes part and parcel with a leading cloud ERP solution.
Stacy Guccione, Sr. Product Manager at Acumatica, suggests you consider Acumatica's Customer Relationship Management suite. "One of the unique things about the Acumatica CRM solution is it is fully embedded as part of the entire Acumatica ERP. You don't have disconnected information in two separate places. And it gives you the ability to have a complete view of all of your customer's information within a single database in a single user interface. It means that everybody has access to the same information, whether that's somebody in marketing, sales, customer support, or finance."
Acumatica CRM is a valuable tool that offers a team approach to sales and service and includes a Customer Self-Service Portal (more on the portal in the next post) and the CRM Add-In for Microsoft Outlook, which works with incoming and outgoing email in Outlook, allowing users to:
Search for existing leads, contacts, and employees in CRM
One-click access to an existing contact
Create new leads and contacts right from your inbox
Create opportunities and cases associated with existing contacts
Log activity and attach email contents to CRM
Experts at ERP implementations, Acumatica VAR DataQuest  is very glad they migrated their internal ERP/ CRM systems to Acumatica. "We went from handling our billing through Acumatica to really managing our quoting, opportunities, communications, marketing and sales activities there. Having all the data in one place has been incredibly rewarding. We no longer have to sign into disparate systems to look up key information."
Invest in the right CRM and ERP
Investing in a CRM system and integrating with your ERP (or choosing one that is already built within an ERP solution, like Acumatica) promises to deliver some major benefits. If you'd like to learn more, contact our team. And stay tuned for our follow up post on integrated CRM and ERP, where Stacy and Sean join me in explaining how to build a system your team will actually use.