The pain of using an outdated, disconnected ERP system is real, and no one knows that more than the team at International Pipe & Supply. Today, we're sharing their story of finding joy with Acumatica's true cloud ERP solution in order to give other SMBs hope.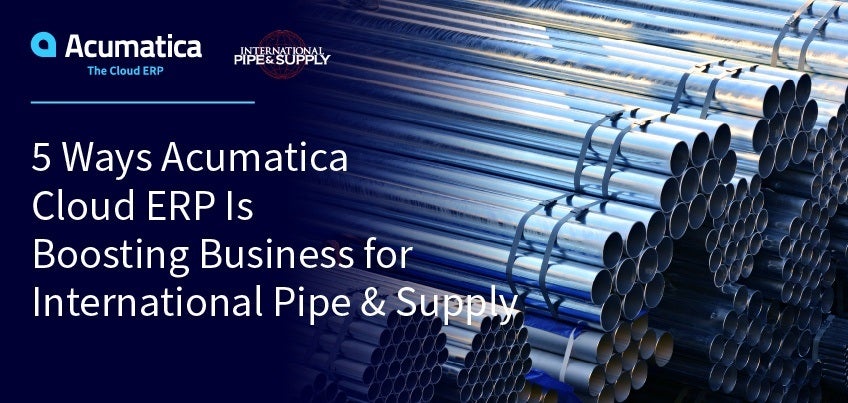 If you made a list of what brings you joy, what would you include? Family? Friends? How about your cloud ERP solution? Scott McCalla, Chief Strategy Officer at International Pipe & Supply, LLC, would.
"Acumatica was an absolute upgrade to the 21st century," he says. "It's a dream to log in and get to the center of our business universe."
International Pipe & Supply pre-and-post Acumatica cloud ERP
To explain how Acumatica's distribution management software, CRM software, and financial management software have made a dramatic difference in how Scott does his job, we need to turn back the hands of time, back when International Pipe & Supply, a family-owned steel pipe distribution company based in Oklahoma City, implemented SouthWare ERP.
"SouthWare was incredibly difficult to use," Scott says in the company's customer success story. "It wasn't point and click. You had to know secret codes like F3 this time but F12 on the next screen. The software was really, really, really difficult to train and it didn't give us the basic reporting we knew we could get with other software programs."
Pretty grim, but it gets even worse.
He explains their legacy ERP didn't have the support mechanisms or the expansion capabilities, especially on the sales tracking side, they needed. It was "hit or miss" as to whether they were able to capture vital financial data. And the company was tracking their inventory via separate spreadsheets.
A drastic change was in order, so they decided to upgrade to a modern business management solution. After evaluating Acumatica, NetSuite, Sage, and Microsoft Dynamics, International Pipe & Supply, which has 14 locations nationwide, recognized that Acumatica's cloud ERP software and modern Cloud xRP Platform would unify, automate, and simplify their distribution processes.
With the help of Acumatica Partner Advanced Systems Group (ASG), they implemented Acumatica Distribution, which includes Advanced Financial Management, Order Management, Inventory Control, Fixed Assets, and fully integrates with Acumatica Customer Management.
"Implementation was really positive. We took our time and hiccups were dealt with swiftly. Within two months post go-live, our issue whiteboard was just about wiped clean," Scott says.
The International Pipe & Supply team have experienced many benefits, including:
Access to critical data in seconds from anywhere, anytime, producing better decisions, improved productivity, and increased profitability
Closing monthly books efficiently, reducing the time from 15 days to 3
Utilizing custom dashboards, streamlining processes and data, and saving time
Being able to track sales leads to completion, allowing sales team to capture information and improve reporting and customer retention
Using Acumatica's easy-to-use user interface, leading to high adoption by all team members
Scott says, "The users were so tired of the old system. Once they realized how intuitive Acumatica is and discovered that if they got lost, there's help available on each screen, so they weren't going to get stuck, the buy-in was there."
Where does International Pipe & Supply go from here?
Now that International Pipe & Supply is happily utilizing a mobile, secure, and well-designed cloud ERP solution, they're anticipating better sales results. The company's customer success story provides even more details into their wonderful experience with Acumatica.
"Acumatica allows my focus to be more on the business rather than wondering where I go to find the information I need," Scott says. "Knowledge is power and the quicker you can get to the knowledge, the better off you are."
If you'd like to list your cloud ERP software as something that gives you and your business joy, then we hope you'll contact our team. Scott describes us as "energized, smart, intelligent, and caring" and "willing to bend over backwards to make sure everything works to fit your business."
He's right, and we look forward to hearing from you. We also would love to see you in person at Acumatica Summit 2020, coming January 26-31, 2020 in Las Vegas, Nevada at the incredible Cosmopolitan of Las Vegas. And because it's coming so soon, this is one of the last calls to register. Do it today and prepare yourself for a week-long adventure focused on Acumatica cloud ERP.