What is causing the jewelry and watch industry to falter and what can they do to recover? According to two Acumatica customers, a modern, reliable ERP is the solution.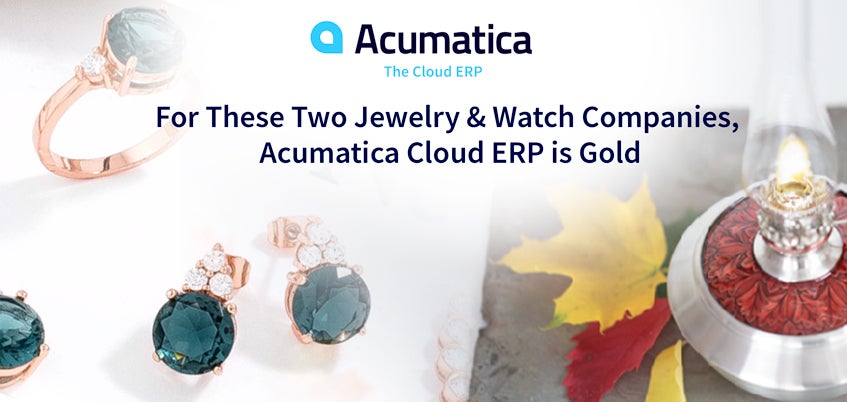 The watch and jewelry industry is in the midst of a storm. They're battling indifferent millennials, declining marriage rates, synthetic imitations, and a struggling economy. They're also facing stiff competition from department stores, big-box stores (think Costco), and the growth of eCommerce in the form of online retailers. And don't forget global trade concerns, the rise of the smartwatch, the complexity of supply chain transparency, and the growing international acquisition of small, local jewelers.
What can they possibly do to survive? For J. Goodin, a jewelry manufacturer and wholesaler, and Danforth Pewter, a distributor of handmade pewter heirlooms, turning to an ERP that supports their business needs was the answer.
Acumatica cloud ERP: An ERP for jewelers, watchmakers and more
Today's digital marketplace takes no prisoners. Businesses that haven't undergone a digital transformation—or haven't even started thinking about it—will be left behind. Modern technology, including manufacturing management software and commerce software, must be utilized by businesses seeking to succeed.
Why?
It's all about leveraging resources that will draw customers to your business and having seamless connections, processes, and functionality to handle your business needs. In the example of jewelry and watch companies, small artisans are losing out to their larger, faster competitors who have been able to take advantage of fast fashion trends as well as to differentiate their brands through unique designs and big marketing campaigns.
With a modern, cloud ERP solution, small artisans (and any small-to-mid-size business or SMB) can compete by:
Using digital media/paid social media as a platform to share information, shape their brand identity, and build customer relationships
Accelerating their supply chain processes
Reacting to trends quickly and reducing their product-development cycles by collaborating with suppliers, designers, and logistic providers
Analyzing data and gaining insights into inventory optimization, customer profiling, and sales and expenses
Adopting eCommerce practices
Increasing their international presence
Both J. Goodin and Danforth Pewter chose Acumatica's award-winning cloud ERP software to give them this competitive edge.
J. Goodin
J. Goodin, which operates in the U.S., China, and Mexico, needed a web-based, flexible solution with modern, scalable architecture that had the permission, item masking, and multi-dimensional inventory capabilities they needed. As seen in their Acumatica customer success story, first NetSuite and then SAP Business One were not able to provide them with what they needed.
Acumatica's comprehensive solution, however, did.
With Acumatica, CEO Jay Cheng says they were able to build a real-time interface with their eCommerce site. They can import and export data fast and easily with Acumatica's strong, open APIs, customizing Acumatica to fit their needs.
Additionally, the fashion jewelry manufacturer and distributor is able to:
Expand the use of the system to many users with Acumatica's unlimited user licensing
Automate their sales processes and provide employees with real-time access
Easily manage their build-to-order and build-to-stock processes
As Jay says in the video, "[Acumatica has] really been a good fit for us. We've seen bugs turned around in four hours. Our systems patched and a phone call from management saying, 'Hey, is everything good?' That's amazing. We've never gotten that type of tight, fit service and love from any other company."
Danforth Pewter
Launched in 1975, Danforth Pewter has a long history. Founder Fred Danforth says his family opened a pewter workshop in 1755, which continued for 120 years. The history-rich company sells their handmade pewter products in nine retail stores, online, and wholesale to hundreds of independent retailers.
Their goal is to sell "beautiful, functional things for everyday life."
After relying on legacy software and hardware for 24 years, CEO Bram Kleppner knew a new ERP solution was essential, one that could handle their AP, AR, inventory, and manufacturing needs while also integrating with their retail POS system and providing a better shipping solution.
With a smaller budget (a couple hundred thousand dollars, according to Bram in the company's Acumatica customer success story), they were told that there were no integrated systems in their price range.
Except, that wasn't true.
They found Acumatica's affordable and fully integrated financial management software, manufacturing ERP software, and distribution software.
"Once we heard about Acumatica, the choice was easy. It was the only one that met our criteria," Bram says.
Their benefits include:
Improved customer experience and satisfaction
Elimination of manual input into two systems
Increased number of orders shipped per day
Increased employee productivity
Easy training with an intuitive system
Business growth without additional staff
Deeper insights into sales through their integrated systems
Better product presentation
Improved marketing efforts targeting specific customers
Improved inventory control, leading to leaner, more focused inventories
"It's great to know that it [Acumatica's platform built on the SQL database] can grow to any scale and any way we want our business to grow," Bram says.
Acumatica cloud ERP: Helping jewelry and watch companies compete and succeed
SMBs in every industry—including jewelry and watch companies—are facing a plethora of challenges, such as a new generation of consumers, ever-evolving technology, the rise of eCommerce, and a global pandemic. The good news is that these challenges can be met head on by utilizing a modern, adaptable business management solution, as J. Goodin and Danforth Pewter as Acumatica customer can attest to.
Kwiat can attest to that, as well. "While other companies struggle to adapt during these unprecedented times, Acumatica has helped us flourish and grow our business with its true cloud ERP," the company said.
With Acumatica, companies are able to react to trends quickly and reduce their product-development times by driving closer collaboration with partners along the entire value chain, from suppliers to designers to logistics providers. They can implement rapid, transparent supply-chain processes and data analytics that provide inventory optimization, sales and product analyses, customer profiling, outlet and branding performance, and even "what if" pricing scenarios to appeal to the new generation of online and in-store buyers worldwide.
If you'd like to experience the same capabilities, contact our team today. We will be happy to answer any questions or to schedule a demonstration.
Read More Customer Success Stories