Using KPIs for manufacturing is the most efficient and effective method for measuring business successes, challenges, activities, and performance, but the proliferation of information can be overwhelming. A modern manufacturing ERP can eliminate the chaos and highlight critical data for running your business.
Manufacturing businesses use parts and materials from suppliers to produce products, which requires handling inventories, distribution requirements, financial management, and the selling of their products. The complexity of their operations makes keeping track of their overall business performance a challenge—unless they implement a modern, cloud-based manufacturing ERP.
In our new, complimentary Whitepaper, Key Performance Indicators for Manufacturing, we discuss how manufacturing software—such as our Acumatica Manufacturing Edition—provides essential Key Performance Indicators (KPIs) that will help manufacturing businesses make wise business decisions.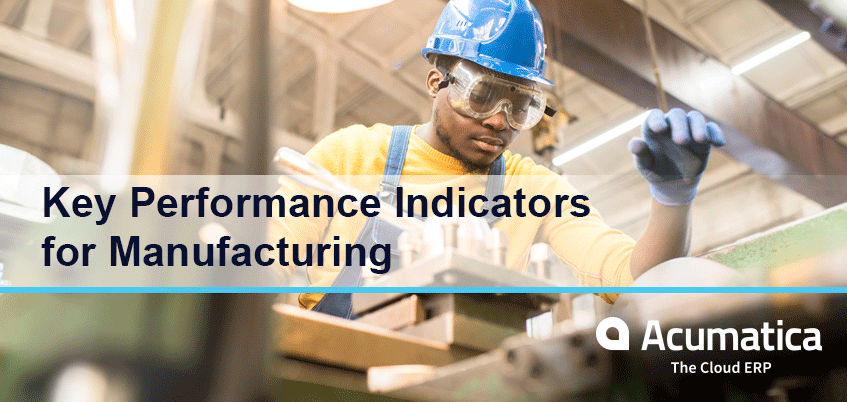 Manufacturing ERP KPIs made practical and functional
The Whitepaper points out that the Industrial Internet of Things (IIoT) has given decision makers data and insights into their business previously unavailable or, at the very least, difficult to attain. It also points out that there can be almost too much information. However, cloud-based manufacturing ERP software is the answer to this abundance.
"All of this data, analytics, and business intelligence is made practical and functional by the cloud because only cloud deployment offers the connectivity, integration, security, scalability and capacity necessary to harness all of this data and make the intelligence accessible wherever its needed, whenever its needed," the paper notes.
Acumatica customer Korpack—a data-driven, B2B single-source supplier of standard, custom, and retail packaging along with packaging machinery and automation solutions—understands the importance of gathering and analyzing KPIs as a way of ensuring success for their business.
"Acumatica helps us collect data we need to make informed decisions, and we are very good at taking that data and turning it into actionable decisions. We get to do that because Acumatica is customizable and allows us to do that on the fly, based on live data," says Korpack CFO Patrick Madison. "If you have streamlined operations, understand pricing, and have up-to-date information, you can be very competitive and take advantage of inefficiencies in the market."
Monitoring the health of your manufacturing business through KPIs, like Korpack does, is essential. There are different classifications of KPIs, such as financial, historical, and predictive. The Whitepaper examines these types of KPIs and discusses specific manufacturing industry KPIs that measure operational efficiency, such as plan vs. actual hours and cost, utilization and capacity, and more.
You'll also learn:
What the ideal number of daily KPIs is for most businesses
Why it's important to change your KPIs regularly
Which technology is critical for managing/monitoring your KPIs, including KPI dashboards
"Today's KPI dashboards are truly flexible, adaptable, and user-driven," the Whitepaper states. "There's no need to draw up a detailed description of the changes and beg IT to recode the reports. User-friendly tools make changes and new reports simple and easy, putting the user firmly in the driver's seat."
Acumatica's manufacturing ERP software drives a competitive business
Acumatica Manufacturing Edition—which was improved in our latest release, Acumatica 2019 R1—is a complete manufacturing ERP system that will help you with your production planning and control as well as your overall business. Your accounting, inventory, customer management, sales orders, and financial reporting needs are fully integrated. Pre-defined KPIs are customizable for your specific needs and are easily accessed on a single flexible, adaptable, and user-friendly dashboard via our cloud manufacturing solution. And employees working in the field can review their dashboards with their specified KPIs on any mobile device at any time.
Korpack's CFO has experienced the benefits of choosing Acumatica and Acumatica Manufacturing Edition and would recommend it to any organization. "The three keys to Korpack's success are Korpack's employees, vendor partners, and Acumatica," he says.
You can read Korpack's full success story for more details on their partnership with Acumatica. And if you download your free copy of our Key Performance Indicators for Manufacturing Whitepaper, you'll learn how modern, flexible manufacturing software can drive a competitive business. You'll also discover how life is made easier with the right manufacturing ERP software and the right KPIs.
Do you have questions about Acumatica cloud ERP or Acumatica Manufacturing Edition or would like to schedule a demonstration? Please contact us today.
Download our Key Performance Indicators for Manufacturing whitepaper