Microsoft Dynamics GP users, you have options. Don't commit to sticking with Microsoft until you've listened to Acumatica's webinar on our flexible, mobile, and true cloud ERP solution first.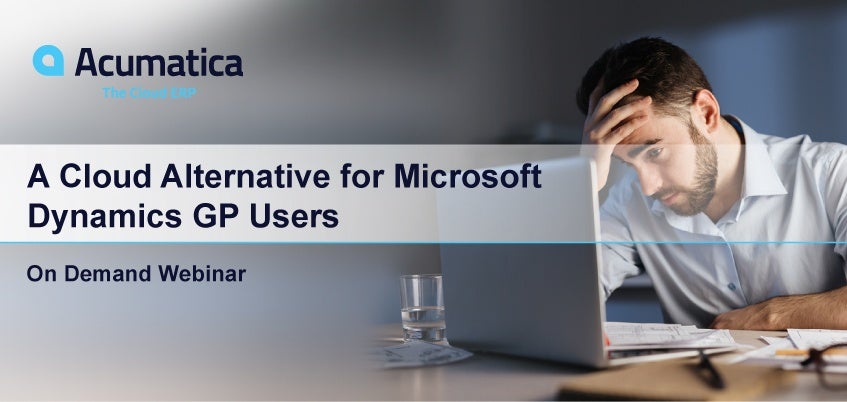 The time has come for Microsoft Dynamics GP users to make a choice, perhaps one they never thought they'd have to make. Microsoft's announcement that loyal GP users must move to Microsoft Business Central (formerly Dynamics NAV) for their cloud ERP needs has drawn a hard line in the sand: Undergo what amounts to a new ERP implementation (your GP customizations aren't coming with you) or consider a highly rated alternative.
Patricia Bennett, CEO of PC Bennett Solutions, chose the latter, and shares her reasons for switching from being a dedicated GP Partner to a dedicated Acumatica Partner in an on-demand webinar, Legacy ERP to True Cloud: A Cloud Alternative for Microsoft Dynamics GP Users.
In this free webinar, Patricia and Acumatica Product Marketing Director Ray Rebello discuss:
Your options outside of Dynamics GP
The advantages of cloud ERP for business
What differentiates true cloud solutions
From Microsoft to Acumatica: Why you'll want to switch
Patricia, who has extensive knowledge of and experience selling Microsoft Dynamics software, and Ray, who spent many years working with Microsoft Dynamics products, share their insights into the differences between Microsoft and Acumatica. Their explanations of how Acumatica's cloud ERP software and Acumatica Cloud xRP Platform differ from Microsoft's offerings may convince you to consider alternative ERPs and to refrain from choosing a legacy ERP (staying with GP means only maintenance releases every year), paying to move to Business Central, or running your GP instance on Azure (connecting to Business Central for its features and functions while also purchasing an additional license).
In addition to the insights you'll glean from the on-demand webinar, G2 Crowd, a business software review platform that uses feedback from real-business users to assess vendor capabilities, is a prime resource for comparing your options. In their March 2019 User Satisfaction report, users rated Acumatica higher than Microsoft Dynamics in all seven categories, which included ease of use, quality of support, and whether the product is heading in the right direction.
As far as a what customer's think about the two ERPs, ProPharma Distribution, an independent wholesaler providing medications to the surgical care industry, found their experience with Microsoft Dynamics GP to be less than satisfactory. They switched to Acumatica's true cloud ERP solution. The result? A business that is now streamlined, scaling, and seeing success.
"Acumatica has provided a consistent, up-and-running environment with no downtime, which translates into our ability to focus on the business. We now have one environment and one database that we can access anywhere," says IT Director Charles Snyder.
Acumatica cloud ERP: a great alternative
The differences between the two products are clear.
While Microsoft Dynamics Business Central charges per user and extra for additional apps and add-ons, Acumatica's pricing is based on resources consumed, applications/modules selected, deployment option, and licensing. Acumatica users can access their own data servers, and code (which can be exported directly from Acumatica)—Microsoft Dynamics Business Central users can't.
Acumatica also provides:
True cloud and on-premises deployment options
Fully mobile applications
And more
With the potentially business-altering changes Microsoft has announced for Dynamics GP users, Acumatica is a great alternative. Sign up for this free on-demand webinar today and hear the experts give their take on what the switch would mean for you and your future.
If you have questions about Acumatica's cloud-based ERP solution or would like to request a demonstration, contact our team right now.