What does it mean to be an Acumatica MVP? An interview between Acumatica's Platform Evangelist and a multi-year Acumatica MVP paints a comprehensive picture.
With nominations now open for the Acumatica Product MVP & Developer MVP programs, I thought a glimpse into the life of a current Acumatica MVP might help as you consider potential nominees. Gregg Mercede, President of Cloud 9 ERP Solutions LLC, sat down with me and shared his MVP experiences as well as his thoughts on the ideal characteristics of an Acumatica MVP.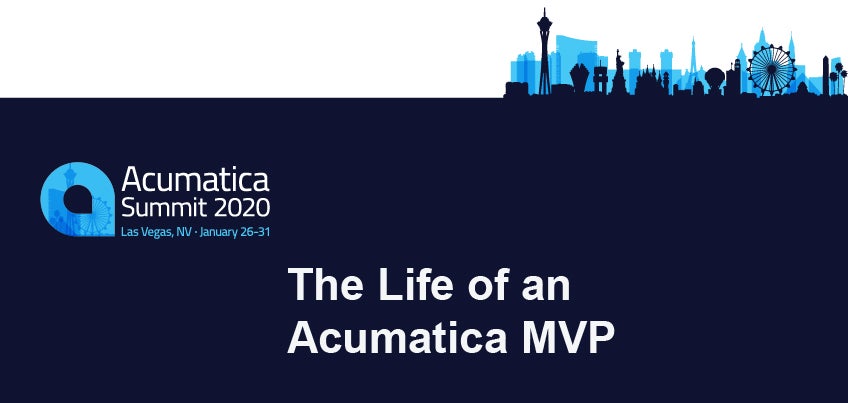 The (busy) life of an Acumatica MVP
For three years running, Gregg has been an Acumatica MVP awardee (here's the full list of the  2019 Acumatica MVP program winners). His hard work on behalf of Acumatica as well as his appreciation for Acumatica's cloud ERP software and the Acumatica xRP platform have made him an easy choice.
"As an advocate for Acumatica, part of what gets me up in the morning is the excitement and love for the software and the platform," he says.
He channels his excitement into running Cloud 9 ERP Solutions. His focus is on sales and implementation services, supporting his staff as they work with their customers to understand their special requirements and working those requirements through the Acumatica platform as a solution.
"We go through many variations of the sales cycle, ensuring we understand what their needs are, what their price point will be, and what the timeline looks like," he says. "Once they're ready to move forward with the implementation, we get them started with a kickoff process, which includes understanding the business in detail and getting a clear vision of how we're going to make Acumatica a part of that vision."
Cloud 9 ERP Solutions provides their customers with a number of Acumatica cloud ERP products, including Financial Management, Project Accounting, Distribution Management, and Customer Management.
Customer Chris Sanford, CIO, Classical Conversations, says, "[Cloud 9 ERP Solutions] has walked us through the implementation process, dug in and found solutions when we needed to do something a little differently and gone to bat for us when we needed help. Overall, we couldn't be happier with our move to Acumatica and working with Cloud 9 ERP Solutions."
As an Acumatica MVP, Gregg spends a lot of time educating Acumatica users in various platforms, including Stackoverflow and the Cloud 9 ERP Solutions YouTube Channel. "I'm on there quite a bit with simple or advanced concepts that I think in the end will make the platform better, easier, more sellable, and will eliminate tech support questions for us and Acumatica."
Though his business is growing by "leaps and bounds," he's all about being engaged with the Acumatica community.
"There's more to the product than there ever was and there's more to digest," he says. "I still have my business requirements, and that's my chief priority, but I have a YouTube channel where people can get insight into the [Acumatica] platform."
Acumatica MVP nominee characteristics and Acumatica Summit 2020
Gregg's tenure as an Acumatica MVP has given him a good understanding of what it takes to be one. "In terms of skills, attention to detail and patience is key."
He also says, "Energy level, enthusiasm—these are big components of what an MVP should be."
I agree. These are all characteristics that Gregg continues to exhibit, year-after-year, and we appreciate all he does for Acumatica. Our appreciation also extends to his unfailing attendance at our annual Summits, and his company's participation in our Hackathon in both 2018 and 2019. (Gregg was on the third-place team at last year's event.) And he assured me he would be at Acumatica Summit 2020, coming January 26-31, 2020 in Las Vegas, Nevada at The Cosmopolitan of Las Vegas.
"This year will be a big year for us because we're bringing quite a few people from our company. We're very excited," he says. "For me, I started my first Summit in 2013 where there were 25 people. The amount of attention this product gets now is exciting to see."
Get your Acumatica MVP nominations in now
Though you have until November 15, 2019 to get your MVP nominations in, I hope you'll start sending them in. I, along with a diverse group of Acumatica team members, will be reading through them all, and we can't wait to see who you think deserves the award.
And before I wrap up, Gregg has a few other things to say about growing the Acumatica community. "As a company, we run Acumatica. The latest version was released and we're on it. You have to practice what you preach and play in the field you promote. The more we live and breathe it, the more we can be of value to the community."
He also says, "I think our relationship with Acumatica will continue to grow year over year. I think we're all stronger together…mostly because of the attention that Acumatica gives to people such as myself. There are many companies who turn a blind eye to feedback. They don't value it. You won't get MVPs if you have that kind of attitude. Acumatica is the reverse. They love and enjoy the feedback."
He's right. We encourage your feedback and hope you'll contact our team if you have any questions about the Acumatica MVP program or about Acumatica's cloud-based ERP solution.