Are you a manufacturer (or wholesaler or distributor)? Find out why – with so many challenges within their industry – two lighting manufacturers selected Acumatica as their ERP for lighting and how it improved their efficiency and growth opportunities.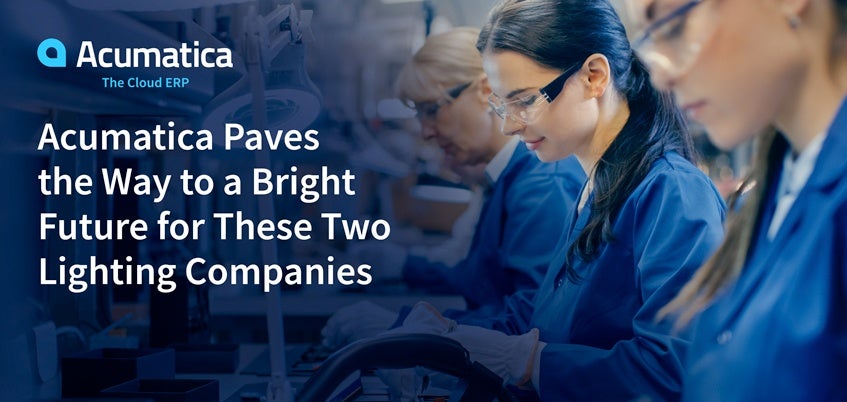 The lighting equipment market is in a state of flux. Lighting manufacturers, wholesalers, and distributors are having to meet the demand for more efficient lighting and CO2 abatement while also facing increased competition worldwide. It's increasingly clear that implementing an ERP for lighting is a necessity as these businesses compete for their share of the expansive lighting market.
For two lighting manufacturers, Acumatica cloud ERP gave them a leg up on the competition.
Meeting industry challenges head on with Acumatica cloud ERP
Before looking at the two lighting manufacturers, let's examine the challenges they and their competition have to face:
LED and CFL lighting are quickly replacing traditional incandescent lighting
High expectations from both private and professional consumers
New competition entering the market as LED technology advances, including foreign producers with lower pricing due to low labor costs
High cost of technologically advanced lighting equipment excludes some consumers
LED product cycles (on average, 12 months) creates product obsolescence for wholesalers
Contractor expectations of online ordering and online support forums
Keeping up with current trends and needs, such as Germicidal Sterilization Ballasts for air and water purification and surface disinfection (amid COVID-19)
Additionally, non-traditional distributor companies are offering out-of-hours service, late night ordering, next day delivery, and competitive pricing. And of course, there are complex inventory management challenges with an abundance of lighting products inundating the market.
All in all, lighting manufacturers, wholesalers, and distributors have their work cut out for them. If these businesses fail to implement modern, cloud-based manufacturing management software and inventory management software, they are setting themselves up for potential failure.
Thankfully, two lighting manufacturers that chose Acumatica's cloud ERP software are already finding success.
FSC Lighting
Founded in 1969 and headquartered in Rancho Cucamonga, California, FSC Lighting manufacturers energy-efficient LED lighting for their commercial, industrial, and institutional customers. Their expert and diverse team includes developmentally disabled adults through their "Made with Care" program.
When VP of Operations Chad Treadwell joined FSC Lighting, the company was utilizing Sage DacEasy to handle their complex supply chain, inventory, and product management needs. "It was a nightmare," according to the company's customer success story, with no MRP, warehouse management, inventory locations, accountability, and more. They were operating manually and inefficiently in a fast and automated competitive marketplace.
FSC Lighting chose Acumatica, implementing Acumatica Financial Management, Acumatica Distribution Edition, and Acumatica Manufacturing Edition.
"We needed something very flexible, in the cloud, and overall, something that was a good value for us," Chad says. "And we found that in Acumatica."
The challenges of the lighting equipment market are no match for FSC Lighting. The lighting manufacturer now has:
Better control of their inventory
Reduced invoicing time
Straightforward, comprehensive reporting
Multi-entity capabilities
Mobile access for easy on-the-go approvals
Director of Operations Holly Pugno says, "I am loving working with Acumatica. We joke that we were in the 19th century and now we've come to the 21st century!"
Fidelux Lighting
Women-led and minority-owned business Fidelux Lighting provides top-tier LED lighting solutions to private and public sector clients through sales representatives and distributors. They guarantee the "best team and the best products."
Unfortunately, Fidelux was not using the best financial software. QuickBooks was unable to track/pay their commissions, manage their inventory, handle their accounting, and integrate with other software. It also couldn't be customized.
After reviewing their ERP system options, the company decided to implement Acumatica's cloud-based ERP solution. "We selected Acumatica due to the ease of use," says Director of Operations Shivani Raval in the company's customer success story. "Cost was another factor. Licensing with Acumatica is all about the resources and usage rather than how many users you have."
With Acumatica partner  CAL Business Solutions, the implementation of Acumatica's Financial Management, Distribution Management, Customer Management, Inventory Management, and Order Management software took approximately 45 days.
They saved money by using Acumatica's self-service resources. They were also able to:
Streamline their commission/inventory processes
Save hours of manual data entry
Automate their commission payments (using a CAL Business Solutions' customization)
Improve their inventory visibility
Reduce the number of people it takes to process an order
Grant limited access to more than 30 distributors affordably
The Fidelux team is excited for the future, including moving into new markets. Shivani says, "Acumatica gives us the confidence that we can handle the increase in transactions and growth with ease for many years."
A bright future for Acumatica customers
For these lighting manufacturers (and really, any manufacturer, wholesaler, or distributor), Acumatica is paving the way to a bright future.
As a modern, scalable, cloud-based solution, Acumatica provides inventory accuracy, insight into inventory location, use of barcode technology to reduce redundant processing, and automated picking to reduce wear and tear on equipment and employees. Acumatica also gives these businesses the tools, resources, and expertise they need to offer exceptional customer service and the online value customers are seeking.
Want to learn more about the benefits of being an Acumatica customer? Contact our team today.