Restoring faith, making sense, and growing rapidly is what Acumatica Cloud ERP has done for LiveView Technologies. Here's how.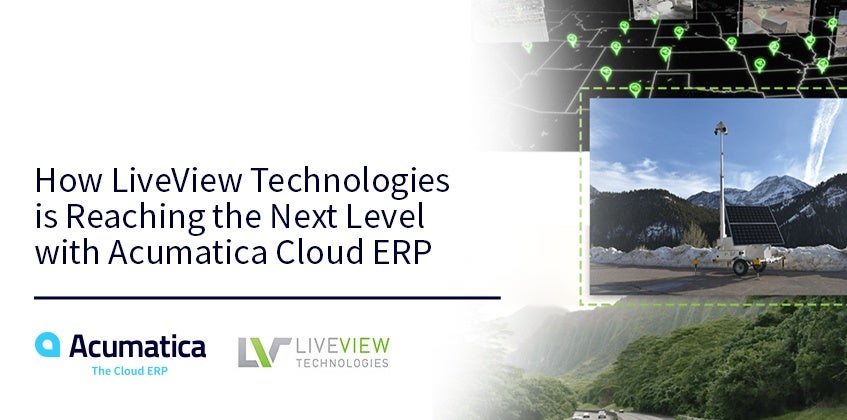 LiveView Technologies (LVT) is not your typical technology company. According to CFO Andy Gale, the company is both a hardware and software company, has been profitable from the start (without outside money), and they've "bootstrapped everything." Part of that "bootstrapped environment" included relying on QuickBooks, which was unsupported and disconnected from its E2 manufacturing system. A new, connected financial and manufacturing solution was in order, and Acumatica Cloud ERP was their choice.
Restoring faith with Acumatica Cloud ERP
Fifteen years ago, LVT began its journey by helping lenders and homeowners monitor a high-end residential construction site remotely. They successfully set up a system that included a camera on a pole. Their success led to state transportation departments requesting a similar system to monitor snowfall in mountain ranges.
Fast forward a few years, and LVT designed a more sophisticated system to meet the more sophisticated needs of their customers. Their cloud-based, fully self-contained, and solar-powered surveillance systems provide 24/7 control and can be set up in less than 30 minutes. Their customers include Walmart, Home Depot, and Kroger.
"We don't need hardwired internet technologies or the involvement of an IT team, so we avoid red tape. And there's no need for a power supply," Andy says in the company's Acumatica customer success story. "…the advantage we have versus pole-mounted cameras is that our units are visible with flashing strobe lights. We let a client's customers know they are being watched."
Sadly, QuickBooks and the company's other legacy software was not able to handle their growing demand. They were not integrated with the sales order process and manufacturing planning and scheduling functionality was unavailable. So was inventory accuracy. "LVT could literally watch inventory change when no one was in the system. They had lost faith in the financial system in use at the time."
Andy joined LVT to get their finances in order and to help the company with an upcoming three-year audit. During his interview, Andy, who knew the company executives were evaluating cloud ERP software, advised them to check out Acumatica. He had evaluated Microsoft Dynamics (a contender for LVT), Epicor, and Acumatica and deemed Acumatica "a really cool package."
Before Andy was hired, LVT went with Acumatica. Their reasons? Acumatica's unique pricing model, its open APIs for seamless third-party connections, and its full functionality, including manufacturing. The combination of Acumatica's capabilities and Andy's experience in implementing other ERP solutions helped restore LVT's faith in their business management solution.
With the help of Acumatica partner Premier Computing, they implemented Acumatica's Manufacturing Edition, Financial Management, Distribution Edition, and Customer Management software along with two third-party applications: Avalara Sales Tax Automation: AVALARA, INC. and Excel-based reporting for Acumatica powered by Velixo: Velixo.
Making sense with Acumatica Cloud ERP
LVT had 75 employees when Andy started. By the end of 2020, they had 230 and Andy expects the company will employ 350 by the end of 2021. The fact that all employees can access Acumatica's cloud-based solution at no additional cost is a high point for the team.
Andy says, "I do not have to think about who to give access to, or whether it would be worth extra subscription fees that other ERP companies charge. With Acumatica, we don't have to worry about that, and it makes a ton more sense."
In fact, a lot of things make a ton more sense with Acumatica. Hear from LVT who now:
Has a connected business solution with in-depth data visibility: "With Acumatica, we have a much tighter connection between the sales process flowing to manufacturing, and our inventory accuracy improved substantially."
Has integrated and paperless purchasing and payables: "While payables and receivables are not the most glamorous, we have seen a huge improvement in time savings, and we are much more accurate with suppliers."
Has access to data from anywhere, at any time (huge benefit during the COVID-19 pandemic): "If we were doing what we were doing before, there would have been no way to work a seamless as we are today. It would have been a big challenge."
Has integrated with transformational third-party applications (especially because they have a fleet of units they rent out): "Avalara's sales tax integration has been really beneficial for us. We do business in 45 states, and we can now add additional state information quickly. That has been extremely helpful."
Their connected financial and manufacturing systems have streamlined LVT's operations. They close financial statements in five days versus the previous 15 without needing to hire additional accounting staff. They also plan on moving the administrative team into a high-tech office space and expand their manufacturing into the existing locations. Acumatica's cloud-based ERP software makes it easy. "It will be like we are all in the same building, so the move isn't a great big deal."
Growing rapidly with Acumatica Cloud ERP
As the company continues to grow, they plan on utilizing more of Acumatica's capabilities. For example, they will use Acumatica's manufacturing deferred revenue and contracts modules. They will also add barcoding for efficiency, and internal software systems are being tied into Acumatica to create a data warehouse system.
Overall, they are counting on Acumatica to take them to the next level. "We are the sole provider of mobile security monitoring systems around the country. Significant organizations want to monitor cell phone towers and other remote equipment, so everything we do is looked at through a lens of how we can scale, and Acumatica fits that bill for us in a ton of ways. Acumatica has easily demonstrated its ability to scale."
Andy also says something one hears rarely, "I'm looking forward to the audit this year because it's so much easier with Acumatica and its paperless nature with scanned documents."
That's why we're here: To make life easier for every Acumatica customer. If you would like to learn more about our manufacturing management, financial management, distribution management software, and CRM software, or to set up a demonstration, please contact our team today.